Happy New Year! I love looking back at my stats for the year and – wow, I am impressed by my running miles. I beat 2017 by 200. On the other hand, I'm super underwhelmed by what I did swimming and cycling. I am going to beat those numbers in 2019.
Swim – 40,480 yards (23 miles)
Bike – 250 miles
Run – 1200 miles
Strength – Once per week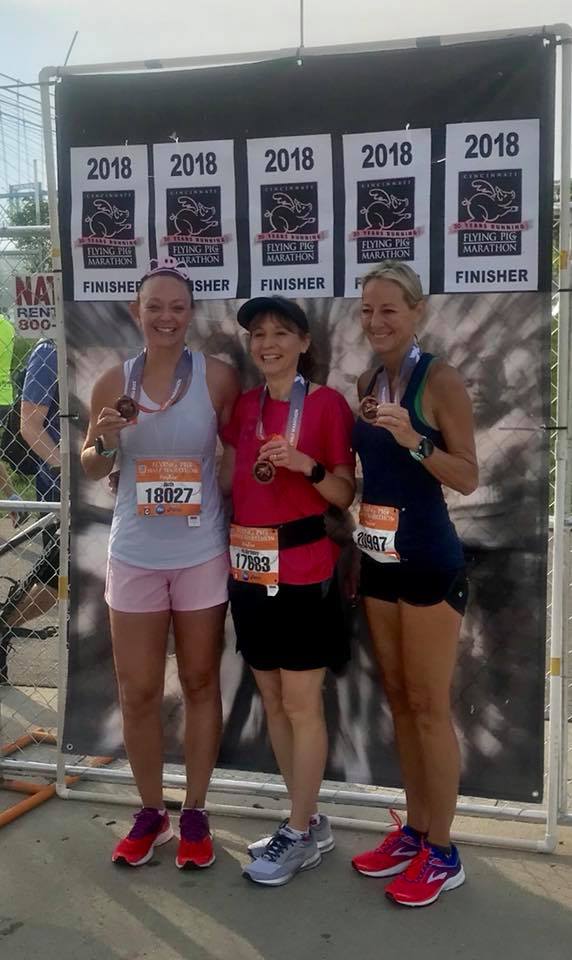 In looking back at 2018, it was definitely a running year. I set a new 10K PR and while my marathon was a big disappointment, I learned a lot about fueling (hello, more iron)! I really want to increase my strength training this year and plan to attain a personal training certification.
Here's what I raced:
Two trail races (25K and 7 Mile Night Race)
One Marathon
Three half marathons
Two 10Ks
Two 5Ks
One swim meet
One Olympic Tri
I'm not running a fall marathon this year, or maybe ever again. Running in the summer in Florida, sucks. I do plan to get myself in the pool again to hit up the aquathlon nationals this year. I am also thinking some sprint tris over the summer will be a blast! And I want to see my athletes race as much as I can!
Now on to my list!
10 Things I'm Looking Forward to in 2019
1. First and foremost – Growing my coaching business. This year, I'm focusing a bit more externally and seeing how I can better help my athletes. My rebranding from Discombobulated Running to I Heart Finish Lines was the first step in that process. I'd like to grow my business even more, but also really focus on helping my athletes get to where they want to be. I believe in them so much and if I can get them to believe in themselves even more, I'll be one happy camper!
2. Reading more! This is super nerd status right here but I read 15 books this year, and while I know that's not a ton, I really enjoy reading and look forward to more knowledge and entertainment. (I beat 2017 by 2 books.)
3. Travel gets bumped up this year, though I'm not sure how we are going to top Iceland! Hopefully we can go to several new places and explore.
4. Meditation and yoga. I fell way out on yoga and I've recently returned to it. Not a lot, but by dipping my toes into gong and meditation recently I think it'll be a push to get to the mat a lot more often this year. I also started using the 10% Happier app and it's really helpful. You only need to meditate for a minute to feel the benefits.
5. Healthier eating! Oh man, I started 2018 off so strong and lost a few pounds, but then I fell off that wagon. HARD. I know that I cannot coach people to being the best version of themselves when I'm not doing it for myself. I feel better when I eat better. It's a no brainer. (And, I'm not making ANY sweeping statements about "no sugar" or "cut carbs." I'm just going to eat better. The end.)
6. TV I can't wait for – Game of Thrones and Stranger Things! Plus, The Good Place and all the baking shows!
7. Movies I'm looking forward to are: Avengers, Once Upon a Time in Hollywood, Men in Black, Where'd You Go Bernadette, and Zombieland 2.
8. More time with family and friends – as per usual! My nephews are growing so quickly and I hope to spend more time with them in 2019, you know, they really like fart jokes right now and I think this will be a great year for me as an Aunt.
9. Mental health. This goes along with my meditation but I have started some therapy again and I plan to keep checking in on my mental health as the years get going. I vote you all do that same – no matter how "ok" you are.
10. I'll keep this one the same for 2019 … more blogging! I promise to do my best to get a post up at least once a week. Seems I'm off to a good start. Ha!
Here's to 2019 everybody! What are you looking forward to in 2019?