Monday marked the 14th week until the Jacksonville Bank Marathon. On one hand that seems like a lot of time but on the other it doesn't seem like enough. I suppose this is how it always feels during training with the exception of the last two weeks of taper. Those weeks I tend to want to race immediately.
As I mentioned before I've been seeing improvement across the board for most of my runs. My mid-long run has been the best run every week. I moved it to Monday and for some reason I always feel great and run negative splits. Track is getting better as are my pace runs. The long run is still a bit wonky.
I ran my first 17 miler of the training plan this weekend and it was for lack of a better term, a shitshow. Literally and figuratively. Gross. Sorry not sorry. There's a couple of things that went wrong that weren't really in my control. First, I ran out of paved trail and ran about four miles on uneven grass next to a major road. It slowed my pace way down and forced me to use those trail running muscles that I am not used to. (Poor run mapping on my part.) Second, my stomach. I've always had some trouble with this so I need to revert back to popping an Imodium prior to long runs and really being careful with what I eat the day before. I wound up walk/running the last five miles and averaging 9:52 per mile. I'm not thrilled with this but what can I say? I still got the mileage in and I know without the issues my next 17 will be stronger.
This is what training is for, learning. And in my case, relearning. I now understand why people complete marathon after marathon. Too much of a break in between can be off putting.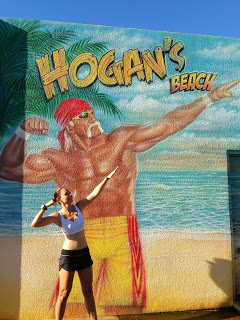 Post run shenanigans at Hogan's Beach
The good news is that I've definitely got a lot more longs run to work out the kinks. I've also been managing to fit in two days of swimming per week to get ready for that
Frogman 5K swim
in January. The bike, of course, has taken a bit of a back seat (Don't yell at me Navy Steve!) but I've tried to get in at least one ride a week.
I feel like the marathon training is really starting to marinate and I'm actually enjoying most of the runs. Even if track does hurt like a mother.
Happy Hump Day guys. Just grab em in the biscuits! (Please know that reference!)