Yesterday's 5K pretty much ruled. I set a new PR and had a fantastic time with Hollster. Here's my race report, enjoy!
I woke up bright and early at 5:30 AM and wouldn't you know it? Avert your eyes menfolk, this may weird you out. Cramps. Ugh! I don't normally get them, but well someone screwed up the BC and that mutha' was back with a vengeance. Oops. Lesson learned. So I loaded up on some ibuprofen and was out the door to meet Hollster. Hollster was racing too.
The race started at 7:30 so we arrived around 6:45 and checked in and got our swag. We did get a cool water bottle, shirt, and a ground coffee sample, which I am most stoked about. It's the simple things really.
The numbers they gave us were the smallest bibs I have ever seen. The girl who gave me the bib also only gave me one safety pin. Really? One safety pin? Could you spare a second one? It was pretty funny. I asked for another and she obliged.
We hung around waiting for the start and while doing so a pretty young woman came up and looked at me and said, "Are you the blogger?" WHOA! I am famous. I said, "I am!" And this is how we met the lovely Tamara. Apparently, she's in town for work and came out to do this 5K. Freakin' cool right?
So let me just say that before every single race I think, "I can't do this." "I'm not going to run fast." "Holy shit." Yeah, I have no idea why I do this. I am working on it but on the other hand it is nice to be pleasantly surprised after my races. Ha ha.
Anyway, the race starts and I sprint forward and continue on with this pace. I believe it was about a 7:15. I have no idea what I was thinking. Well, yes I do. I was thinking, "What the hell? I'll just see how long I can hold this."
During this time we see kids sprinting and then stopping. A random and I both chuckle as a kid just stops running altogether. We then begin to pace/leap frog with two high school girls. Oh hell no. These two youngsters were racing me and I was not having it. I thought to myself, "I'm thirty and you're going down. Out of the way beeches." Yeah, I'm that mature. Fortunately, the youngsters ran out of gas and we cruised by them. Now normally, to me, a 5K is a 5K. But this one seemed to have some little uphills and by mile 2.5 I was struggling. I said to this random, "I'm fading." And I looked at my watch for the fifth time. It read 7:45. He said, "Stop looking at your watch!" I did and tried to switch my focus to my breathing and finishing.
Before you know it we were coming to the finish line and I was about 10 seconds behind Hollster. I had been trying to catch her the entire race, but the woman is fast! She looked good too. She said she was tired but you would have never been able to tell.
I cheered Tamara in and she looked like she had a great race too! It was awesome to meet her and I hope we'll get to run together while she's in town.
Holly wound up with a 23:11 and I came in with a 23:21. Prior to the awards I looked at Hollster and said, "I want a trophy." Heh. I have never received a real, big, golden trophy at a race and yesterday was my lucky day. Both Hollster and I received first place in our group trophies. Totally awesome!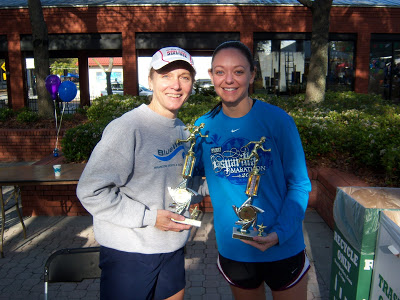 Also, congrats to Hollster. I really look up to her as a runner. She's one of the strongest, toughest runners I know and I think she's awesome. She also tells a GREAT story.
I hope you all enjoyed the recap and are having wonderful weekends. Ta.