I admit that this training cycle has left me with a far less anxious taper than normal but some of that old crazy definitely crept up yesterday as I googled every race calculator ever made. The reason behind my current calm? I don't really know what to expect come Saturday.
My leg issue (sartorius strain or whatever) has been quiet lately and I was feeling great until last Sunday. I rode my bike, yes I rode my bike, you read that right. And that seemed to trigger some pings here and there. I got in an easy thirty minute run this morning with no issues to speak of. I'm hopeful that I can finish the marathon Saturday fully in tact and continue the rest of this summer injury free. Thus, I have two goals. The first is finish without being broken. And the second is at least go out at a PR pace and see what the day brings. The weather looks too awesome to not at least try. And if I feel injury pain (as opposed to just marathon pain) I'll stop. I didn't exactly have stellar training due to this injury, but I've certainly run at least two marathons on far less mileage.
And that's that.
Now on to that list…Here's a few tips on surviving taper madness.
1. Get off the Internet. After you read my blog of course. I am fairly certain that before Ironman Chattanooga I researched every possible outcome for my race based on every race predictor on the internet. If you find yourself getting sucked in this rabbit hole of calculations and whatnot STEP AWAY from the computer. It'll only make you crazier.
2. Don't eat crap, it'll make you feel worse. When your mileage is down, you still feel hungry, which is fine. You're about to embark on a very long calorie burning journey, so filling up the tank is fine. Just don't fill up your tank with garbage. You are not a DeLorean. You are a Ferrari. Eat like one.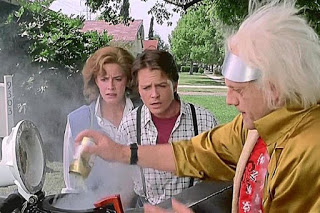 3. For God's sakes man, REST. This is not something I struggle with since I am essentially quite lazy, but I know some of you have real trouble resting. Yes, you want to keep some level of activity, but you don't want to burn yourself out before the big dance. Find a new TV show, read a book, or do what I do…stare blankly into the abyss.
4. Think happy thoughts. I am a work in progress with this one. I tend to be a mega-what-if-er. "What if I bonk?" "What if I poop my pants?" "What if I get lost and run 27 miles!?!" I recently read a line in Runner's World that really stuck with me: You aren't going to win and you aren't going to lose. It's simple for sure, but it helps take the pressure off. Can you imagine being in the front!? Thank God I'm not that fast. Heh.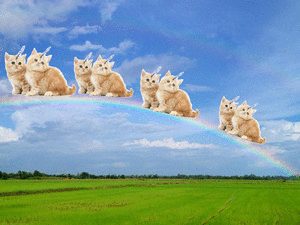 5. Do some easy workouts. I know this directly contradicts number three, but it's important you stay sharp. Get in some intervals and little bursts. It'll help calm those nerves and let you get out some of that extra energy.
6. Write down your goals and let it be. Sharing them or not is up to you but if you write them down it'll help you visualize what you want to do. Lots of folks do a tiered goal system and they don't have to be based on time at all. I got through several triathlons without even thinking about the clock. Writing it down solidifies your plan and stops the mental mania of "What am I going to do!?!"
7. Horizontal Mambo. Yes, that's right, have sex. I like to keep it clean on this blog, but I feel like this is important. It'll take your mind off of that race and give you more of those good feeling vibes. Wink wink.
This will be my final post until next week after Grandma's. Catch on the flip-flop!