As they say, "the best laid plans of mice and men often go awry." So about that Chicago Marathon…well, I'm not running it. You see, my entry was a gift from a sponsor and it would appear that it's not going to pan out. It's a long story and yes I'm bummed but these things happen and I've got to move on.
As I look at this change in plans, it would seem a blessing in disguise. While I won't get to see my beloved
Redhead
in October, I will get to put off training for a marathon in the dead of summer. And I get a little more time to get my base where I'd like it to be.
Yes, we're going to run the Jacksonville Marathon. It's at the end of December and it's a shorter and less expensive trip than Chicago would have been.
The good news is that this really opens us up for a few more tri's this summer. I want to ride my bike and swim this summer and keep working on my run too. Woot!
In other news, I saw
Spirit of the Marathon II
. I have a feeling that a lot of you did too. Some of us girls got together and hit up the Cinebistro. Special thanks to Dee who purchased our tickets in advance. I swear that theater was like a local race. Lots and lots of familiar faces and not one of them was sweaty this time!
The movie itself was awesome! It takes place in Rome and follows the stories of several runners along their journey to run the Rome Marathon. After a glass of wine and this inspiring movie I was ready to sign up for 20 more races. I just need a loan. Who can spot me a few hundred dollars?
I think my favorite featured runners were the two Italian men. One of them is his 70's and had run every single Rome Marathon the other owns a pizza shop called "Il Podista" or The Runner. I love it! I totally want an Il Podisto singlet now.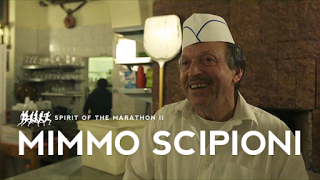 Did you see the movie? What did you think?