In October, a company called
Aurorae
approached me about offering a review and giveaway on this here blog for their "Sport & Swim Towel." Considering the crazy amounts of swimming I knew were coming my way, I was all in. I've already swam 15 miles this month! The Frogman 5K cometh…
Anyway….
Upon receiving my towel, I immediately took it to swim practice that night. I was skeptical, because a towel is a towel right? Well, sorta, but not really. I know that makes a lot of sense, but bear with me. This towel is actually pretty cool. I typically use towels that I've purchased from CVS or Walgreens while on my way to the beach. You, know, those $9.99 towels that feel soaking wet after you use them? This was NOT that kind of towel.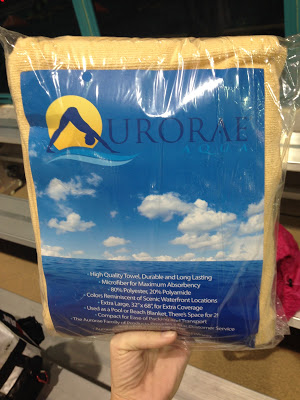 Fancy!
This Aurorae towel is one of those fancy, microfiber towels. It's great! I used it a few times to really see how I felt about it because I was still a towel-is-a-towel sort of person.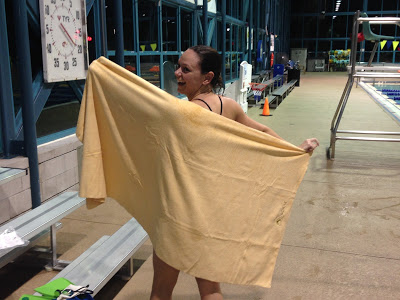 Suuuuuper cheeseball – but dry!
See how big that towel is? It's a great size and there really is something to that whole microfiber thing. It dried me off great and the towel itself didn't feel like a big, soppy washcloth after I used it. Plus, it feels the exact same amount of fluffy and absorbent after washing.
I used it after a run the next go round and it helped keep my car seat dry on the quick drive home post run. It's been my go-to towel as of late and I've even done a special load of laundry to ensure I have it for my next swim practice. It's finally getting cooler out and drying off quickly is a must!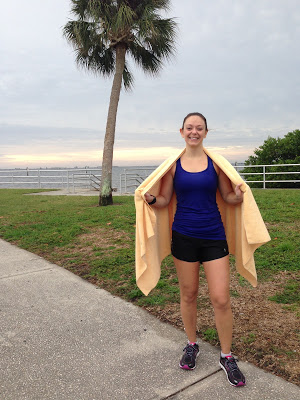 How many ways can I post with a towel?
I admit I was a skeptic about this towel, but I really like it and I think it would be AMAZING for hot yoga. If I can ever get my butt back to a class…
Are you ready to win one of your own? Click on the rafflecopter below and hop to it. The giveaway will end on Monday, November 30, 2015.
*Giveaway ends Monday, November 30, 2015 at 11:59 PM EST. Open to Residents of the US only. Prizes cannot be shipped to PO Boxes. Winner will be selected by Rafflecopter and be notified by email. Winner have 48 hours to respond before a new winner is selected. Please note that Discombobulated Running is not responsible for sponsors that do not fulfill their prizes. I have represented the sponsor with the expectation they will fulfill their prize and in a timely manner. I will contact the sponsor regarding your prize(s). The sponsor, in most cases, are shipping their items to you directly. I will make every effort to assist you obtaining your prize. If there is an issue with a sponsor, please notify the blog you won a prize from within 30 days for assistance, after that we may be unable to assist you. The product provided for the review was free of charge from the company. The product offered for the giveaway is free of charge, no purchase necessary. My opinions are my own and were not influenced by any form of compensation. Facebook, Instagram, Twitter and Google+ are in no way associated with this giveaway. By providing your information in this form, you are providing your information to me and me alone. I do not share or sell information and will use any information only for the purpose of contacting the winner.