I'm back in Florida and feeling slightly bloated from my Asheville eat-fest. My sister and I went to Asheville as a girl's trip and had a total blast. A person could very easily fall in love with Western North Carolina because it's absolutely beautiful. To me, Asheville is like the Austin of the East. Lots of outdoorsy stuff to do, but with a lot of amazing bars and restaurants and local color. I'll definitely put Asheville on my list of cities I want to return to.
Thank the lord I got in an eight mile run while there, because I ate, ate, and ate some more. The run itself was wonderful due to the cooler temps and gorgeous trails. The only downside was the upside. Heh. I ran some accidental hills. They were no joke, but I was having so much fun I just kept running them and smiling.
Here's a few photos from my trip.
Because you all know how I love to photograph my food, here we have fried green tomatoes over grits from the Tupelo Honey Cafe. If you are ever in Asheville (which you should be at some point), you absolutely MUST go here. In addition to delectable Southern food they sell honey that they bring to your table with big, fluffy biscuits. Yes, I bought some. I'm currently obsessing over what I can put it on and make with it.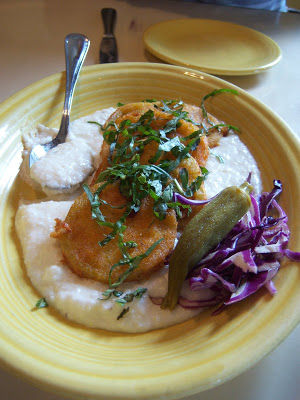 In downtown Asheville they have lots of art and random sculpture and folks who are the random sculpture. The first one is me trying to iron out my butt wrinkles. And the second one is two ladies who actually ARE the art. Pretty cool right?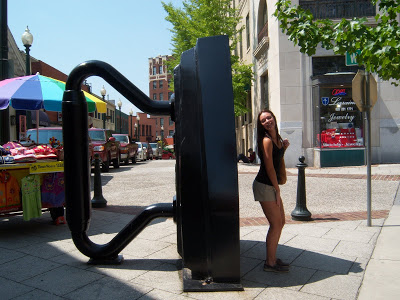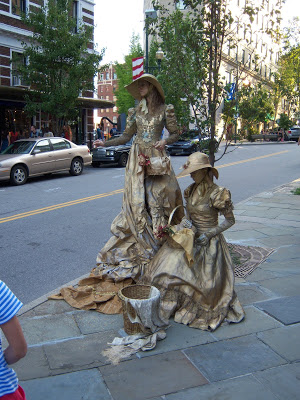 Whitewater rafting is way too much fun. I must admit I was nervous before we got rafting, but honestly, it wasn't scary at all and I'd highly recommend using French Broad Rafting Expedition. The guides were so friendly and funny and I really like that they use biodiesel in their trucks. They were also super knowledgable about the history of the area and I felt very safe. I don't think this is the scariest rafting you can do but there are a lot of rocks around so staying in the boat is important. You can see below that me and Big Sis took the front row cause we're so hardcore. (And also cause those two older couples wouldn't.)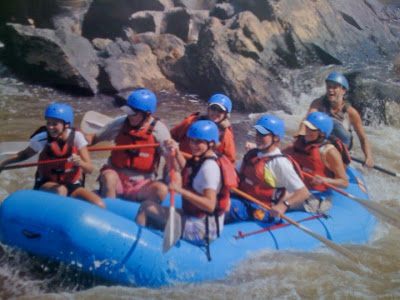 We also went to the Biltmore, had a wine tasting, and did lots of walking and shopping. And that's about it for my trip. Yes, I took about nine hundred photos but I won't bore you with all of them, just know that Asheville is a trip that is affordable and completely worth it.
Now, back to reality. Gotta start ramping up the mileage for next month's 1/2 mary and get back to the daily grind. Happy Monday peeps. How were your weekends?