Obviously one of the best things about blogging (other than talking incessantly about myself) is swag. I love trying out new products and spreading the word on stuff that rules.
I'm also quite girly, in case you hadn't noticed from some of my hair/make-up product posts.
(Dudes – staaay! Stay! Good dudes, good.)
So I was totally stoked when
Simply-Bags
sent me a personalized bag. They sent this one in particular: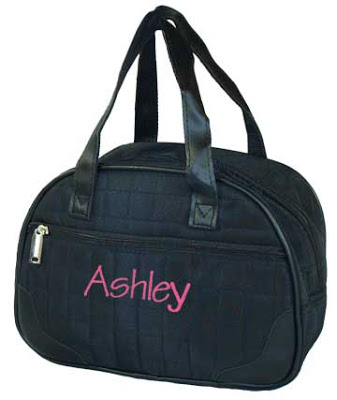 Ok, so mine doesn't say Ashley but I wanted you all to see it. It's their lunch tote and it's perfect for taking my lunch to work in as it's insulated. I also figured it would be a bonus for keeping drinks cool during an afternoon run. They have all sorts of cute bags and totes and … HEY! DUDES! WHAT DID I TELL YOU? STAAAY! STAY! GOOD DUDES!Ahem, as I was saying the bags are really cute and would be perfect as gifts for wives, girlfriends, daughters, moms, etc. They even have some MANLY duffle bags should your college boy or cubscout or gym hottie boyfriend need a bag. (Or if you are a dude and you've made it this far and need a sweet running stuff bag!) I am hoping to do a giveaway for them somewhere down the road, but in the meantime please take a look over at the site. Oh and just so this isn't some shamful plug, I ran 5.75 miles this evening. What's with the weird mileage you ask? Well I usually meet others at a certain spot and then turnaround, but they were running a wee bit late so 5.75 it was. Tomorrow is hump day and I hope yours is all that and a bag of chips.