The Top Five Things You Need to Know About My BDR 10K
1. I'm a total mental case sometimes. I was so very close to not running this race. It had nothing to do with volunteers. There were plenty. It had nothing to do with the weather. It never rained. And it had nothing to do with me being a total mental case. Oh, wait. Yes, it did on that last one. I woke up tired and anxious. I didn't feel ready to run and I was nervous. All of the usual what-if's popped in my brain. But then…something changed. I told myself to relax and made the decision to run. No sooner did I make this decision did I see my coach (who wound up winning the 10K) walking up. I had no idea he was racing and it was definitely a final push for me. It was go time.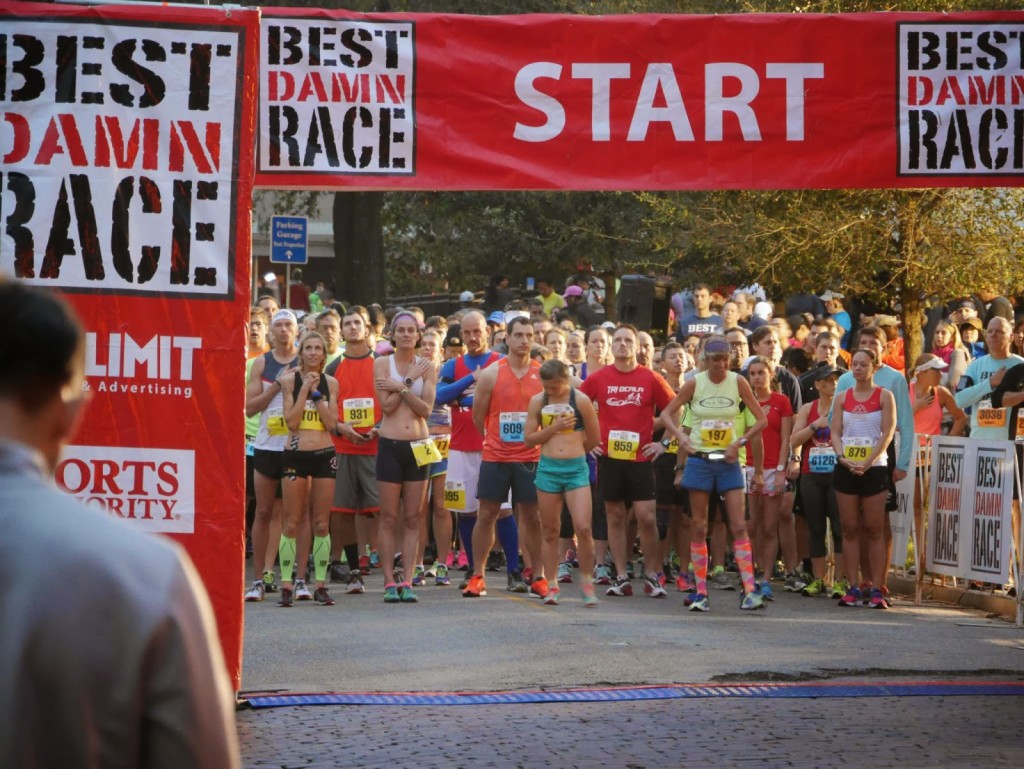 National Anthem. Don't worry, I moved back with the normal people.
2. I ran hard and tried not to think. My friend Linda, who is a collegiate coach and badass athlete, told me "don't think, just run." And I really worked on that. Every time I started to write my blog in my head about how I fell apart at mile whatever, I'd say "shut up, just run." I also listened to Coach Jon's advice to smile every now again. That actually works too! Ultimately, I am very happy with how I executed this race. I tried to run eight minute miles for as long as I could. You can see I fell off on mile six, but it was my legs not my lungs and I think that's a good sign.
Mile 1: 8:02
Mile 2: 8:06
Mile 3: 7:59
Mile 4: 8:09
Mile 5: 8:13
Mile 6: 8:34
The .2: 7:28
3. I got 2nd in my Age Group! I just moved up to the 35-39 age group which worked to my advantage at this race. The 2nd place overall winner is also in 35-39 so that bumped me. Bonus! My final chip time was 51:00*, an average of 8:13. I'm super happy with this time and know the work I want to put in to get better and stronger.
I've coveted these GIANT age group award medals since day one of BDR.
4. I got to see a few college friends and return to my old home town. I went to the University of Central Florida in Orlando and BDR Orlando takes place right smack in downtown. I loved downtown as a college student, and even after when I remained living there for another six years. I was so happy to run through the streets, even if the cobbles were a little slick in parts. I was really happy to see my friend Ryan and meet his baby boy, who could not be more adorable.
This was the first Best Damn Race I got to run and even though I am biased, I'd say it was definitely the best damn race. I still got to pass out medals and help on the mic when the real MC went to start the 5K. I love volunteering at the finish line and I'm glad I got the opportunity to race AND volunteer.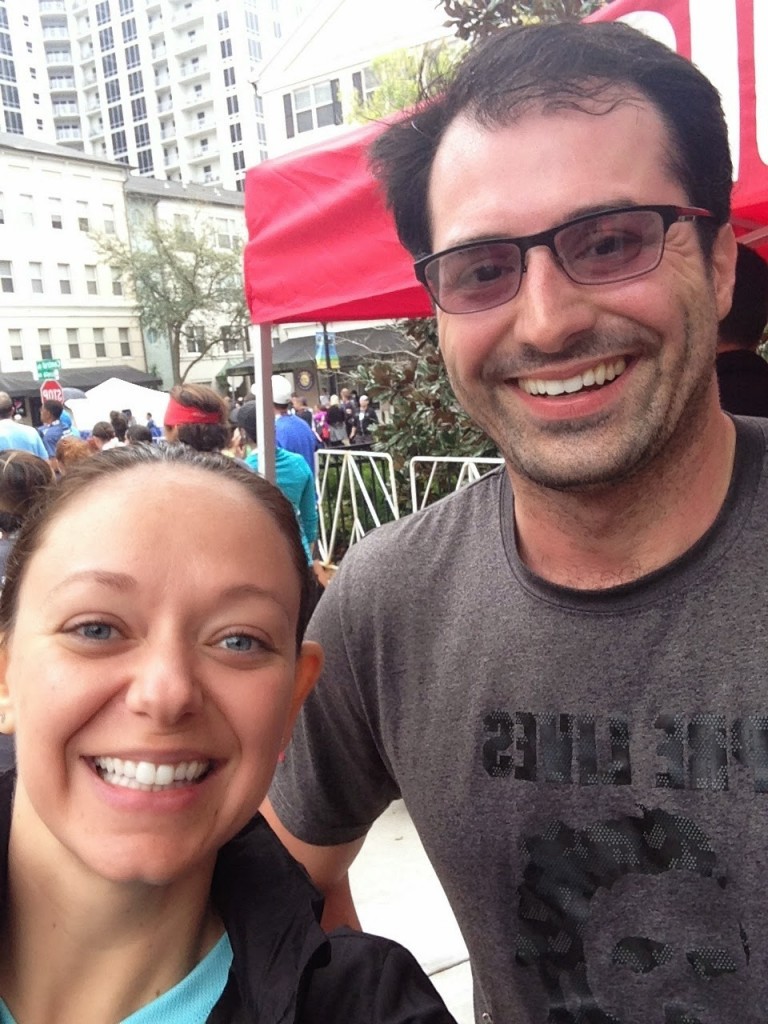 Me & UCF friend Ryan
5. I still hate the 10K. The 10K is such a tough distance for me. It truly feels like a longer, painful 5K. I suffered and hung on as long as I could. I like my pain to be in shorter time frames. I'll take a 5K any day of the week!
It's safe to say I've regained some run confidence that I really needed and I had a lot of fun out there, even when it hurt. I have a lot of work ahead of me but I'm actually looking forward to it.
Happy Monday friends! Don't think, just run.
*My garmin time was a couple seconds faster, and I had 6.26, but we go by "official" results and the course is certified USATF.