I'm shamelessly stealing a format for weekly workouts from
Meghan
because I like how she posts her weekly workouts from DM, and imitation is the sincerest form of flattery. I've decided that I'll be doing this on Mondays from here on out. At least you know what to expect from me from now until Ironman Chattanooga. And of course, this will help me stay on track.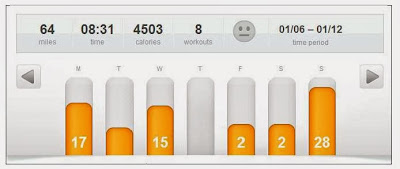 Monday – In the AM I did a 2,050 meter ladder swim. After work I did a trainer ride for an hour. I watched Downton Abbey and did some one leg drills. I can't remember which leg right now but one of them definitely doesn't have the same power as the other. I'll be doing more of these.
Tuesday – 9 Round cardio kickboxing/boxing class. This class was only 30 minutes but I was pretty sore two days later. DOMS anyone?
Wednesday – Another swim/spin day. I swam 2,500 with a different master's group and this one tends to push me a bit more. In the evening I could only make it through 50 minutes of sitting on the trainer. Coincidentally, Downton Abbey was only a 50 minute episode…
Thursday – Rest day.
Friday – 3,300 yard swim. I got pretty tired toward the end. This weekend's 5K is going to be a challenge.
Saturday – 1.5 mile open water swim with my Frogman buddies. This swim was TOUGH. The water temp was 58 degrees and the current was intense. Thank goodness for my new buddy Dan who hung with me and gave me a push at the start to get going.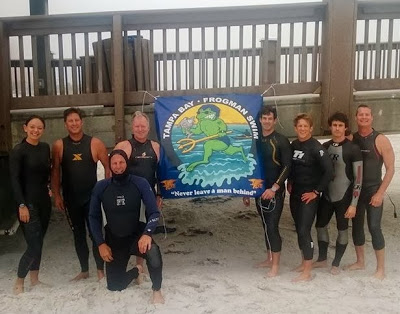 Sunday – 28ish mile bike ride at Ft De Soto Park with the gang. Ft De Soto is notorious for big head winds and conversely big tail winds. It's a nine and a half mile loop so you can get in a solid ride without being too far from your car. Plus, it's fun to go as fast as you can with the tailwind even thought the head winds are a bitch. 

I'm happy with this week and I hope to keep up with my trainer rides and cycling. It's my focus for 2014. If you noticed the absence of running it's because I was taking a little time out from it in order to get these heels happy again. They are still bugging me a bit but I may give running a try later this week. I'm not planning anything hard or long but it is probably a good idea to get some blood circulating. We'll have to see how it goes.
Before I sign off, I gotta say congrats to you crazy Disney runners. I loved seeing all the pictures and man you got some sweet swag! If you didn't get enough already, I'm hosting another giveaway from Milestones tomorrow. Stay tuned….