Well, the time has come! Saturday will be my first triathlon over a sprint distance since 2014. Yowza. It's a good thing I'm heading to Alabama early Friday so I can check the area out and prepare for the Brett Robinson Alabama Coastal Triathlon.
It's been so long for several reasons. The first is that I was just flat burnt out. After the ironman I didn't want to ride my bike at. all. The second is that somewhere along the way I lost a lot of confidence in myself. I started thinking more about how I looked on the outside, racing self-consciously, than how I felt on the inside. As in, "Do I love this?" And ultimately, I realize that yes, I do love this. Why would I worry so much about how I placed or what my time was outside of just doing my very best? It's something that has slowly started to come back to my mind and I'm more excited than anything to race. And the last reason was that I just hadn't found a local race that excited me to get back out there. I love local racing but sometimes the same scenery can get a bit tired, especially if you're burnt out.
That's when this amazing opportunity popped up with Gulf Shores & Orange Beach through my good friend Jesica. (You know her as Runladylike.) When I told Coach Mason about this race, she was skeptical because I had been flaking on training AND racing. But the very fact that this trip was blog sponsored meant that I couldn't back out. We both knew I had to commit. And commit I did. I really stuck to the training and the more I stuck to the training the more excited I became. And here we are. Triathlon Beth is ready to go.

That quote above is no joke in triathlon. It's probably the best quote on how a triathlon feels. It's not an easy sport. I commend every single one of you who does it. From sprinters to ironman-ers, we are a special breed of crazies, aren't we? Here are my goals in a quick rundown:
Swim – I want a strong swim with no stopping or random breaststroking (that I have been known to do). It's a time trial start so that will relieve a little bit of the pre-swim stress. Yes, even though I am comfortable in the water, I don't really look forward to the mass start chaos. I would love a 29 minute swim or better.
T1 & T2 – Not coming in last and not making sandwiches. Sorry friends, no paninis for you!
Bike – I really just want to see what I can do based on the about six weeks of moderate cycling I've done. I know I won't be fast, but I will give it my damnedest. No time goals here as I have NO clue what to expect.
Run – I feel strongest here but after that bike, who knows. I'm going to shoot for an 8:30 pace. It's still going to be warm, but it looks like it may be overcast, which would be glorious.
Total Time – Ultimately, I just want to finish under 3 hours. I have done oly's under 3 before but I was definitely better trained. 2:59 counts. Ha!
And there you have it. Before I sign off, if you are on twitter I'd love to tweet with you Saturday after my race. You can learn more about the Gulf Shores area and beaches. Plus, there are prizes! The photos I have seen of the area are gorgeous! I can't wait to race there and explore more of the area. Please join me for the twitter chat on Saturday at 1:30 CT/12:30 ET. I can tell you then if I met my goals! (Click the photo to get  all the social handles!)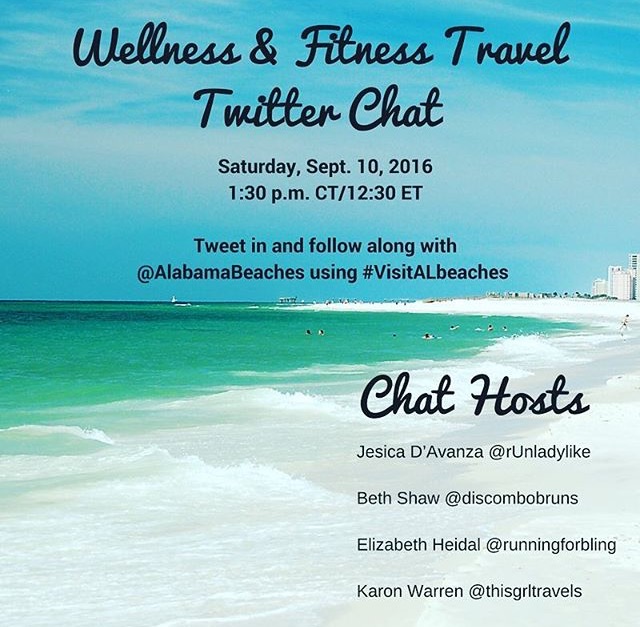 Have a great weekend everyone!