One of the best things about blogging is the ability to write reviews on new products. Of course, as I have mentioned before, I review products honestly and swear if I didn't like something I'd tell you.
Disclosure: I filled out a form to get a blogger review kit for Keurig's Brew Over Ice. I was sent these items free, I wasn't compensated, and I love my Keurig.
The good news about reading my review is that there's also a giveaway. If you have a Keurig already then it's perfect for you. If you don't have a Keurig, I highly recommend getting one. I adore mine. The S.O. doesn't drink coffee and one cup is exactly what I need in the morning. Plus, for some reason, I can never make a good pot of coffee. I always make it too strong. The Keurig saved me from really bad coffee. It's also cheaper than buying a cup everyday from a chain or convenience store.
On the rare occasion that I do buy coffee, I usually end up with a Dunkin iced coffee. I live in Florida. Iced is ALWAYS the way to go. And guess what?
They came out with special
Brew Over Ice
K-cups. I squealed when I opened the welcome kit that contained some sample K-cups, coasters, an ice tumbler, and a light up ice bucket with tongs. Super fun stuff!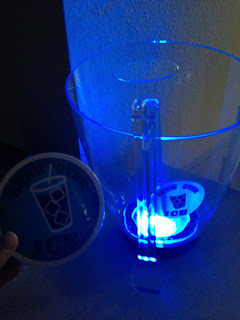 Disco ice bucket party!
Ok, I'll be honest. I may never use that ice bucket. It's really fun for sure but I was way more excited about trying the Brew Over Ice K-Cup samples. They sent a Donut Shop Iced coffee, a Snapple Peach iced tea, and a Vitamin Burst in strawberry pomegranate.
The first morning, I tried the iced coffee.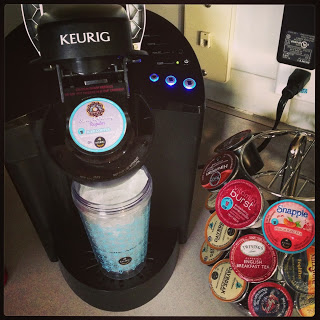 Wake me up before I go go.
I filled up the tumbler they provided with ice and hit the mug button. It melted some of the ice so I added more before I gave it a taste. It was really creamy and already sweetened so I didn't have to add a thing. I hit a super concentrated swig at one point and realized you have to stir these bad boys. The concentration is probably what makes them work so great over the ice. It melts and dilutes it but doesn't water it down.
The next day I tried the Vitamin Burst and made the iced tea for the S.O. He thought the iced tea was ok but a little too sweet for his liking. I, on the other hand, LOVED the vitamin burst. It was sweet and fruity and delicious.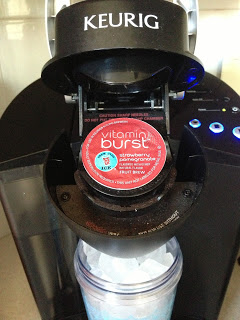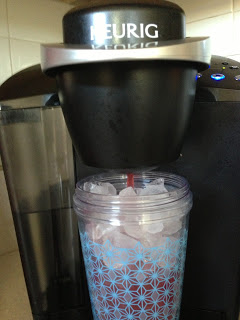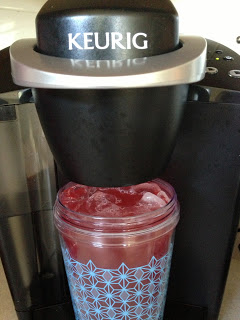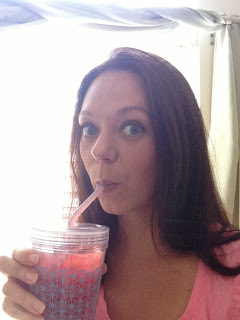 Mmmmm….
Want to get a sweet kit too? It's pretty simple. You all know how I hate to make you jump through hoops. All you need to do is tell me your favorite coffee and I'll choose the winner using randomizer.org on Friday, August 23, 2013. Keurig will do all the work and mail your prize out to you. If you enter make sure I can reach you somehow, if you don't have a blog, please leave me your email.
I'll finish up the swim tips tomorrow. Happy Monday!