I am finally back home in Florida and let me tell you that I had 1,400 work emails and 27 work voicemails. I crap you not. Nothing like coming back from a wonderful trip to emails about TPS reports and a copy machine that is about to spontaneously combust. Now where is my stapler…
Anyway, as I was saying. I had an AMAZING time visiting with Spike and Red. I absolutely adore the pants off of them. Well, actually they keep their pants on cause that would be weird.
The back story on this trip was due to the fact that Red was going to attempt her BQ at the Cleveland Marathon. I took this as an opportunity to book a trip to see her and run the 1/2 with her then go cheer her in. And since fate is a dirty, dirty whore sometimes, my beloved Red got a stress fracture. However, as she is a wonderful person and friend she insisted I still come run and she would cheer me and all the other runner bloggy friends in. (Really, if you haven't met her and Spike I highly suggest a trip to the Mitten state. They rule.)
Upon arrival on Friday, we (Red, Spike and Me) headed to Playmakers (a popular running store in Okemos, MI). I bought a few running items and found an anklet for those tri chips that sometimes come on what can only be describe as the world's chafe-iest velcro. This anklet will save me from chafing my entire foot off at any tri's that don't offer the better straps. Win!
We then roamed the grounds of Michigan State and went on to eat about 900 pieces of sushi. Spike and I had a contest and while he thinks he won, I'd like to point out that since I am smaller than he, the number eaten should be based on the ratio of size to food, not just in counting pieces. Just sayin.
Later that night we saw the movie Bridesmaids and I cannot begin to explain how freakin' funny this movie is. Go see it. Right now – er, after you read this post.
On Saturday we woke up bright and early and headed to the pool for some B.o.B.-style swim lessons for Red. Basically I shoved her head under water and told her to BREATHE! Just kidding. I gave her a lovely lesson on how to swim freestyle and she did great. She'll be Esther Williams in no time. In fact she may just swim the English Channel on a Tuesday, for no reason other than she just feels like it. You know, no big whoop.
After our swim we headed to breakfast and then got ready for the impending arrival of the lovely Jen from Solitude Stew. Jen had just run an amazing 25K and was travelling our way to head to Cleveland with us for a little spectating action. Note: She also rules. Pretty sure you people in the mitten are all from the same species of coolness.
As soon as Jen arrived and changed we loaded up and headed to the Cleve. Heh.
Our 4 hour drive included singing, eating Cheez-Its and other various road trip fuel, and stopping for Beef Jerky where the shirts read "Nobody beats our meat!"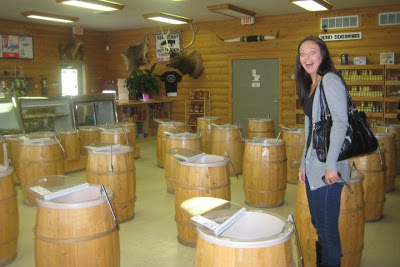 So. Much. Jerky. I'll take foods not to eat before a race for $500 Alex!
We hit up the expo, which was kind of lame but I think that's due to our late-ish arrival. I only got a shirt that was too big cause they were out of my size and my bib. No bag, no safety pins, no eighty flyers for other races, nada. But, that's a lesson learned in racing: get to the expo early. Of course, this was not a major deal since Red found me a great deal on some tri shorts. Woot!
After the expo we went to our hotel. It was awesome! Who'd thought that a hotel with an elevator the size of a broom closet would have such amazing suites. Kudos to Spike on that one.
The four of us did the old pre-race dinner where I had stupid pizza and everyone else ate the most delicious meals I've ever seen. Well, at least for that night. They made sure to let me know how bad the dessert was as evidenced by this photo:
Yeah, they are total liars. The dessert looked and I'm pretty sure was – decadent and glorious. Bastards.
As the three headed out to explore the Cleve, I went to sleepy land with thoughts of a 1:45 half marathon on my brain.
Stay tuned for the riveting 2nd part…..