No sooner did my post about running Chicago go up than I was asked about my pursuit of the Boston Qualifying time (BQ) by a few readers. It's only natural folks would ask this and I have certainly asked myself.
In planning out my racing year I was basically limited to a Fall marathon or a Fall half ironman (70.3). I went back and forth on this for a while. I looked at a few different 70.3 races and I just couldn't decide, nor was I really feeling the triathlon pull. I finished Augusta 70.3 in October and I think I was burnt out from the bike and I was fiending for a marathon. Thus, Chicago became the winner in my quest for an endurance Fall race.
Now, the question about the BQ arose because
my last marathon
was an attempt at a BQ. It wasn't meant to be that day. And right now, my main goal is to just run a PR in Chicago. I haven't run in six weeks so who knows if I can even get back to the shape I was in when I was training for that ill fated He-Who-Shall-Not-Be-Named marathon.
Yes, Lord Voldemort has a marathon. It's when he takes form as a humid, muggy, palm tree lined city….and then two police detectives wearing pastels and five o'clock shadows jump out from the bushes and sniper you into walking a solid five miles….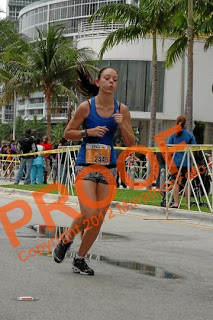 And she huffed and puffed and almost fell down.
Back to that BQ question.
I would love if my Chicago time and the BQ just so happened to align. But again, I have a long way to go to get back to the shape I was in and I'm enjoying the low pressure goal of just a PR. If you look over to that side bar with my current-ish PR's (Those have a shelf life don't they?) you'd note that getting to a BQ for me would require a fairly large cut in time and one that would make me a very fast, very strong runner. I mean, 3:35 sounds crazy fast to me. I'd have to go from my 3:48 to a 3:35. Now, we runners know that once you start getting faster, the PR's can plateau at times and they can certainly get tougher. I went from a 5:17 marathon to a 3:48 marathon but:
1. I trained my butt off.
2. It got harder each time I took minutes off that PR
3. I'm not sure I want to kill myself to get to that 3:35….yet.
I suppose only time will tell on this one and I've got a long journey ahead of me before I can really see how I'll feel when I hit the streets of Chi-town. I don't want to obsess over this and I want to have fun with the training. Lord knows I'm going to need some fun because training for Chicago during the Florida summer is going to be about as fun as going to the DMV.
Who else is running Chicago out there? Drop me a comment so we can plan a meet-up!