As I mentioned last week, I registered for this sprint tri on a whim. This event is typically on the small side, which I enjoy, because the bike course can get tight and after not having raced since the ironman back in September I had that old bike nervousness. I went into this event with the intention of having fun. I told my friend Noel I was going to podium in fun. No pre-race panics, no post race meltdowns, just all out F-U-N.
It was really nice to wake up on race morning with no real expectations. I will admit that I thought about the run, but only because I've been running the most lately. I had this delusional idea to attempt sub eight minute miles because it's "only" a 5K, right?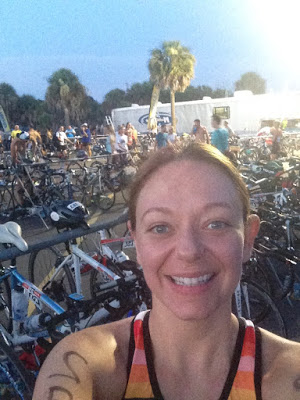 Transition Selfie #4,432
I got to spend some time before the race started chatting with friends, including Coach Jon, and the S.O., who were both racing the international distance. I watched all of the international athletes start and then the elite sprint athletes, and then finally my wave, the very last wave was ready to go.
The Swim 1/4 Mile
I lined up front and center for the swim start. I'm no longer scared to start in the front and if women swim over me, so be it. The horn sounded and a few women swam over me. Haha. It was fine, I just kept on swimming and while not in my best swim shape, I think I did pretty well. I definitely got tired half way through and while the 1/4 mile looked so short from the shore, it felt much longer while swimming it.
8:54, 4th out of 14 in AG
T1
Not my worst T1 by a longshot. And I put on socks.
3:05, 3rd out of 14 in AG
The Bike
You all know what I'm going to say here, right? This course, while it's always advertised as 10 miles, it's actually just shy of that. My Garmin clocked 9.71 miles. It was the longest 9.71 miles of my life. I got to see the S.O. twice and as he passed me I yelled, "I hate cycling!" to which he replied, "I know!" It was funny. I got passed a bunch and had no clue where I was in AG placing. I felt like I was crawling and was certain I was in last place. My dismount was hilariously slow and a friend who was volunteering yelled at me to hurry up. It was funny as I had previously asked him to yell at me to hurry up.
32:23 (18.5 MPH according to race, but really about 18 MPH), 7th out of 14 AG
T2
Made a small PB&J here. Hee hee.
1:22, 5th out of 14 in AG
The Run
Again, it's been quite some time since I've run off a bike. Ten months to be exact. So, when I hopped off my bike and got to the run I felt cray cray. I thought for sure I was crawling and I had to putz with my Garmin on Auto-Multisport mode to find my pace. I saw 8:05 and thought, ok well that's not bad. A woman in my age group zoomed by me in the first mile and I let her go. It was hot and my delusions of running sub eight's went right out the window. Mile two brought me to the hard(ish) packed sand portion of the course. I slowed a lot more than I should have but the sun was unforgiving and I just didn't have the legs. I know I passed another age grouper at some point but I can't quite remember what mile that was. As I got into the third mile I found a bit of oomph and pushed harder toward the finish line. I heard Coach yell at me to smile and I did.
25:44 (8:10/mile), 3rd out of 14 in AG
The Finish
I finished in a time of 1:11:28 which is pretty close to some of my best times on this course. I suppose I didn't lose as much fitness as I had thought. Granted, this race isn't as competitive as some of the other ones on this course, but I will happily take my 3rd place AG finish and run with it. And guess what? I had FUN! Mission accomplished.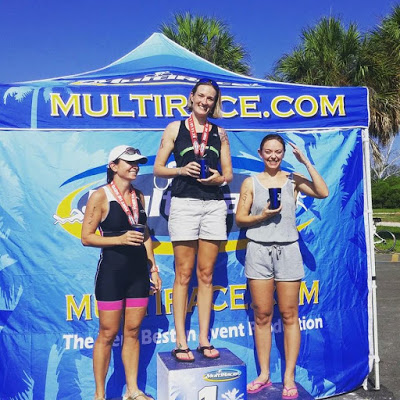 I'm trying to block the angry sun.
The S.O. finished in 5th overall and is still generally a badass. Coach Jon was leading the entire international race until he had an unfortunate collision with another athlete while on his second bike loop. He and the other athlete had to DNF. On the plus side, they are both ok, but both took some road rash. And because he missed his run for the day Coach Jon went on to run a 9:33 at the two mile time trial race that night. That's a 4:45/mile. Clearly, he's also a badass. I'm just trying to surround myself with these outstanding athletes in hopes it will rub off on me.
Have a great Monday everyone! The Tour de France gets a rest day today. It's been awesome so far, right? How was your weekend?