As promised, today was the day I was announcing the winner for the
Best Damn Race
prize pack giveaway. And without further ado, the winner is…
Tiina!
(I shot you an email Tiina. Excited to get your BDR prize pack over to you!)
Today is one of my most favorite days of the year! We are having a potluck at lunch and I made
Eyeball Sandwiches
. They look just like the image (hooray!) but I'm not quite sure how they are going to taste. I decided to use mustard instead of ketchup for the "veins" because I just don't think ketchup goes with the rest of the flavors used.
Last weekend, we attended a very fun Halloween party. And since I am all about scary stuff, I decided to go as Samara from The Ring. I had a VHS tape and everything. The S.O. was Michael Phelps with a "water pipe" prop. I am not sure we want that photo all over the interwebs so here's a shot of me as Samara coming out of the tv.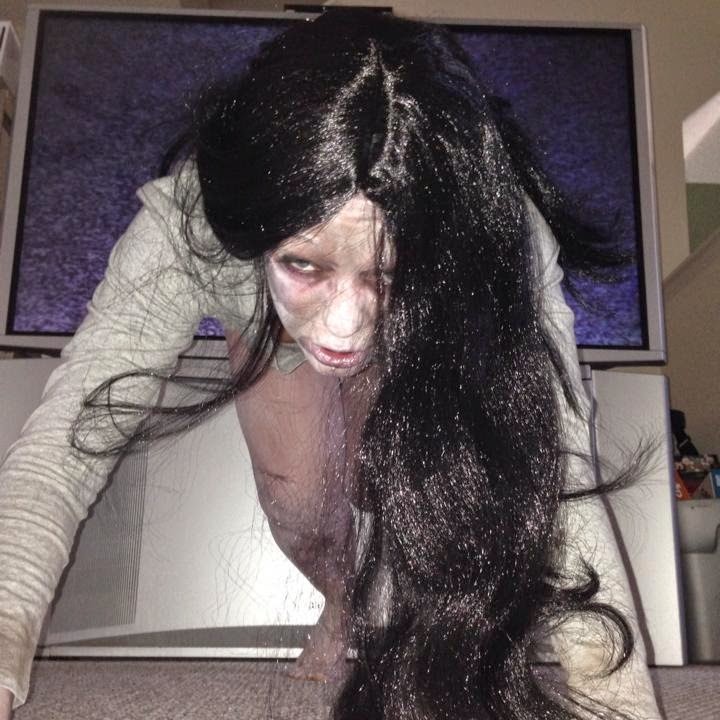 The other "person" in our house had to dress up too, of course. So here's Lloyd Doggler as "Happy Halloweenie."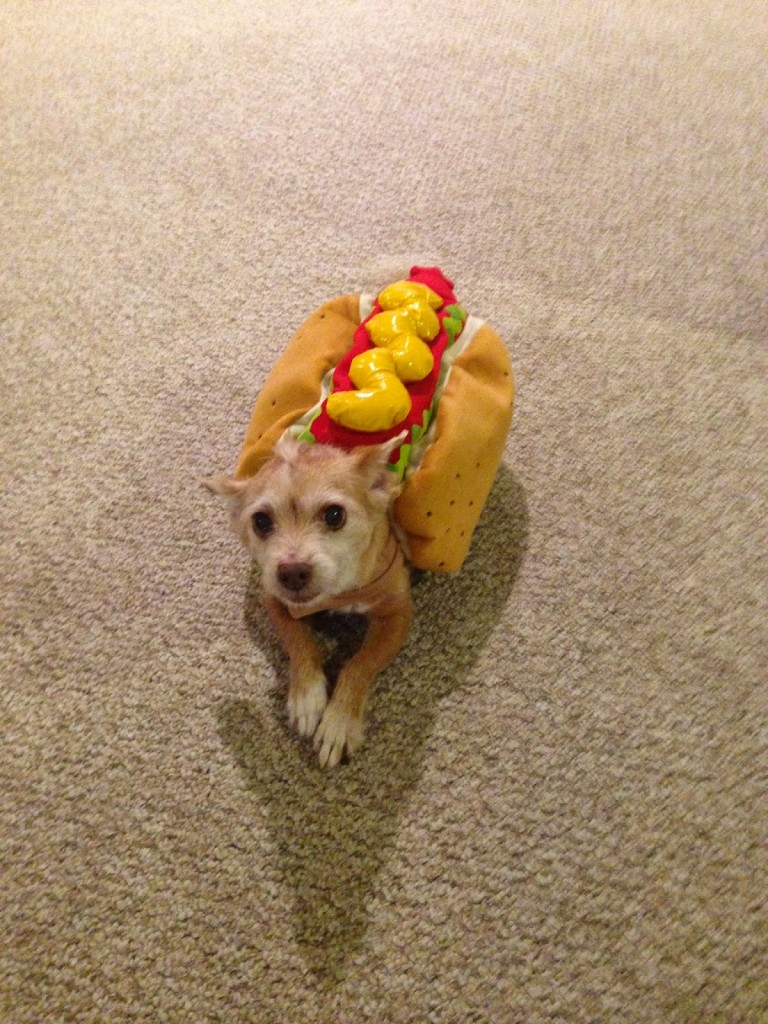 The mustard lights up and blinks!
Finally, since this is a running blog, I've been running. Ha! I'm increasing my mileage and have added hot yoga and my at home Body Pump DVD every week so far. (This isn't saying much as I'm only on week two.) I've been sore from Body Pump and I'm trying not to overdo it there because I swear I have some muscles I haven't used in ages. The cooler weather has been a MAJOR help in some of the harder runs Coach has put on the schedule but I keep surprising myself and hitting the marks. My runs are very specific and I'm getting used to doing a variety of runs versus just running one pace for the whole run. I have to actually pay attention to segments of each run to either increase speed or add in strides. I still have easy runs and I'm really good at those. Heh.
I'll be doing the Vegas Rock N Roll half next month and I'm really looking forward to our trip. Snoop Dogg dropped out but Mackelmore stepped in so I'm happy they found a kick ass replacement. I'm gonna pop some tags….
Happy Halloween!!! Oh, and before I forget GOOD LUCK IRONMAN FLORIDA RACERS and GOOD LUCK NYC MARATHONERS!!!
Catch ya on the flip.