Hi everybody! I hope you all had a merry Christmas! I certainly did. My day started with a surprise meeting with a running hero of mine (any many of yours I suspect)…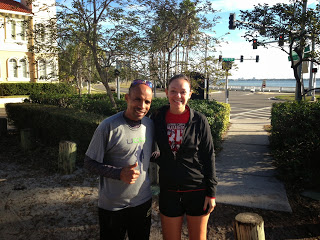 It's MEB!
I got to meet Meb Keflezighi!
Meb
, in case you don't know him, is an American marathoner who came to the US as a refugee from Eritrea (a country in the Horn of Africa) at the age of 12. It wasn't until he ran in junior high school that it was realized how fast he was. That's part of the reason I love his story. He didn't come to the US to be a runner, he came with his family for a better life and opportunities. He's won a bunch of races and has a silver medal in the marathon from the 2004 Olympics. He lists his win at the 2009 NYC Marathon as one of his proudest accomplishments.
So how did I meet Meb on Christmas Day in Florida? Well, I'm a stalker. Just kidding.
On Monday night, at my track group holiday party/coach's birthday party, my track coach mentioned in passing that he had a run planned with Meb this week. My ears immediately perked up and I said, "THE MEB?" Coach told me that Meb had family locally and he would go on a training run with him. I begged asked Coach if I could please come out before their run, geek out, snap a photo and then be on my merry way. Coach said of course and that's how it went down.
Thus, on Christmas morning I woke up as giddy as a kid waiting for Santa Claus and drove my work day forty minute commute over the bridge to meet Meb. I had a three mile run planned after the meeting so it worked out well since we were to meet along the lovely Bayshore I used to run everyday.
I beat Meb and Coach to Bayshore (the only time I'll ever beat either one of them at anything). Once they arrived I got to say hello to Meb and take the above photo. He is a genuinely nice man and he and Coach seemed to know each other pretty well. Meb asked me if I liked the photo and if I wanted to take any more, which I thought was super nice.
I told Meb my marathon was on Sunday and he told me good luck. Then he and Coach ran off for a warm up while I ran waaaaay behind them on my easy three miler. (I had barely hit a mile and a quarter when they were already coming back.)
I got back to the cars as they were stretching and said goodbye and thanks again. It was so cool to see Meb doing his stretches and warm up exercises. Coach told me he would bicycle alongside Meb for his real workout which consisted of some mile repeats. According to Coach, Meb ran into the wind mile times of 4:46 and 4:38. Then with the wind two miles at 9:16, a mile with cross wind at 4:36, and a final mile into the wind at 4:35.
Part of me hopes that meeting Meb was a good omen that rubbed some of his speed and endurance off on me. And even if it didn't, Meb is a runner to emulate. He has a can-do attitude and it definitely showed during this year's NYC marathon when he finished the race despite an injury to honor the Boston Marathon victims.
Meb will be in my mind on Sunday. When the going gets tough, I'll think to myself, "What would Meb do?" and I'll carry on and run to win. Just like Meb.