I'm back from DC and just in time to say HAPPY HALLOWEEN! Here's a round up of our trip with a few fun pics.
The S.O. and I arrived in DC on Friday night and I woke up Saturday AM for my long run with my buddies from
Capital Area Runners
. My friend Amy, who I met through
Katie
, let me know they would be running a 20 mile loop. I had 18 on the schedule so I figured I could just do an out and back.
Amy picked me up Saturday morning around 7:30 and we headed to the run start to get going by 8 AM. It was a big group! They were even missing quite a few runners since some were doing Marine Corps Marathon the next day.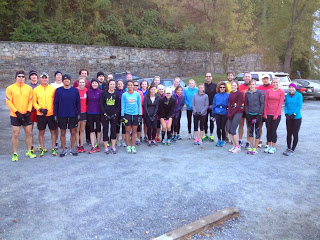 You can almost see my head with the pink headband in the back left.

We got started and a few of the gals began mentioning that I should just run the whole 20 with them. What's another two miles? As we got to their coach, George, at mile seven, he also said I should just do the 20. So, with the cold weather and assurances that I'd be fine, I decided to just run the 20. Everything was good until mile 14 when I started feeling a bit sluggish. The girls let me know that I'd be fine as soon as we hit 16 since the final five were all down hill. Oh, yeah, they mentioned it was a little over 20 miles. Yikes.
The girls I was with wound up dropping me like a bag of dirt at mile 16 but it was a straight shot back to the car and most of it was downhill. Hallelujah! I ran that final stretch solo and honestly felt great. I wound up running 20.78 and held an 8:53 average. Cold temps will certainly be a bonus if I get them in Jacksonville! (BTW, I switched back to Gu gels. Honey Stinger nearly killed me, and my shorts, the last two runs. I don't wanna talk about it.)
After a great long run (THANK YOU AMY AND C.A.R.!) I showered and headed over the expo with the S.O. I've never seen such a crazy expo and packet pickup situation. It was surprisingly chaotic and we had to wait in some of the longest lines I've ever seen at a race expo. There was a line for bib, then a line for shirt, and then a line to get in the expo. Nuts!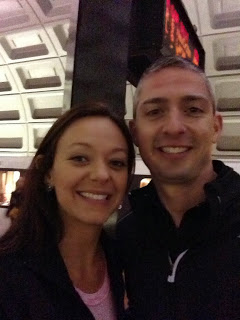 Getting on the Metro!
Saturday night was an early dinner and get ready for a long day of racing (S.O.) and spectating (me). The S.O. got up early and headed out to the race start. I got suited up in my best Halloween/spectating gear and headed to Rosslyn to meet up with
Caroline
.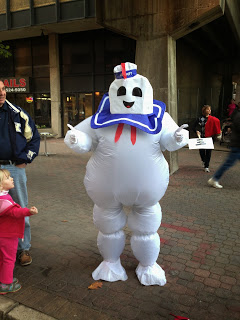 WHAT DID YOU DO RAY?
Tada! I dressed up as the Stay Puft Marshmallow Man. I was sooo warm and I really loved bringing smiles to runners faces. I know how tough the marathon is so I'm glad I could make the runners smile, even if some did think I was the Michelin Man.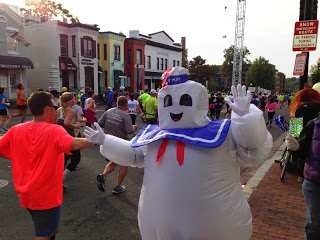 High fives in Georgetown!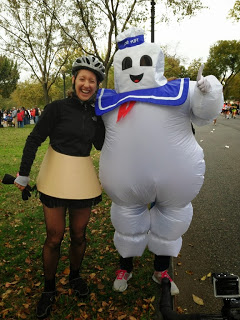 Leg Lamp (it's a major award!) and Stay Puft
Caroline was the Leg Lamp from a Christmas Story and it was awesome. Runners went by yelling, "FRAGILE!" We had a blast riding around the route and stopping to cheer on our friends. The day went by so quickly and I'm so proud of the S.O. He didn't have the race he wanted but I still think he's a badass. He's my favorite.
We went back to the hotel so he could rest and we could eat and basically didn't move until Monday morning. We did some sightseeing with our Florida friends and I got to see everyone walk up stairs at the Capitol. Poor post marathon legs do not like stairs!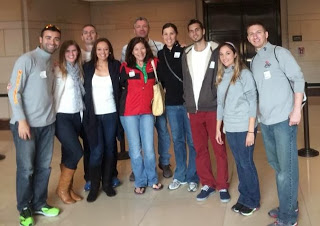 At the Capitol.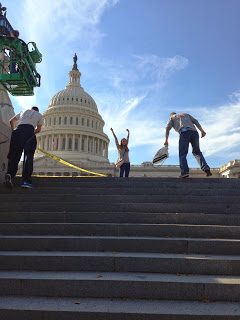 S.O., Mike, and Beka "racing" to the top.
Monday night we had a homemade dinner courtesy of Caroline and her husband and I cannot thank them enough! We stayed the night with them and saved a lot of money since the marathon discount at the hotel ran out on Sunday. On Tuesday we had just enough time to get in some final sightseeing before we headed back to Florida.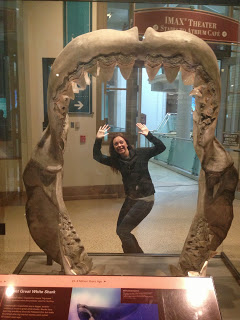 Jaws.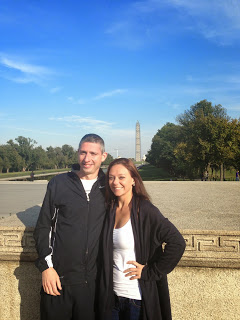 Beautiful DC day.
And that's that. I'm glad to be home but wish we had one more day to sightsee. DC is still one of my all time favorite US travel spots and I'm sure I'll be back soon enough. Thanks again to Caroline and Amy and CONGRATULATIONS to all of the MCM runners. You guys kicked ass!
How was your weekend? What did I miss?