Happy International Women's Day! Let's celebrate! Uteruses before duderuses!
As an apropos, but unexpected way to celebrate, last night I headed to the YMCA to talk with a couple of Girl Scout troops about health and fitness. I was asked to come speak to them by my high school friend, Melissa, whose daughters are Girl Scouts. The girls are working on their health and fitness badge and working toward a "Tutu Trot" in April. I was honored to be asked to speak to them. And also, surprisingly, nervous!
Clearly, I am not a shy person by nature. It's true. If you meet me IRL, I will talk your face off and am exactly what you get here in this blog. I've spoken to large groups before, have led adult track sessions, and have no real fear of public speaking. However, the thought of speaking to young girls about health and fitness made me nervous. Would they get bored? Would they laugh at my bad jokes? How long until they completely tune out?
As it turns out, they loved it. The fact that we got to do some plyo drills and actual running helped. We moved too much for them to get too bored. Plus, they were a great group of girls. They were so well behaved and really into learning. We ran some sprints and relays and talked about dynamic and static stretching.
I don't think I ever had that much fun in the few short years I was a Girl Scout. I only remember singing songs – and I wasn't into it. My friend Melissa does a great job of ensuring the girls get to try something different all the time so if they don't love the health and fitness activities then maybe they will love the crafts or camping.
After we did some running and talked more about what other types of activities they could do for fitness we headed inside for snacks. Melissa had asked me about good running snacks so we decided on bananas and chocolate milk. I told them about using the chocolate milk only after a workout, because milk beforehand may not the best idea, at least for my sensitive stomach.
They asked great questions and I was so happy when one of the girls said she wanted to be a runner like me. I may have gotten a little choked up. I had the opportunity to speak with her mom who is doing a wonderful job of championing her daughter's desire to run by signing them both up for the Iron Girl 5K in April. Go Mom!
I got to take a few group photos with the girls, and in accordance with International Women's Day and just being strong Girl Scouts, here we are flexing our muscles.
Melissa and the girls gave me two boxes of my favorite Girl Scout cookies, samoas, and this adorable thank you card.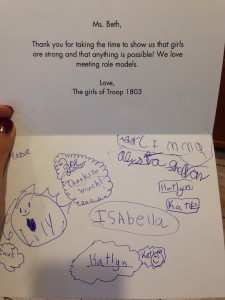 I had such a great night and again am super honored I got to speak with such a wonderful group of Girl Scouts. It was a fantastic way to end a Monday.