Guess what? I'm officially a race director. Can you believe it? My 5K went off without any major hitches (or at least anything that created a huge stir) and I'm so relieved. I basically didn't sleep from Friday to Saturday because I was so all consumed by thoughts of this race and hopes that nothing went terribly wrong.
Instead of writing it all out, I figure pictures are worth a thousand words. Thanks to all of the local bloggers that came out to run, walk, or volunteer.
Tori
,
Jessica
,
Rachel
,
Kat
,
KC
,
Brooke
, and
Steph
– You gals are awesome.
(It's so cool to read race reports of my race, btw!! Go read them!!)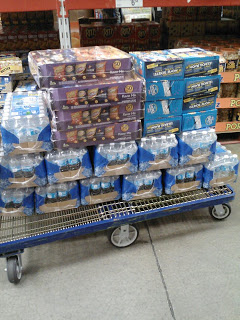 Potato chips and water. What else could we need?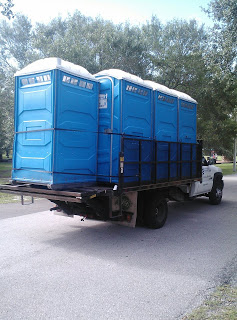 Ah yes, we need the big blue poop houses.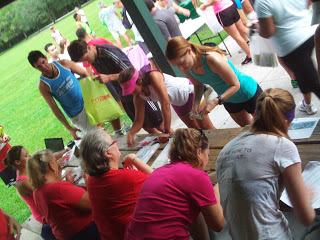 Registration tables were hopping. (My mom is the 2nd from the left. Go Mom!)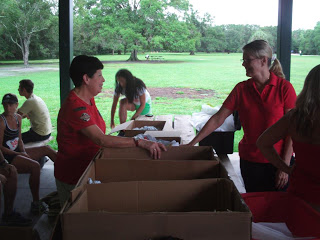 My stepmom and aunt came out to help. Love.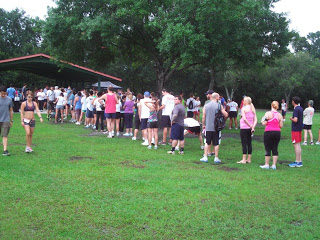 Holy crap that's a lot of race day registers!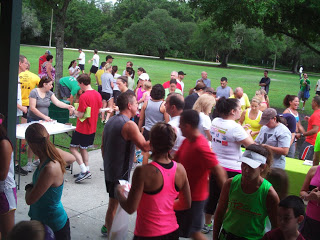 Waiting on the race to start.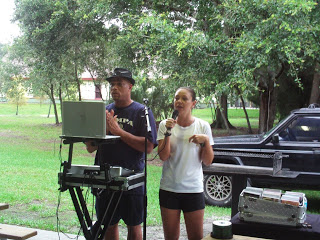 "I'm sorry we ran out of safety pins. Please contribute two and I'll give you two bananas."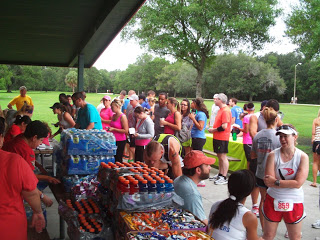 More registering and waiting.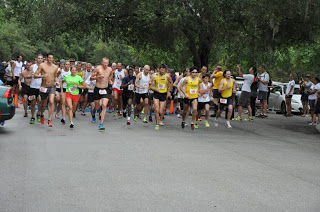 And they are off! (We had over 500 runners! Can't believe it!)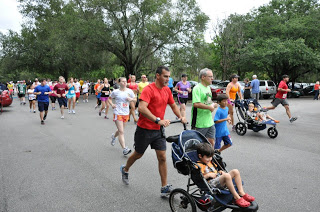 We're a stroller friendly race.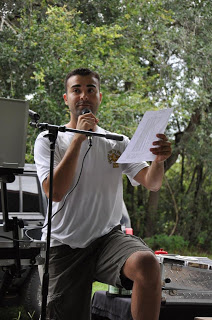 Lazy Runner thanking the sponsors and announcing winners.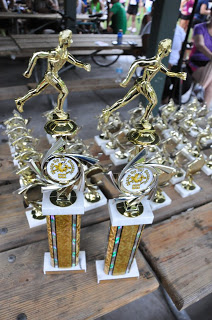 Big ones for the overall winners.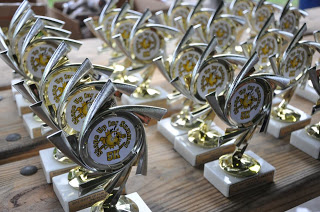 Age group awards.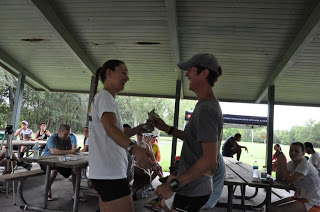 Giving an AG award to my friend Kitty.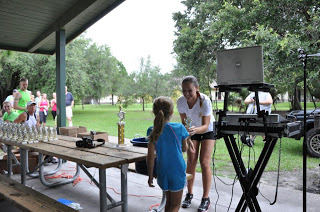 A tiny AG winner. And my favorite photo of the day.
I just cannot thank everyone enough. From everyone who came out to race all the way to the spectators and volunteers, my appreciation is through the roof. I could (and would) not have been to do this without Lazy Runner. We were joking about how if I put the race on alone there'd be shirts, awards, bananas, etc and no runners. Had he put it on alone there'd be 2,000 runners with no shirts, awards, bananas, etc. Heh. We make a great team. And yes, I'd love to do another race. I just need to re-group on my own races coming up. More on that later this week.
Before heading off I have to say a
HUGE
congrats to
Katie
and
Beth
on both being a motherfracking Ironman. Lloyd and I were cheering them on yesterday. Of course, Lloyd was rocking the Team Amazing Day shirt. They both did "amazing" and we're all SO proud.
Faith not fear wins every time.
And finally, CONGRATS to my pro-triathlete pen-pal, and
Team Arctic Ease
member
Meredith Kessler
on her 4th IM win!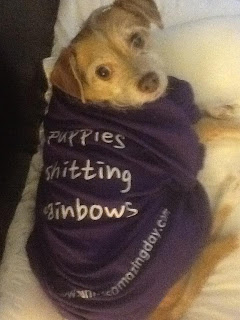 You can bet Katie's puppies are shitting rainbows all over the place today.