On Saturday I participated in the University of Tampa Master's Swim Meet. I do this event every year and I realized it was the same weekend as the
Cocoa Beach Half Marathon
at some point after I had committed to both. I figured, I'm an ironman, surely I can swim and then run in the same weekend without much ado. *Cue Foreboding Music*
Basically, I swam four events and was outside from nine in the morning until about noon. It was sunny and warm. I'll post more about the swim meet later this week.
After the swim meet and a quick shower and lunch, I headed to Cocoa Beach for packet pickup and an overnight stay super close to the race start shuttles and finish line. The two hour drive and swim meet drained me and I was exhausted when I got to packet pick up.
The Expo
The expo and packet pick up were held at Ron Jon Surf Shop. It was a cluster eff when I arrived. Traffic was backed up and I was grouchy so this no doubt tarnished my view of the expo. I had to get my packet which was listed under my bib number…that I was never given. So I had to wait in line to get my bib number to then wait in line to get my bib. It was an outside expo and I was hot and tired.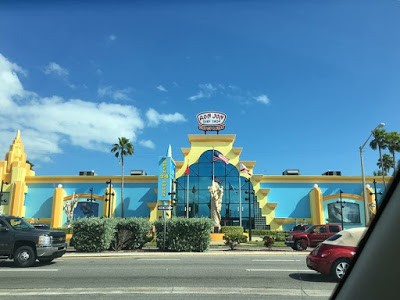 Ron Jon Surf Shop – Photo Credit – Rick Stiles
I got my bib and was handed a form telling me what time I had to get on the shuttle to the start line. This was based on my race finish time, which I thought was odd, but went with it. I hopped in another line to get my shirt. I asked for a small and was handed a bag. I peered inside and saw a shirt, I neglected to look at the shirt at that time so the fact that I was given a men's small was partially my fault.
I forgot to grab a gel when packing so I figured I could purchase one at the expo. Sadly, there were none for sale. There were also very few running booths and as I walked by a booth selling what I think were maybe one brand of running shoes, I asked where I could buy gels. Fortunately, the gentleman running the booth just happened to have a box of Gu's and gave me one for free.
I think Ron Jon was probably stringent on what could and could not be sold at the expo based on what they sell in the store. There were no running stores present and I think there were maybe three or four running type "booths" set up. It was a strange little expo. Take this review with a grain of salt as I was fairly grouchy at this point and just wanted to get to my hotel.
Pre-Race
The race course was tricky when I was planning my hotel and because I was travelling solo. I needed to be able to get back to my hotel post race without a lot of fuss. The race was situated in such a way that all participants had to take a shuttle from the host hotel, which was next to the finishing area park, to the start line. Then after the race, there were no shuttles back to the start line so no parking there. Fortunately, the host hotel was a short half mile from the hotel I selected and an even shorter quarter mile from the finish line at a park. I would walk to grab my shuttle and then be able to walk to my hotel from the finish line.
I ate an early dinner at a nearby restaurant and fell asleep by 7:46 PM. I was zonked.
I woke up early, ate a bagel with cream cheese, and was ready to go. I took a peek at the weather and saw that it was already 77 degrees and humidity was close to 80%. Yay. I then walked to get on my shuttle which was slated from "6:15-6:45." As I looked around I noticed people were just getting on shuttles whenever they wanted and I spoke to a few who said they didn't understand the shuttle schedule either and just decided to get on whenever.
The race start was a five mile drive down A1A and I arrived around 6:30 AM. This gave me a full hour and fifteen minutes to hang out and use the porta potty. It was super windy and I took a seat on a curb to wait until it was go time.
The Race
I got to see lots and lots of "Jeannie's" milling about and that was fun! I also saw my friend Terri who was gunning to win the fastest Jeannie contest, she looked adorable! It was FINALLY race time at 7:45 AM and I planned to go out at race pace and see if I could run a 1:50. Sure, it was warm, but it was a flat course, right? I'm very smart.
The horn sounded and off we went. We ran a bit and then went into a parking lot. It was funny to me. Then we ran out of the parking lot. I yelled cheers to Terri who looked as if she had the fastest Jeannie competition in the bag. No other Jeannie's were close. I tried to slow down that first mile but failed and ran an 8:14. Miles two and three were a lot slower at 8:30 and 8:39. I began to hurt.
Mile four was an 8:53 and that was the last of the eight's for the day. I tried to pick it back up but my legs were dead. At mile five a woman ran up next to me and asked what pace I was running. I told her I was about 9:30 at that point. She continued to run next to me. I had been wearing headphones but the music was annoying me. I felt better as soon as I took the ear buds out. Not sure what that was all about.
I struck up a conversation with this woman and we both mentioned how awful we felt. As we ran I debated a DNF. I decided to just have fun and I really wanted that Jeannie medal. I was going to finish come hell or high water…
I learned my new running buddy was also named Beth and we found this funny and chatted as we ran. I told her to leave me if she felt good and she said that she wanted to stay together. This was fine by me as she was really, really helping me. We started walking through the aid stations and both had chills. I thought I drank enough pre-race but I'm guessing I was more dehydrated than I realized.
Mile eight was the last of the "nines" and we took more walk breaks. I felt like I had run thirteen miles before we even reached mile nine. This half marathon felt like an eternity. My right butt cheek was hurting and I was still getting chills.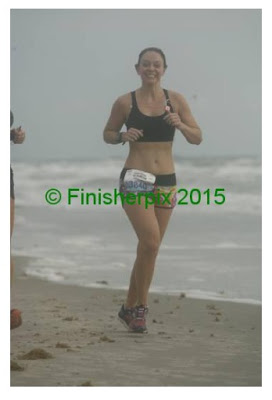 Happy Beth Sees Photog!
We hit the beach portion of the run around mile 10, and noticed the tide wasn't quite as far out as the race director had hoped. We had to dodge the water now and again to avoid getting our shoes soaked. This 2.9 mile stretch on the beach, while tough, wasn't nearly as awful as it could have been if I were alone. Beth and I found out we run similar paces and discussed our running backgrounds. She really was a godsend.
Angry Beth Does Not See Photog!
With a mile left to go, we were finally off the beach and back onto the road heading to the park on I Dream of Jeannie Lane. Yes, it's actually named that.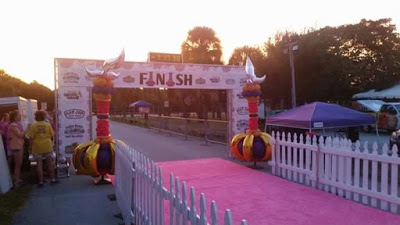 Pink Carpet! Photo Credit – Cocoa Beach Half Marathon
Beth and I finally turned a corner and saw the finish line. I've never been so happy! I think I said, "Thank God!" We had time to snap a quick photo before I had to hightail it to my hotel to shower before check out. I can't say enough how grateful I am for having run with her! Our finish time was 2:09. Certainly not my best, but not my worst either.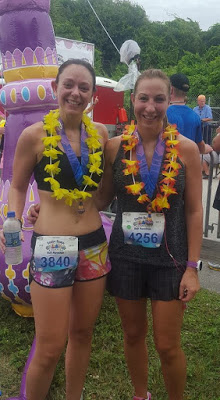 The Beths.
As a final added bonus, I got to meet "online friend" Rick Stiles! Rick has been commenting on my blog for a while now and is always so positive and thoughtful. Post race I headed to the Denny's across the street from my hotel to eat the right side of the menu grab some breakfast before my commute home. Rick was so kind to swing by on his way to his hotel. So fantastic to meet you Rick!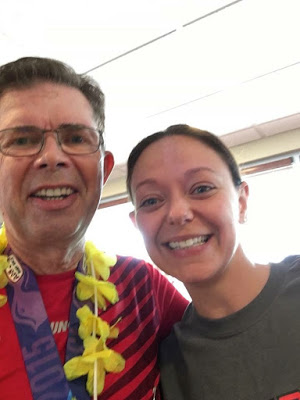 Yay IRL friends!
Final Thoughts
This was a tough race for me so it's hard not to look at it as a race I probably won't run again. I think the race director did a good job overall for a first time event. There were a few confusing things, like the shuttle times and packet pick up, but in general there wasn't anything that I would consider a disaster. I think an earlier start time would be a huge help.
The course, while flat, was a little on the boring side, but the medal and the ladies dressed as "Jeannies" every mile marker were super fun! OH and the pink finish line carpet was awesome! Yes, the sand was tough, but it was something different. There were plenty of aid stations and I am told all of the runners had enough water and food post race, a plus in my book.
I definitely should have started slower and recognized that an all out swim meet the day before, sitting in the sun, would take a toll. I'm also not ruling out dehydration. I was completely run down yesterday and slept in again today. Hopefully I will be feeling 100% by tomorrow. I hope you all had great weekends.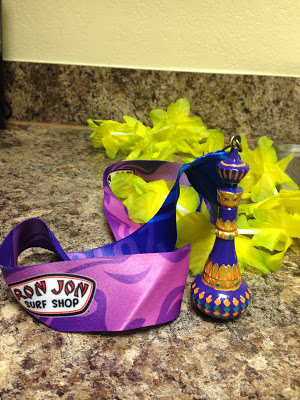 Jeannie Medal Acquired!