I'm back from the City that Never Sleeps and while I'd love to say that I partied like a New Yorker, ya'll know me better than that. I partied like a thirty-five-year-old who likes eating, sleeping, and running. In that order. Now, I did have adult libations, but not enough to climb the Empire State Building like a Lady King Kong.
Anyway, we arrived in the Big Apple last Thursday night and went to our hotel in Brooklyn. We chose to stay close to the race in Brooklyn because going back and forth from Manhattan would have been a pain, especially post race. Plus, our friend Angelo and his wife, Rachel, knew of a great boutique hotel that had good rates.
I've been to the City So Nice They Named it Twice (trying to fit in as many NYC nicknames as possible) more than a few times so it was cool to go and see a few new things and run in Prospect Park again. Even if it did try to kill me with hills
both times
.
On Friday morning, the S.O. and I met up with Rachel and Angelo and headed to the
expo
. Angelo is from Brooklyn (BONUS) and had rented a car (DOUBLE BONUS). He carted us around and it was quite nice to have a built in tour guide.
Thanks homie!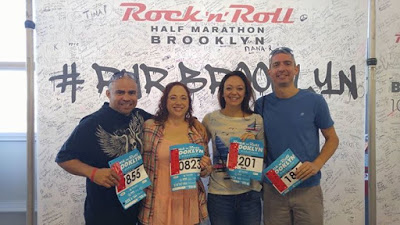 Angelo, Rachel, Me, & the S.O.
The Expo
The expo was surprisingly small. I don't know why I expected something larger, but it was tiny. I assume that due to the Chicago Marathon being the same weekend that may have cut into brands coming to Brooklyn. The shirt that I wanted to buy was sold out in my size so I was bummed about that too, even though it would prove to be a good thing later on….
After the expo it was a delicious lunch, followed by a movie. Yes, we went to the movies on vacation. We actually do this a lot pre-big race. We didn't want to walk too much and have a repeat of my
sad Elvis debacle in Las Vegas
. I learned my lesson there (respect the distance!). So, we saw The Martian and all really enjoyed it. Then we headed to dinner, a Brooklyn Mexican restaurant where we all said, "No beans, please!" and headed back to the hotel for an early night. Risk takers, let me tell you.
Race Day
On Saturday morning, we woke up early and got ready to race! I happily ate a New York bagel in the hotel bed at 4 AM. It. Was. Delicious.
For some reason, I forgot to bring both the awesome NYC themed temporary tattoos AND my ipod. I was so bummed when I remembered both after we had piled into a car service and headed to the start corrals. The four of us checked gear bags and headed through the long security lines to get into the starting corrals. It was a really long line, well, mass of lines, as we headed in and it only appeared to be getting longer.
I had already been to the porta-potty twice so by the time I lined up I was ready to get running. The four of us were in four separate corrals so we weren't standing together which sorta stunk because we had to wait. And wait. And wait. And wait. The large crowd, and extra security caused a delayed start of 30 minutes. Honestly, it wasn't too bad because while the weather was chilly, it wasn't freezing. And, I'll never complain about late races due to security reasons. I'd much rather be safe than running in front of cars or something. NBD.
After much announcer stalling, the corrals started and finally it was my turn to run. Hooray! I got started right at the pace I was shooting for because I was trying to keep it a tad on the slower side that first mile. I hit an 8:27 and decided then to pick it up. I mentioned in my last post that I wanted to go sub 1:50 so I knew I needed to average 8:23ish to get there.
The weather was absolutely perfect. Low humidity and around 55-60 degrees. The first four miles flew by.
Miles two through four: 8:10, 8:25, and 7:59.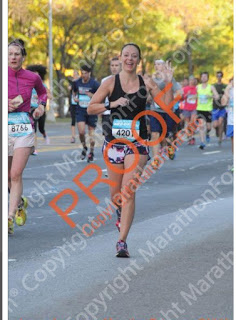 That 7:59 was a very long downhill. I tried to use the downhills to speed up a bit since I knew my Floridian legs were going to slow me down while climbing hills. I took a gel 45 minutes in and took water at every other aid station.
I hit miles five through ten and began starting real fatigue in my legs around mile eight. I know I slowed at mile nine and mentally told myself to fight through it. Mile ten came with a short, but steep overpass and I trudged up it. I was determined to stay out of the nines and keep chugging. Miles five through ten: 8:11, 8:14, 8:20, 8:17, 8:33, 8:45.
After the overpass I got a little reprieve and picked the pace back up to an 8:38 for mile 11. Then shit got real.
As we entered Prospect Park there was a long, steady hill that wound to the left so I couldn't quite see where the top was. I knew I was running slow and hunched over like a little old lady. I gasped for breath and begged for the top to appear. My slowest mile was during this climb and I clocked a 9:03. Dang it. I knew my sub 1:50 was slipping away.

Elevation profile from my Garmin.
I tried to pick the pace back up and was still fairly gassed from the hills but I was enjoying the race and the weather. I could hear the finish line party and got a boost from the nearby crowd. Mile 13 was an 8:39. And then I gunned it to the finish line, and saw my Garmin hit 1:51 as I crossed.
I was happy to be done and felt pretty good. I was also super thirsty. I'm not normally that thirsty when I finish race but I chugged a water and grabbed a chocolate milk and a Gatorade. As I walked out of the finish chute, I asked where gear check was and I was astounded to see how close the trucks were. I love, love, love a close gear check truck. I was able to grab my bag and phone and find the S.O. really quickly and easily. I also bought myself a great race finisher shirt! I'm glad I didn't buy something pre-race because I love the finisher shirt so much!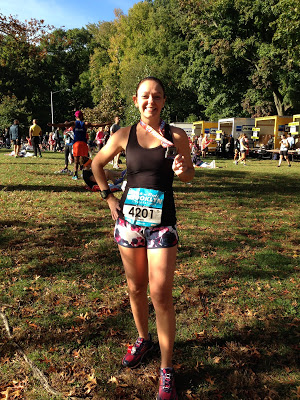 My shadow hand puppet on my face. Ha!
The S.O. had PR'd because, of course, he's a machine. We soon met up with Angelo and grabbed our free beer. And while Angelo also didn't hit his goal time due to IT band pain, I know he will hit it very, very soon. Rachel finished her half fighting through pain that would sideline me for sure. This is one tough family!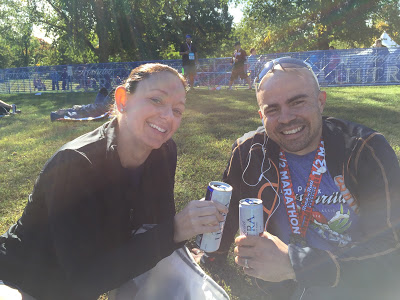 Cheers!
The post race concert was Nate Ruess from Fun. and I have to say that I wasn't super excited about him when they announced it, but he was outstanding. His voice is fantastic and then to top that off, he played a Prince cover (Let's Go Crazy). He's got a new fan in me! I also got to take this perfectly timed photo bomb. Thanks random stranger!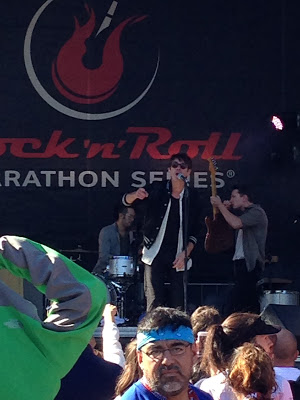 I said, NO PHOTOS.
Post Race Thoughts
Rock N Roll did a great job with this first time race. They scored 17,000 runners making it the largest inaugural half-marathon race in the U.S. The delayed start can be corrected next year and the bands and cheer squads on course were great. There were plenty of aid stations and all in all it was a really well organized event. I'd do it again for sure. And even though I didn't meet my goal, I'm happy with how I felt and how I raced. My paces were pretty uneven but I feel as though I took what the course had to offer.
As for me, the S.O., Rachel, and Angelo, well we gathered up after naps and showers to grab some famous Brooklyn pizza and cannoli's. I am in serious detox mode this week.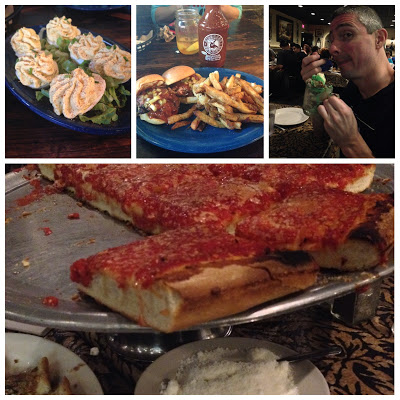 All the food.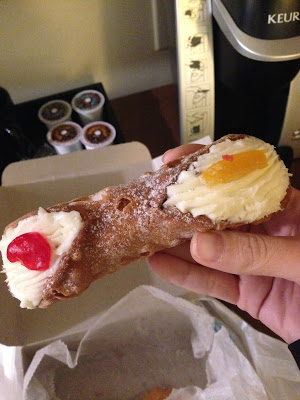 "Leave the gun. Take the cannoli."
The S.O. & I finished up our trip heading into Manhattan for a show and some touristy sight-seeing. We saw The Gentleman's Guide to Love and Murder and it was phenomenal. If you are in NYC or headed there for the marathon in November, I highly recommend it.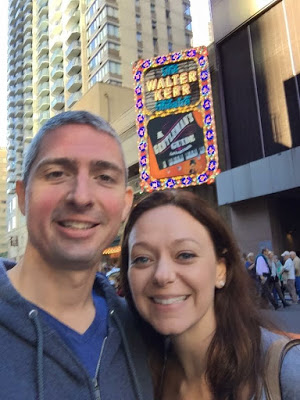 Thanks for reading! Have a great Wednesday.