This is a LONG one. I didn't want to split it up into three sections so I'm going to do it all once. Go get a beverage. This could take a while.
Pre-Race
On Wednesday, an article came out about how hard the course would be and it scared the living hell out of me. It mentioned some triathlon race calculator that I had never heard of. I found this calculator and figured it was a good one since it was being touted in this article. So, being an idiot, I plugged in the numbers it requested and it said I'd be on the bike for 9:25. It also said I'd finish in 15+ hours or something. I didn't care as much about the 15+ hour finish as I did the 9:25 hours on the bike. I had a total panic attack and had to have Meghan talk me off the ledge. This is a HUGE lesson to those of you wanting to tackle your first full ironman. DO NOT LOOK AT ONLINE CALCULATORS. Period.
I could barely sleep Wednesday night and wound up getting up at 4 AM to start my drive to Chattanooga. I drove myself because the S.O. gets car sick occasionally and I wanted some quiet time by myself to think. I know this sounds weird, but it was my request. I had very loud singing sessions and stopped several times to fuel up and use the potty. The drive went by fast and I made great time. The weather was gorgeous and I ran into
Karen
as soon as I got to my hotel. She and I decided to head over to Ironman Village to check in. I was a little overwhelmed so I was really glad to have Karen with me to show me the ropes.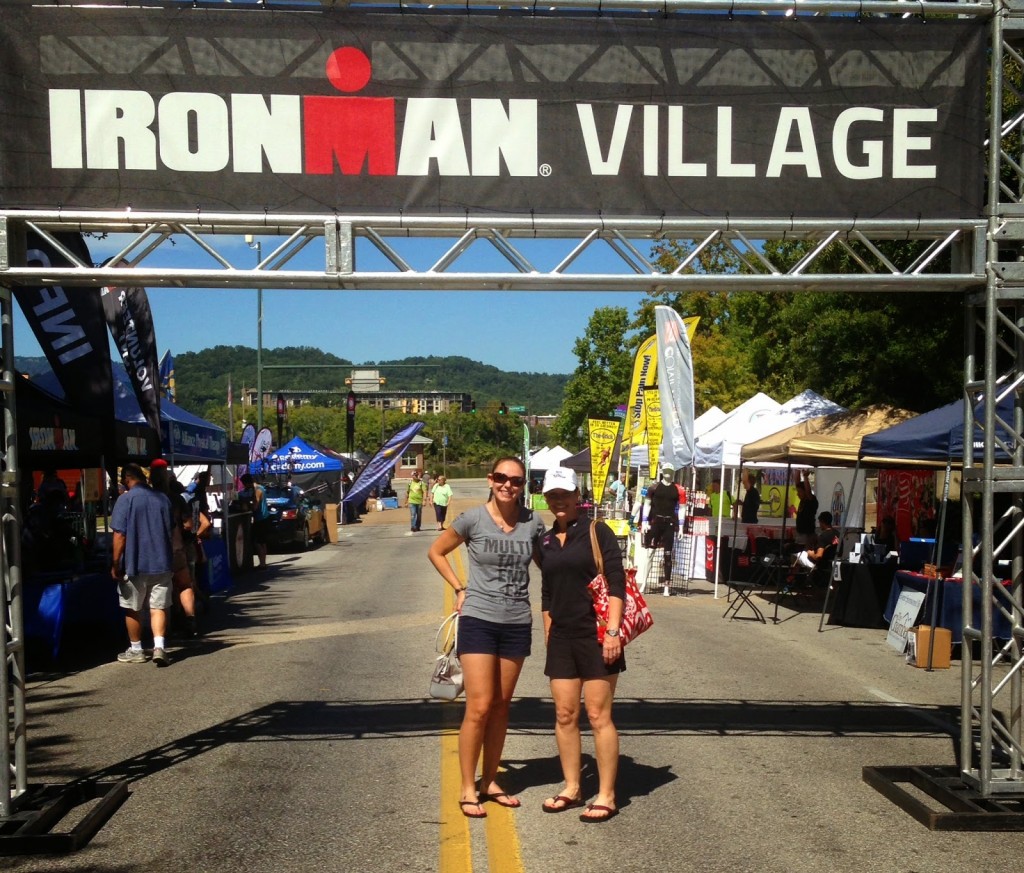 Karen and I at the IM Village.
After checking in and purchasing a few items (none that said finisher, of course) I headed to the hotel to relax until I picked up the S.O. from the airport. I was pretty tired from the early morning and drive, so I decided to go to bed really early.
On Friday morning, Meghan and I met up for the athlete briefing. I FINALLY got to meet
Jason
after being online friends for about five years. He's awesome in real life too! At the briefing we were told it would be a fast swim and hilly bike and yadda yadda yadda. The S.O. and I then met up with my mom and her best friend for dinner on Friday night. And then again, it was an early night's sleep.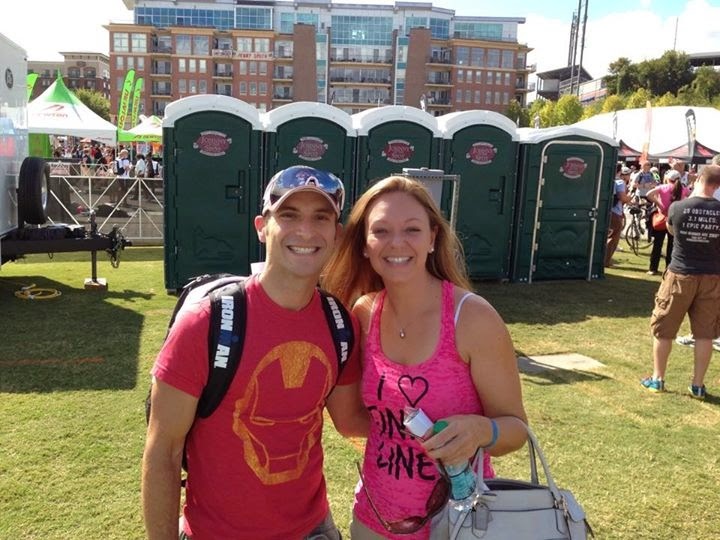 Baha and moi.

On Saturday, we got to check our bikes in, drop off our gear bags, and take a practice swim in the river. It didn't really dawn on me how fast the current was because I didn't wear my Garmin. I heard a few people say it was fast but I didn't think about it too much.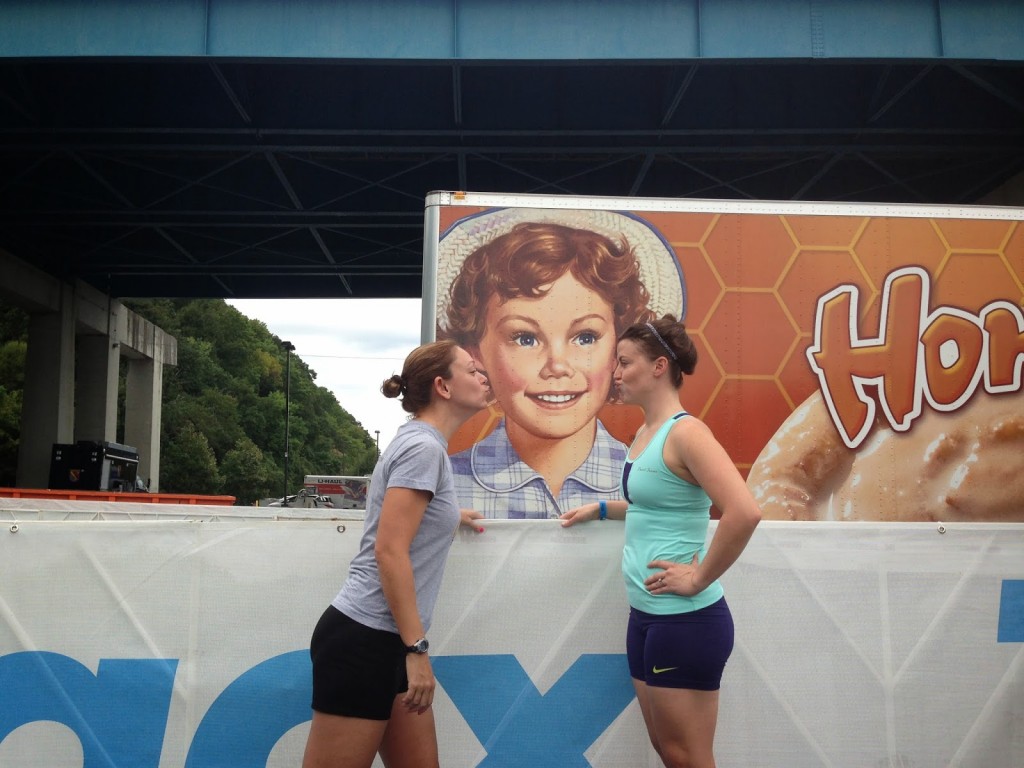 Meghan and I REALLY like Little Debbie.
Then, finally, all of my support crew was in town for pre-race dinner. I had a great time at dinner and cannot thank my family and friends enough for coming all this way. I am very lucky to have all this support and love. My mom had a special sign made just for me. (I hope all the other Beth's on the course used this for motivation too.)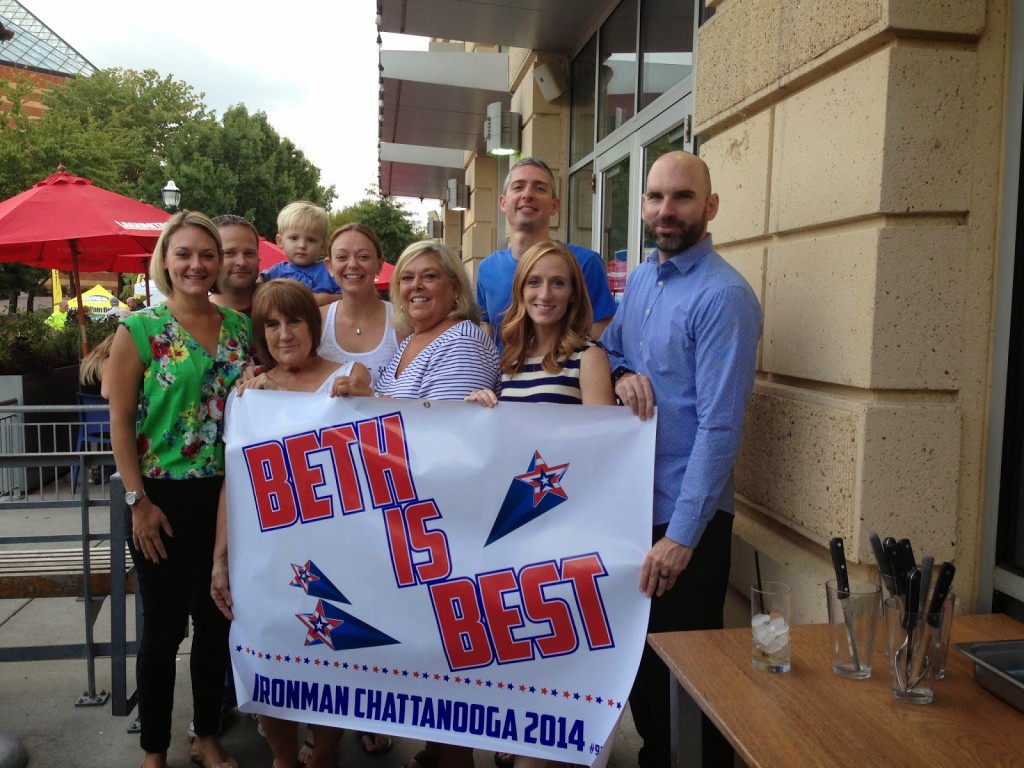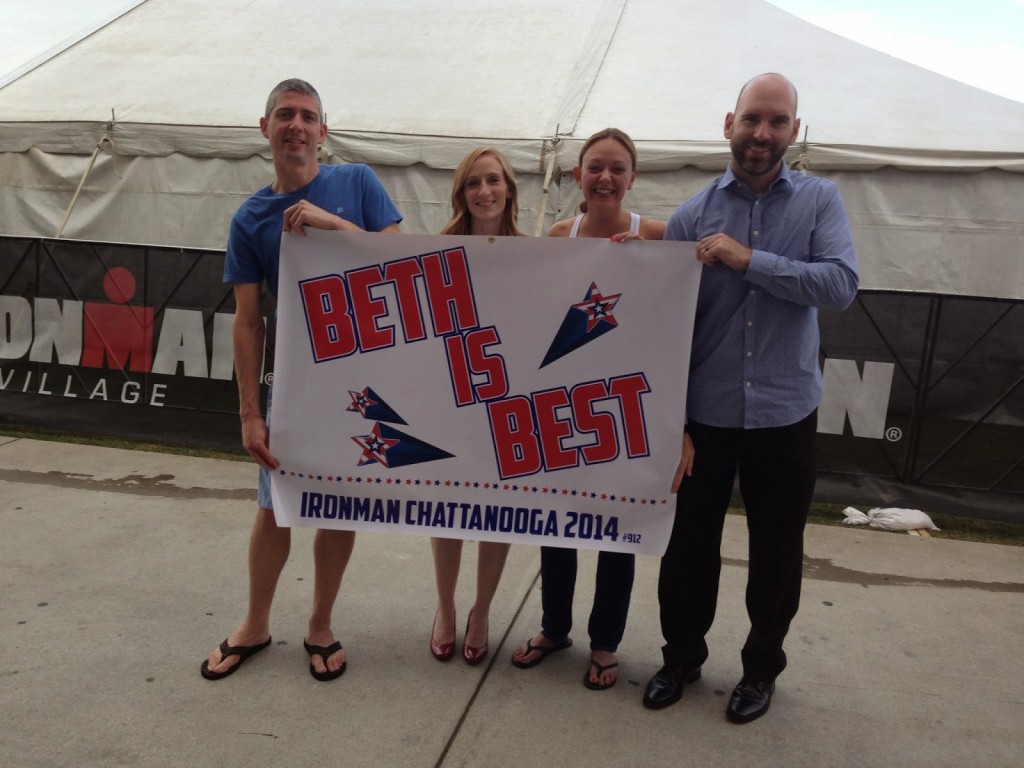 S.O., Redhead (Jen), me, and Spike (James)

Race Day!
I barely slept Saturday night and got up to pee 90 times so I didn't feel very fresh on race morning. I knew it would pass as the adrenaline built up. I ate a banana, an everything bagel with cream cheese, and drank some coffee. I also took 2 Imodium. I got dressed and brought my wetsuit with me down to transition area where I was meeting Meghan at 4:15 AM. (We wanted to be ready for transition opening at 4:30 AM). I was only about 1/2 of a mile from the transition and finish line. It was perfect. (Hampton Inn Downtown. Highly recommend.)
As soon as we hit transition we heard, "The water temp is 77 degrees. Wetsuit optional. If you wear a wetsuit you must line up in the back." Part of me was happy to not have to deal with a wetsuit (it always chafes my neck horribly) and part of me was sad to not have the extra speed from it. Little did I know, that wouldn't matter one iota.
Meghan and I got body marked and headed into transition as soon as it opened. I had my tired filled by lovely ironman staff and put my bottles on my bike. I then headed to my bike bag and added my nutrition. I didn't need to put anything into my run bag as I was all set there. I decided not to have a special needs bag for the run because I didn't need anything that wasn't on the course and I never change socks during a marathon, regardless of the weather. I did put a spare tube, a CO2 cartridge, Goldfish crackers, and lube in my bike special needs bag. I gave that bag to a volunteer and was ready to roll.
And just like that, we were hopping on the school bus that took us to swim start, 2.4 miles down the road.
The Swim
On the way to the swim start Meghan got teary (I'll let her tell that story) and I felt strangely calm. I didn't have to use the potty yet and that was worrisome to me. As we got off the bus we realized we made perfect timing and were close to the front of the line. There were no time seeding signs or anything so everyone was just lined up with no real clue of who swam what speed. I was worried about swam over but Meghan told me I'd be fine. It was a rolling swim start so as soon as you hit the end of the dock it was your turn to jump in.
As we waited in line, I decided to go to the bathroom. I tried to make myself nervous but nothing happened so I went back to line up with Meghan after a good try in the porta potty. (Sorry for all the TMI). The line had started moving to consolidate space so it took me a minute to catch up to where Meghan had moved. She then decided to go to the restroom while I held our spot. This was common and everyone was cool with people leaving to use the potty so long as a buddy was holding their bags. Although one group did go together and they had to walk the line trying to find where their stuff was sitting because they hadn't asked anyone to move it for them. While Meghan was gone, they started moving us again and announced the pro's would start at 7:20. This is naturally when I had to use the bathroom for real. And it was about 7 AM. Crap.
After what felt like forever, Meghan reappeared and I decided we were too far from the porta potties to attempt that and get back in line in time. Fortunately, Jesica (Runladylike), was standing nearby with her friend who was racing, and she suggested I head to the bushes. I had already been thinking of doing that. Her saying it out loud made me feel better about it and that's what I did. I'm not proud of that but I really had no choice. It was bushes or river. I found a good wooded area, so I'm confident no one saw.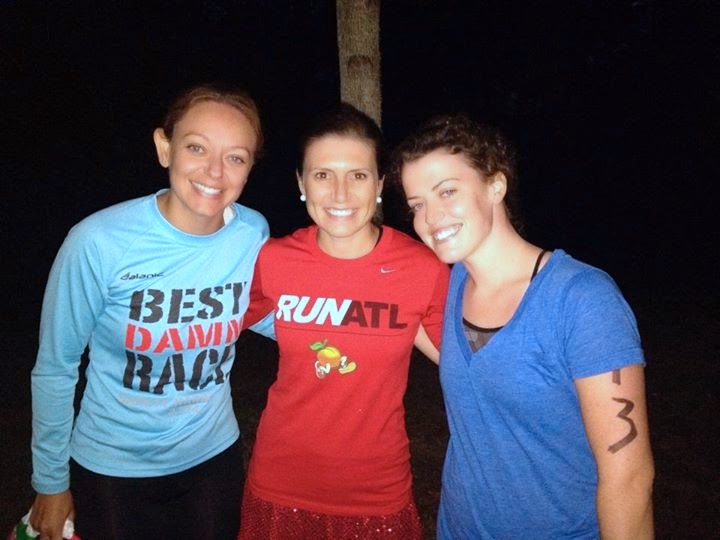 Me, Jesica, and Meghan in the swim line.
No sooner did I come out of the woods did they say, here we go! We gave our morning clothes bags to volunteers and the line began moving. One of the two athletes who had just raced Ironman Mallorca (SPAIN!)
the day before
hopped in line with us and said he was sorry to cut in but he just woke up. We were in awe of him and everyone congratulated him and said he was insane.
Meghan and I walked down the line together and hit the man made barge/plank she looked at me and said goodbye or good luck or something and strapped on her goggles and jumped in and then, so did I.
The water felt great and I swam a little fast to get some space and find a rhythm. It was nice and cool and I swam in a sports bra and tri shorts. I felt really good and really excited. I am certain I smiled a lot during the swim. I tried to find some feet to draft but they were either way too fast or not fast enough. I got bumped here and there but nothing major at all. I took my time and tried to stay more in the middle of the river to take advantage of the current. I felt like I was passing a lot of people and only saw a handful of people go by me. It's a very wide river though so I'm sure there were a lot more than what I saw.
When we finally went under the first bridge, I knew I was having a good swim. I could just tell I was moving really well in the water. We went under a few more bridges and then I saw the spot I jumped in on Saturday for the practice swim and knew I only had a quarter to go. And just like that, I was hitting the stairs and being helped up by a volunteer. I looked at my watch and thought it was broken. Then I started laughing. Then I thought, "I'm mother fucking Michael Phelps!" It was so hilarious to me. I really had no idea the current was as strong as it was because I'd heard so many different things while in line.
Me swimming. Lol!
I heard Jen, James, and the S.O. yelling and I saw "myself" in sign form "dancing" on a stick. It was a picture of me from the day before's swim practice. It was funny. I then yelled, "That was so fast!" And I was off to the bike tent.
Swim time: 56:42 (43/91 AG)
T1
The changing tent was pretty empty when I got in and got naked. It was a bit odd to be pantsless in a room of strangers (women strangers), but no one was paying any attention. My volunteer seemed new and I sort of directed her on what I needed. I changed clothes completely and filled up my pockets with my nutrition and was out of there to grab my bike.
T1 time: 8:38
The Bike
As I jogged down to bike mount I steeled myself for a long, long, long ride. Meghan, her husband Tim, and I had driven the course on Friday and that made me feel like the course would be manageable, but still a challenge for this flat lander.
The course was like a lollipop. Out for 11-13ish miles then two loops and then back down into Chattanooga. The course takes you into North Nowhere, Georgia. The roads were fairly quiet for the start on our way to the first loop. I got passed approximately 800 to 900 times by other cyclists. I'm not fast, so this didn't surprise me. Plus, I was trying really hard to take it easy and I knew people catching me from the random swim positioning. I stayed right and only passed when I really felt too close to someone and got worried I'd be penalized for drafting. I was happy to slow down on occasion to just stay back and go slow. I did get passed by two local friends and was happy to see them and say hello for a minute or two.
As we got going on the first loop, I started noticing folks pulled off to the side changing flats. I saw one or two at first, and then three and four and five and I soon lost count. I started thinking this was not normal. The number people pulled off for flats soon became alarming. No sooner did I think, what the hell, did KC pass me. I yelled out to her, "Is this normal?" And she responded that it was not and it made her worried. Crap.
Meanwhile, I was climbing and descending, climbing and descending. I made sure to eat after about 15 minutes on the bike and was fueling all along the way for this first loop. I stopped at an aid station and filled up my bottles quickly. I was having some odd stomach issues as I kept farting (again, sorry, TMI). I wasn't in pain or anything but I just kept having to fart. Thankfully, there were no sharts. Haha. Just keeping it real…
At some point I overheard cyclists discussing the tacks that some asshat had put on the course. Not cool. Hence all the flats I kept seeing. I'm not a religious person but I really prayed to not get a flat and that no one got seriously injured because of those GD tacks. I later found out that oil had been thrown on the course too and realized it was where police had us move to the left lane to avoid it.
I got up the very biggest, IMO, hill right before a sharp left turn onto a road called Hog Jowl and remember thinking I was going to hate that on the next loop. When I finally got to special needs (about halfway on the bike) in Chickamauga, Georgia, it looked very chaotic. I felt like the bags and volunteers were way too close to the course. I stopped to grab my bottle of Herbalife and Goldfish crackers and had a tough time getting back on the course because I didn't want to pull out in front of anyone not stopping. Fortunately, another cyclist helped me get back on the road by keeping watch and telling me it was clear.
I took the first loop a faster than I intended, even though, in comparison to others, I was fairly conservative. I now understand just how hard it is to go out easy on the bike. I felt so great for the first sixty miles, but then it all of the sudden stopped. I began to dread the second loop and really want off the bike. I channeled all of the advice to stay positive and smile and enjoy my day and that really, truly helped. I kept chugging along.
The second loop felt 10,000 times harder and I asked a few cyclists around me if it had in fact gotten longer and/or hillier. They all agreed that it had. Heh. I got up the big hill to Hog Jowl again and stopped at an aid station to potty. I waited in line for the porta potty for a few minutes and a volunteer filled up all three of my bottles, which was awesome. My stomach was much better and I finally passed special needs for the final time. No way in hell I was stopping there again. I had just passed special needs when I heard Jen and James yelling for me. I was SO happy to see them! That was exactly what I needed.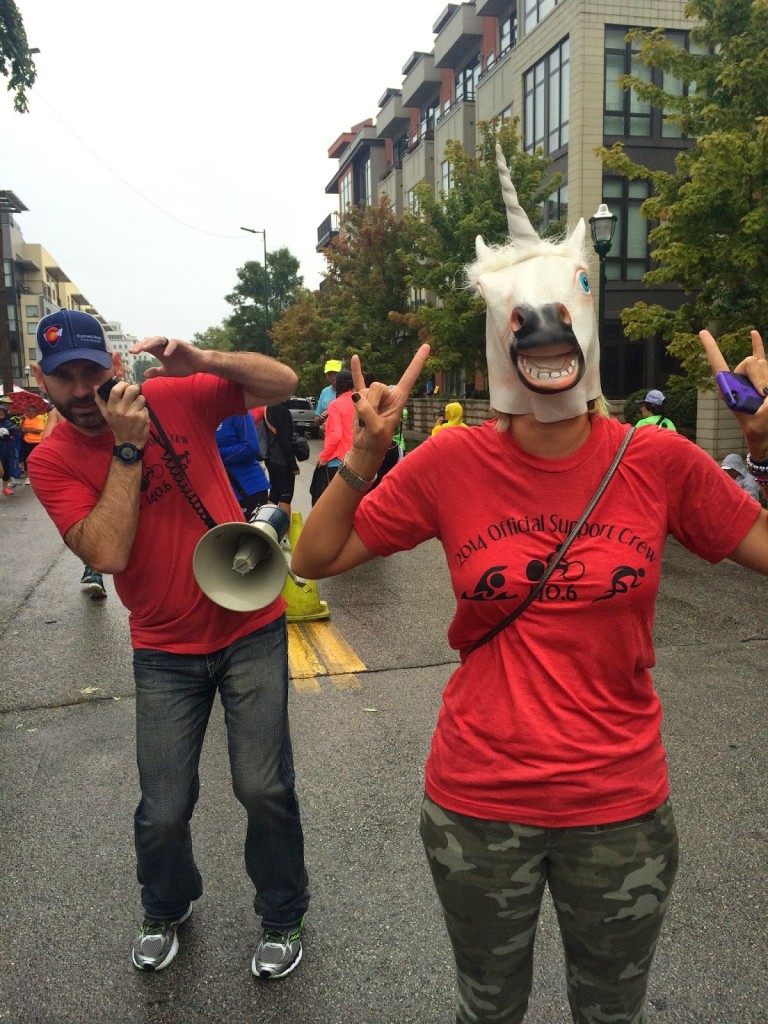 Not on the bike but this is what I got to see during my day. James with a bullhorn and my sister wearing a unicorn mask.
As soon as I hit mile 90 all I could think about was getting off the bike. I had a bottle of water left and passed an aid station without stopping. (This was really dumb. You'll see why later.) I ate a few more shot bloks and then went back and forth hauling to get to the finish and slowing because I got tired. I cheered when I hit the exit from the loops. I knew I could get off the bike before seven hours and that made me really happy. I also got very excited when a spectator yelled out, "You're almost in Tennessee!" I finally hit the 116 miles on my bike computer and saw transition. Hallelujah! I could get off the bike.
Bike Time: 6:53:31 (63/91 AG, 16.83 MPH)
T2
I hopped off my bike and immediately noticed mega jelly legs. My legs felt like toast. I had to laugh because they had never felt like this before. I heard the S.O. shout my name and I yelled to him, "This is the stupidest shit I've ever done!" A group of nearby spectators laughed and one said, "That's the most honest thing we've heard today!" It was funny. I ran toward my run gear bag and was handed it and then headed into the Naked Tent. (That's what I'm now calling it.)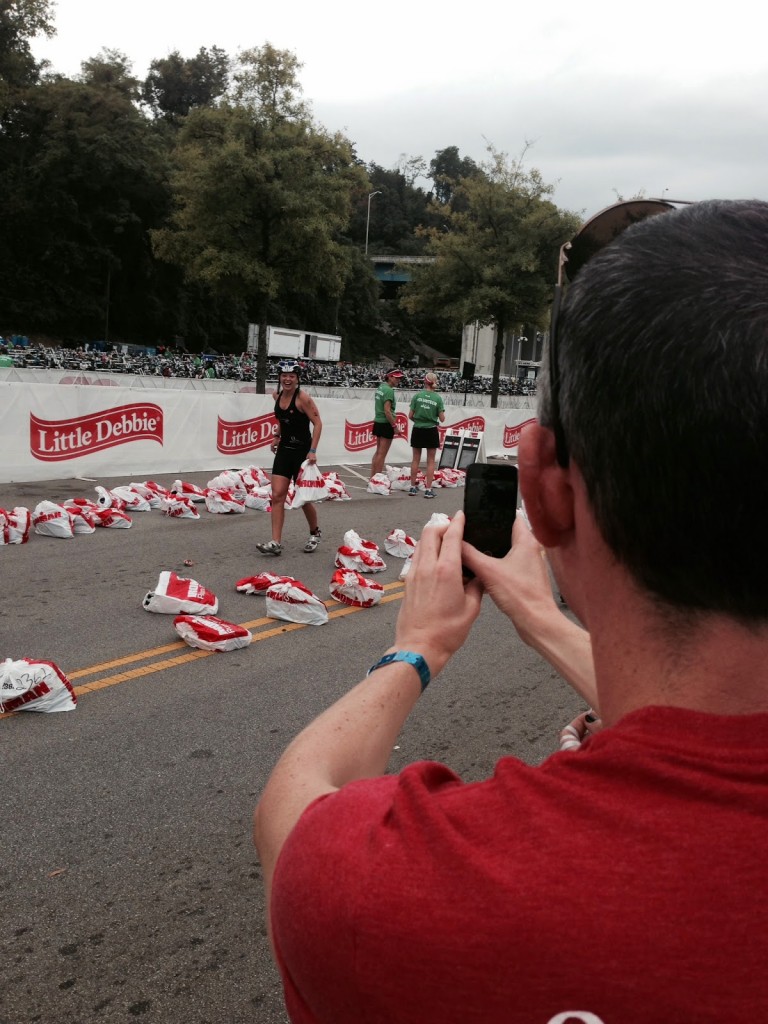 With run gear bag.
It was a bit busier in the Naked Tent this time but my volunteer quickly came over and helped me get my sports bra on while I tried to get my shorts on clumsily. She also helped me put on my shoes. I didn't change socks because they felt fine from the bike even though it had rained some on my way back in. I put my running belt/bib on and out the tent I went.
T2 Time: 6:26
The Run
I excited the tent still not knowing what the hell my legs were doing and I saw my mom and her sign. She was cheering and I was so happy I got to see her. I wobbly ran down a decline to the river walk and some random man told me to walk it and find my legs. I slowed a little and appreciated his advice.
My legs started to feel normal after about 2 miles and I made sure my pace was easy. I don't think I could have run sub 10's even if I had wanted to. I seriously just ran whatever my body felt like running. I gave zero eff's about pace. I just knew I wanted to hold off walking for as long as I could.
I got to see my family and friends a few times on the course and it was so amazing to see them and the hilarious signs and posters they made. The course was two loops of two loops with the first half of the run being flat and the second half being insanely hilly. It was much, much hillier than I even thought about. I was so worried about the bike course that I barely looked at the run course until the few days before the race.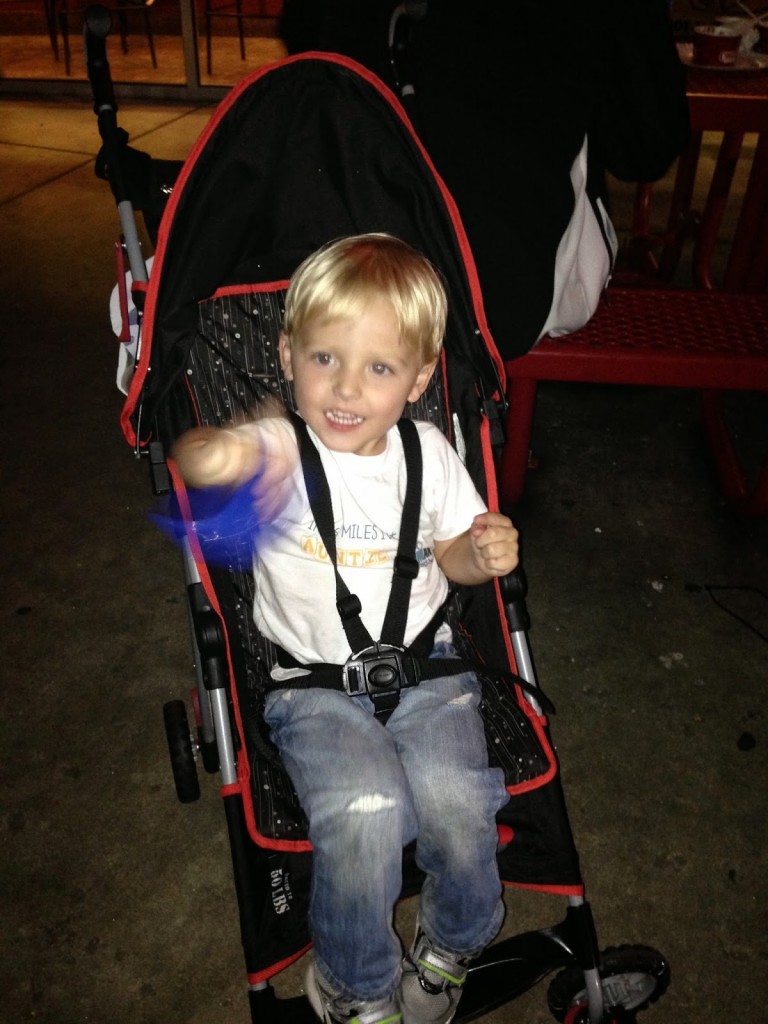 My littlest supporter, my nephew R. So thankful he and my Brother-In-Law were out there!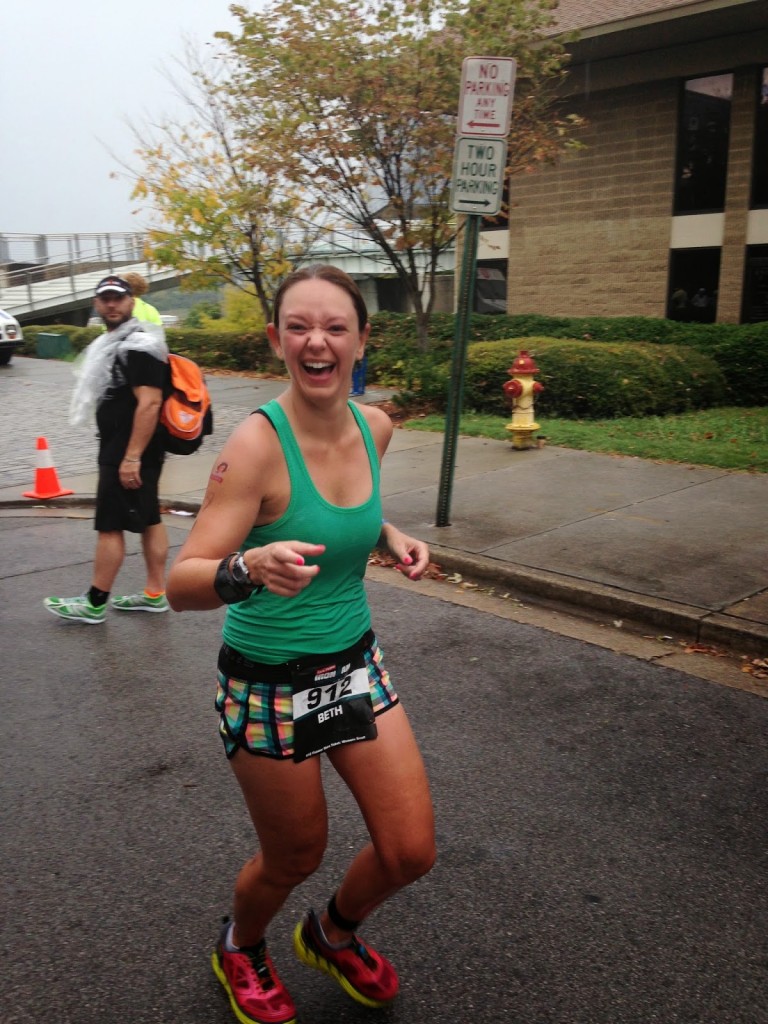 After seeing my sis in the unicorn mask.
Coming out of the hilly section the first time.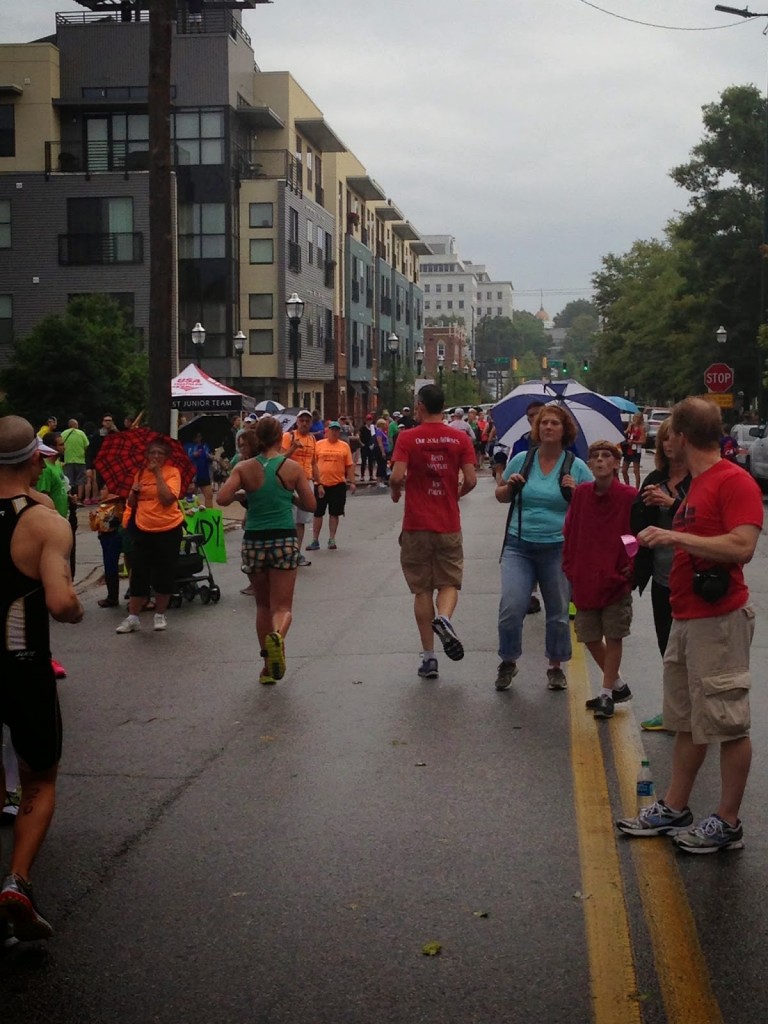 After the first loop with my love.
At mile 13 the S.O. ran next to me for a minute and told me I could break 13 hours. I told him I didn't know about that because the hilly section was really going to hurt and I could feel the fatigue coming on. At this point I had been drinking water, Coke, and taking a gel every 45 minutes. I tried to take in some Perform but it was gross to me.
Mile 16 came and that's when I really started feeling the burn. I told myself I could walk the aid stations and that's what I did. I played my favorite mental game of telling myself, you've run 17 miles, why stop now? You've run 18 miles, why stop now? And that helped until about mile 20. The wheels fell off and I walked more than aid stations. I hit the hills again and they really hurt. I heard folks around me saying they were going to walk the hills so I did that too. In retrospect, I should have just kept jogging them. I think the other participants made me feel like it was ok to walk when really I could have super slow jogged them. I stopped to pee at some point but there was really no pee. Probably a bad sign…
The volunteers and the spectators along the course were amazing. I heard Eye of the Tiger at one point and starting throwing jabs. I saw super funny signs all day long. I ran with people who were also clearly hurting. I basically just took it all in. I met a friend of a friend along the course who recognized me and we chatted on a couple of those tough hills. I power walked with a man and woman who were determined to get in at a certain time. The power walking hurt and I was soon jogging again. I thanked as many people as I could and I got my final wind as soon as I saw that I only had two miles left. I told myself that there would be no walking those last two miles and I started trucking.
Jason had already finished and came back to find me. He jumped in next to me with about a mile or less left to go and we chatted about his day and he told me how awesome I was doing. I was going back and forth from tearing up to just laughing like a complete fool. It was fantastic to see him and I knew I was so very close to being done. There was not one moment one the run where I worried I wouldn't finish. There were slow going times but I just pressed on and the advice to keep moving forward helped.
Before I knew it, I was running down the shoot. I felt like a rockstar. People were cheering and music was blasting and I made sure I wasn't running directly in front of anyone and that no one was right in front of me. I saw the S.O. cheering and I waved and I heard the announcer say, "This young lady right here from Clearwater, Florida. It's her first Ironman. Beth Shaw, you are an ironman!" It was freaking incredible. And just like that, I was an ironman.
Run Time: 5:01:40 (50/91 AG – 11:30/mile)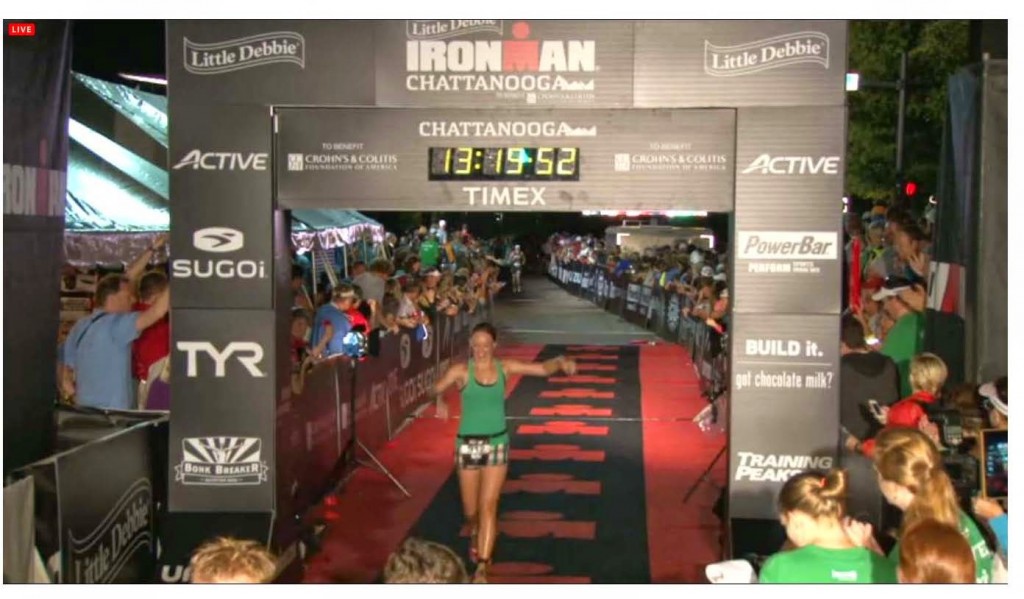 Finish Time: 13:06:57 (50/91 AG)
I crossed the mat and got my medal. A volunteer asked if I needed anything and I told her I needed to sit down. She told me I had to take my picture first then I could sit. I was so sore but I knew I had to get that picture. She asked me where I was from and saw the S.O. holding the picture of Lloyd and asked if that was my dog.
I then walked down the finisher area and bypassed the food. I was just not hungry at all. I did take a water and then went to sit at the end of the finisher area. Where Jen and James found me. They were on the outside of it talking to me over the gates and snapping pics.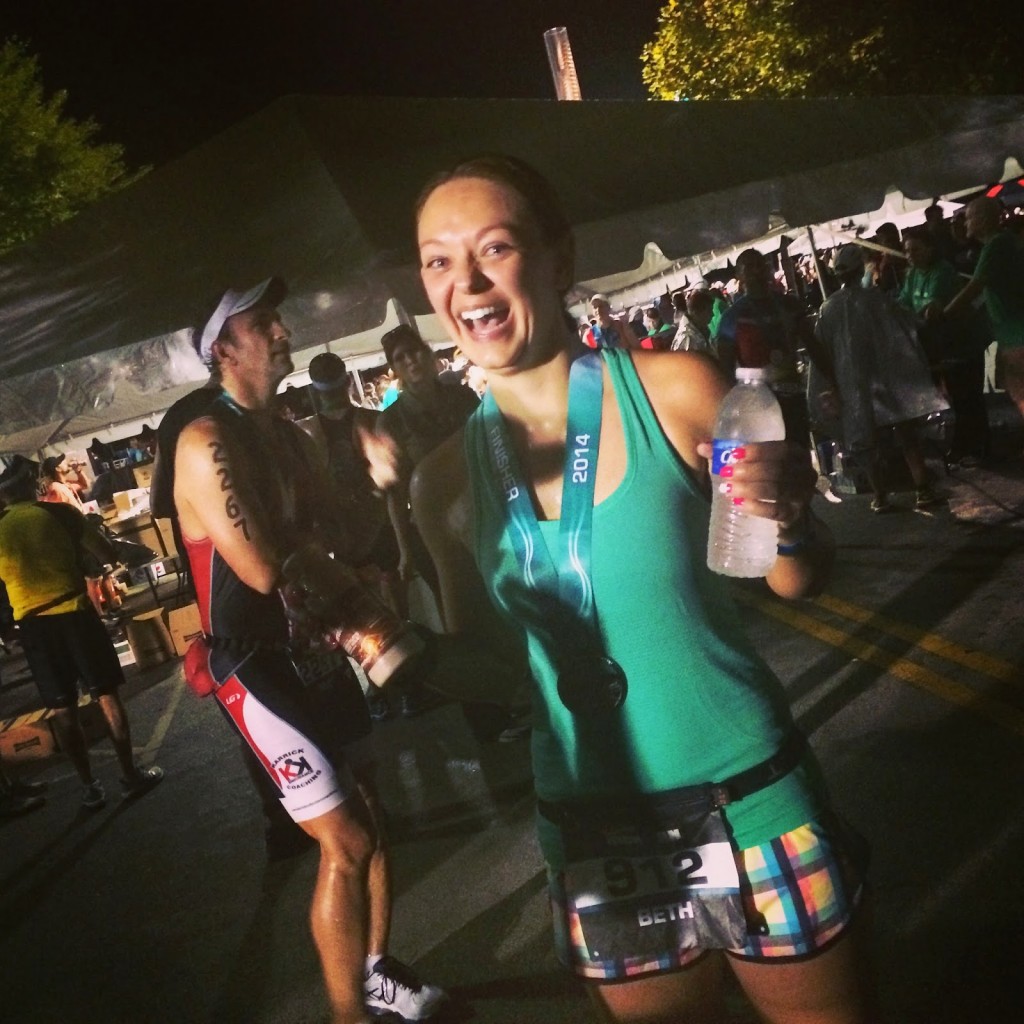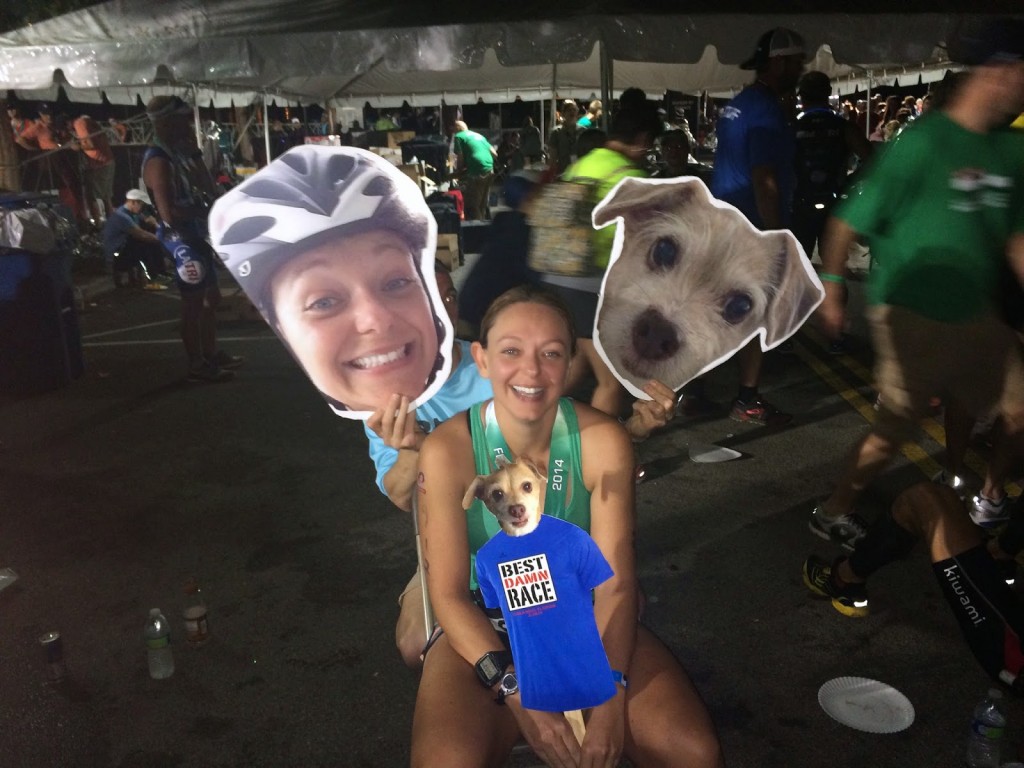 The S.O. came into the chute, because he's a rebel and grabbed me a chair and a chocolate milk. I couldn't really drink it though and I just sat there being smiley and feeling a bit nauseated. The longer I sat the worse I started to feel and we decided it was best to walk over to medical.
I walked into the tent and they wouldn't let my family in so that sorta sucked, but I understood why. I told them I was nauseated and they gave me a tablet to put under my tongue and handed me a barf bag. As it dissolved the nurse told me I needed an IV. She began to try finding a vein and stuck my left arm. Nothing happened. No blood came out and she wiggled the need around trying to find the vein. As she continued wiggling I said, "Uh oh" and immediately began puking. Two other nurses came over and tried to help. They gave up on vein number one and I told them I felt much better having vomited and I didn't need an IV. They laughed at me and said, "Oh yes you do."
They then decided to try my right arm and again, nothing. I was told my veins were collapsing because I was so dehydrated. I assume this is from that really genius decision to not stop for another bottle at mile 90. Woops. I tried to negotiate for no more sticks after #2 didn't work and they saw my tattoo and said, "People with tattoos cannot complain about needles." Fair enough.
Finally, after going back to a different spot on my left arm, the third time was the charm. They hit a vein and the fluids started dripping in from the IV bag. I was handed my phone and sent my family a text that I was ok and just needed an IV.
I sat in the tent for a while and was released after a sufficient amount of IV bag had been drained into me. The S.O. was waiting for me and we walked back to our hotel. I felt good enough to shower and head back out to eat and watch the final finishers come in. That part of my day was also phenomenal. I loved seeing them come in!
Final Thoughts
I loved my race day! I had a few low points but nothing near what I had envisioned. I tried to stay positive all day and I think I did really well there. I had wanted to race sub 14 hours so the 13 hours were a huge surprise to me and I'm really quite happy with how I did. I think the extra bike mileage was a gift to prove how much stronger I am than I think. A friend asked if it was harder than I thought it would be and I said no. I typically think things are going to be worse than they are (pessimism for the win!) so this was definitely one of those days that the doing was easier than I anticipated.
Everyone asked when I'm doing my next one and if I'll do another one. To that I say I have no idea. I didn't love the parts of my life that I missed during training and I am so happy to have those hours back. I really enjoyed the race itself but it was certainly tough at times. I'm ready for a long cycling break and no, I didn't leave my bike in Chattanooga.
I want to say thank you to my friends and family for the support and encouragement. I know it was hard for everyone when I had to go to bed super early and miss weekend fun. The S.O. has been nothing short of incredible in his support and dealing with me during the times I was an emotional pain in the ass. I couldn't have done it without any of you. (Jesus, what is this an Emmy? Hahaha)
I also want to thank the many, many friends I trained with along the way. I ran, biked, and swam with so many kick ass friends and I really appreciated having them with me. Even when I wanted to crawl up on the side of the road and cry. And of course, I want to thank those of you long distance who have counseled me and gave me great advice (I'm looking at you Erin, Nicole, Jamie and Katie!).
And of course, thank you to those of you I've never met IRL who read this here birdcage liner and give me lots of love over the interwebs. You guys rock!!!
Lastly I need to thank three folks who really took this journey with me: Steve, Tori, and Meghan.
Steve put up with my random emails, forcing him into a new online coaching system, and one very ugly bike ride to provide me with excellent coaching and guidance. He let me know I was on track and calmed my nerves on more than one occasion. Thank you so much Steve for paving the way and being an all around great mentor and guy.
Tori is still on her journey to becoming an ironman but she's done so much of my training with me and provided so many listening ears I'm surprised she still likes me. She's a wonderful friend and I cannot wait to cheer her on at IMAZ. Thank you so much Tori. You've helped me more than you know.
And finally, to Meghan. Meghan, I don't know if I have the words to thank you for going down this bumpy road with me. From those first few swims together where I realized you were one hell of an athlete, to those early San Antonio rides where we got lost and rode the route completely backwards and insane, I don't know what I would have done without you. Every step of those stupid bridge runs and every pedal of those long bike rides, I was always grateful to have you with me. And yes, even on the times we annoyed each other, I knew it was just bad moment and we'd soon be laughing hysterically again. You kicked so much ass at Chattanooga and if there was a person out there who was destined to become an ironman, it was you. I'm so proud of you and so happy to call you my friend. Thank you, thank you, thank you.