It's finally marathon week and my whole family is sick. My Christmas got cancelled because, save for the S.O. and I, everyone has the crud. In order to stay crud-free, we'll be celebrating with my family next Monday. I suppose this Florida gal will be out by the pool or heading to the beach if the weather permits. Merry Christmas to me.
In training news, my final "long" run was a total turd. I headed out on Saturday for ten miles but felt so awful I cut it to eight and a half. I kept my standard nine minute mile pace but my legs felt heavy and sore. And I had a slight meltdown. Hey, I'm human and taper happens. I'm hopeful that this was just taper weirdness and that I'll be ready to go come Sunday. The weather is looking really good for this marathon. Fingers crossed it stays that way.
On tap for this week is an easy run, a short marathon pace run, and a final two mile shakeout the day before the marathon. I'm excited to eat a pre-race pasta dinner with
Caitlyn
and
Meghan
and see a few of my Daily Mile friends at the race.
As per usual, I can't help but worry I didn't do enough and that I'm going to bonk and have all the usual marathon disasters. I know this is also normal taper weirdness. After, six marathons, you'd think I'd be done with all this silly worry. I'm still going to shoot for that 3:45 goal. This is just a training run for my Ironman, right? Haha.
In addition to being concerned about my training I need this as a reminder….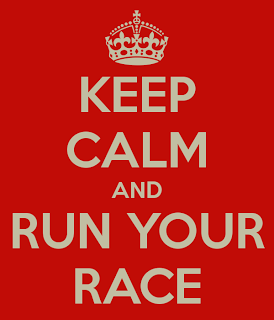 This is my race. I run it for me. It's a great reminder before any race to run YOUR race. I hope this helps everyone else racing this weekend. It doesn't matter what others do, it's YOUR race. The competitive spirit gets us through these events at times, but ultimately, I'm not winning the damn thing so it only matters to me what I run and how I feel about it. (Oh, yeah. This is DEFINITELY a taper post. Hahaha.)
I'm ready for you Jacksonville. The hay is in the barn.