Last week was a slow week because I was completely wiped from HITS. I took my time getting back at it and finished the week strong.
Monday and Tuesday were big fat rest days. And they were glorious.
Wednesday – I attempted to go to track. I made it through a warm up mile and a one mile interval before coach told me to call it a day. He and I agreed that I just wasn't up to a full workout yet. It felt good to run those two miles but it felt even better to stop. Haha.
Thursday – Got up early for a little swim (1,000 yards) and then hit up spin that night. I took spin very easy and just tried to get my legs nice and loose. I finally felt back to normal on Thursday.
Friday – Nada. Slept in and didn't feel an ounce of guilt. Hey, that 70.3 was tough!
Saturday – I met up with
Meghan
in the hills of San Antonio, FL, to get in 50 miles, plus or minus. We had a very wacky ride. I forgot the printed directions and had to use my phone. I got nervous about my phoning dying so we stopped for a solid 20 minutes getting the route on her phone. We got lost for a few miles. We stopped to buy water at a random BBQ joint on the side of the road. We rode some very big hills. Basically, we had some fun and some frustration in the hills and were so done when we finally got back to the cars. Lesson learned on making sure I have the route printed because cell phones are not infallible.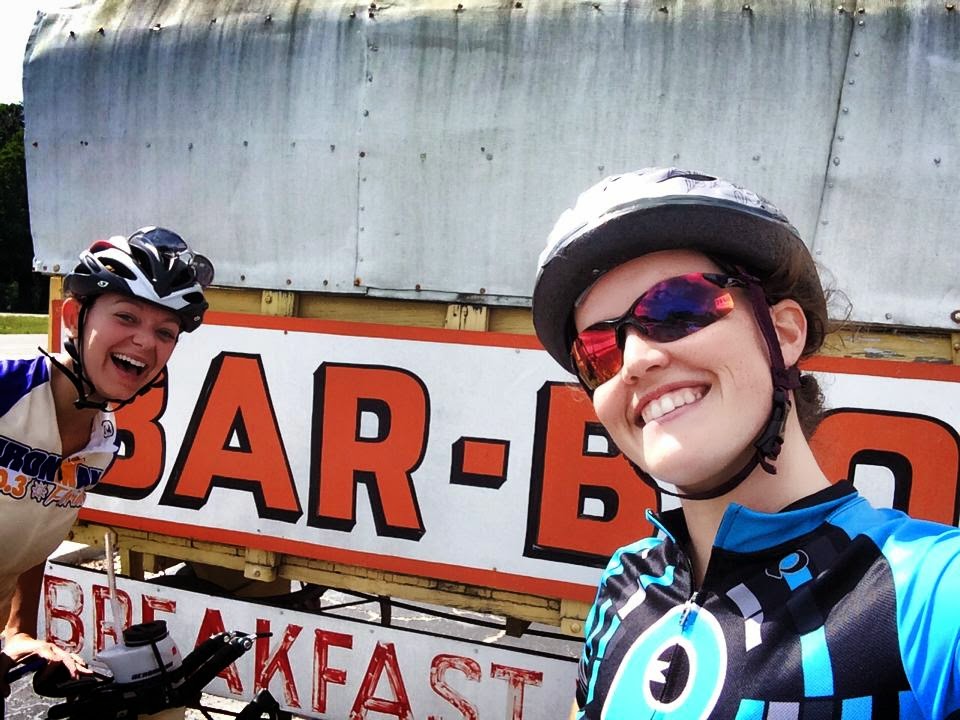 BBQ selfie!
Sunday – My ever faithful IM Chattanooga training buddy, Meghan, and I met up again for more hills. Only this time we ran them. We chose a ten mile out and back route that would put us up and over two bridges, twice. This was a better run for me than I anticipated. My legs were tired but we kept a good pace.
I'm happy to be back at it and looking forward to St. Anthony's olympic triathlon at the end of the month. Hope you all had great weekends!