Since I promised more blogging, I thought of this new format that I may come back to on occasion when the creative well dries up. I am always trying new things and seeing new movies or reading new books so I figured I could do a love-like-loathe blog post when I have a good stock pile of things to review slash hate on. Let's begin shall we?
LOVE
Book of Life
.
This movie is adorable. I don't know what took me so long to see it as it's been out almost a full year now. I have always loved the idea of
Dia de los Muertos
because it's a celebration of the lives of those we miss. And of course, the brightly colored sugar skulls are just so damn cute. The movie is based on those themes and it's fantastic. There's also several strong female characters which I appreciate and the music is flat out awesome. This is a big LOVE for me.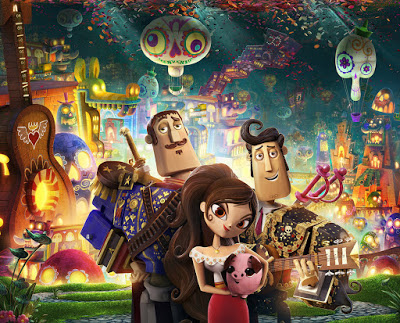 Infinit Mud
Oh my damn, this stuff is DELICIOUS. This drink is a powder that you can mix with any kind of milk, I prefer almond, and it's a blend of caffeine, protein, and carbs. It's not super high in calories and it's perfect both before and after a workout. Hell, sometimes I just have it for breakfast regardless of working out. The mocha flavor is tasty and the added
ground flax
is a nice nutritional bonus. It's on the pricier side, but hey, you're probably spending more on a cup of joe then you should anyway, may as well add in some protein!
LIKE
Nivea In-shower Moisturizer
I remember as a kid watching TV commercials about lotions and creams and being like, "Who needs that? Why are all these people talking about dry skin?" Little did I know that my future would require ALL THE LOTIONS. And yes, I put the lotion on my skin, Buffalo Bill. Anywho, I saw this ad for this in-shower lotion and figured I'd try it out. While it does smell great, it's not an exact replacement for actual lotion. I'd say it's an aid if you are in a rush and don't have time to wait for the actual lotion to absorb into your skin.
Once Upon a Time
I was looking for a new Netflix show to watch when the S.O. was out and I wanted something light. A co-worker recommended this show and while I can't say it's groundbreaking or thought provoking, it is exactly what I wanted. It's entertaining and cute and involves fairytale characters. The S.O. thinks it's awful, but I like it enough to watch when I have downtime and just want mindless TV.

LOATHE
Before I start, I should say I don't really loathe some of this stuff, but the word worked best. Because I do love alliteration. Ha!
Jupiter Ascending
Remember that children's rhyme about boys going to Jupiter to get more stupider? Yeah, that's this movie. The S.O. rented it for me because I like Mila Kunis and sci-fi. However, almost from the very beginning this movie was awful. I am a little bit snobby when it comes to movies but I can get down with a cult classic or something cheesy every now and again. Unfortunately, this was just flat out bad. Channing Tatum looks ridiculous and I was so confused for the first hour. I gave up first. The S.O. couldn't finish it. Don't bother renting.
Hunting for Trophies AKA animals. I have no link for this one because you all know the dentist I'm referring to. I hate that he does this to ANY animal, let alone a revered one like Cecil. I'm not a vegetarian, but I am anti-hunting for sport. It makes no sense to me. I feel the same about fishing just to fish. I just don't get it. That being said, I don't think these hunters need to be gunned down by angry mobs. Let's just change the laws instead. If there is a real need for population control for certain species then it needs to be handled by the folks in Fish and Wildlife.
So, tell me. What's on your love, like, loathe list right now?