Saturday marked the 2nd year of the University of Tampa Master's Swim Meet. I
swam this event last year
and had such a great time, I decided to do it again. Of course, I had to run my 16 miler before the swim meet so that was interesting. But it turned out fine and I was happy to get a couple of friends to come out to swim. The money for the meet goes to the UT Swim Team. I'm always willing to race for a good cause.
Steph
and her friend Heather came out to join me so it was nice to have a couple of friends to hang out with between events. (In addition to Coach Kelsey of course!)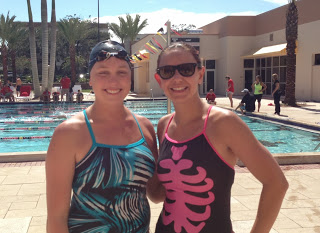 Coach Kelsey and I
I know going in to this meet that I am up against some serious talent and I'm a-ok with it. It's fun to go to an event that's unlike all the tri's and running races and see a whole different crowd of people. I like to use this meet for practice and a way to gauge how I'll feel for longer swims.
This year I decided to skip the 100 yard free and swim the 200 yard free and 500 yard free. I wasn't feeling super confident with my speed and the more distance I could get in the better.
Here's how the two events I selected went down:
200 Yard Freestyle
I seeded myself to swim a 3:15. I was being ultra conservative because I have never swam the 200 at a race and I didn't want to be with the super speedies. I still wound up with the super speedies as Steph was in my heat. She's part fish!
I decided to jump off the side for the start instead of the blocks. I just didn't feel up to diving off those things. They are really high and I wanted to keep my goggles on and free of water. (This meet is pretty laid back. It's one of the reasons I'll probably do it every year!) The start beep sounded and we all dove in.
I wound up swimming a 2:54 (1:27/100). Not bad. I got in 2nd in my age group. (There were two of us! Me and Steph. Hahaha!) In the overall results for the 200, I wound up in 4th place out of 11. Not too shabby I suppose but I must point out that this meet has all ages and while I did beat an 86-year-old woman (HOLY CRAP SO IMPRESSIVE!) I got beat by a 66-year-old woman. Swimmers are no joke!
500 Yard Freestyle
After my "sprint" was done I got to watch Coach Kelsey, Steph, and Heather swim some outstanding events. I hung out cheering and ate a banana and drank a Gatorade. I was feeling a little tired from my 16 mile long run but I still had enough adrenaline to get me through the 500.
Steph obliged to be my counter and I was seeded in lane four in the slower of the two heats. In swimming, the inside lanes are typically the faster folks of each heat. For example, in the 200, I was in lane 1 being one of the slowest for that heat. Make sense? And as for being a "counter," Steph and the other counters hold these big numbered flip boards that they put in the water to let the swimmer know what lap they are on. They only do this for the 500 and up.
Again for this heat I started on the side of the pool vs the blocks. A few others in my heat started in the water. It was a mixed bag and I was happy to swim this event since I always like the distance. I knew the woman in lane 3 was faster and I tried to keep her feet in my sights. She's the same 66-year-old woman who smoked me in the 200. I had seeded myself to swim 8:00, and I wound up swimming an 8:02 which is funny because I thought I swam a 7:20. Turns out I was looking at the wrong person's time. Poop. That's about 1:36/100. I think last year I swam much closer to 1:30/100. This is a good gauge of how much more I need to be hitting the water! I placed 5th out of 9.
After the 500 I was so completely spent. I was starving and in need of a huge nap. My long run finally caught up with me and I headed straight home to shower, eat, and sleep. In that order. I seriously love this event and can't wait to do it again next year. I'd love for more triathlete friends to join me because it's a really great experience and so worth stepping out of the comfort zone. Congrats to Coach Kelsey, Steph, and Heather who all smoked their events and started off the blocks. Ha!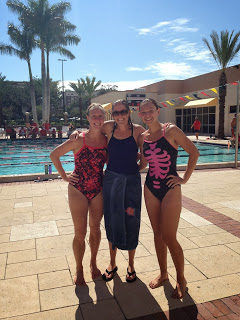 Heather, Steph, and I. Love my skeleton suit!
How was your weekend? Ever swim in a Master's meet?