Happy belated Memorial Day! I celebrated yesterday by eating cheese fries and seeing the new X-Men movie because there was no way I was going outside after the sun beating I took in Miami/Homestead on Sunday. I have tan lines that may never ever, ever go away.
Pre-Race Stuff
Tori and I left her home in St. Petersburg around 10 AM on Saturday to make the four-ish hour drive down to Homestead. Homestead is actually south of Miami so it's basically on the Equator. We knew this was going to be a hot
race
and we both just wanted to race another 70.3 so we were looking at this as a training day that came with swag (hence my
not super specific time goals
).
After to stopping for lunch and potties (we were hydrating machines!) we arrived at the race venue which was held at the Homestead-Miami Speedway track.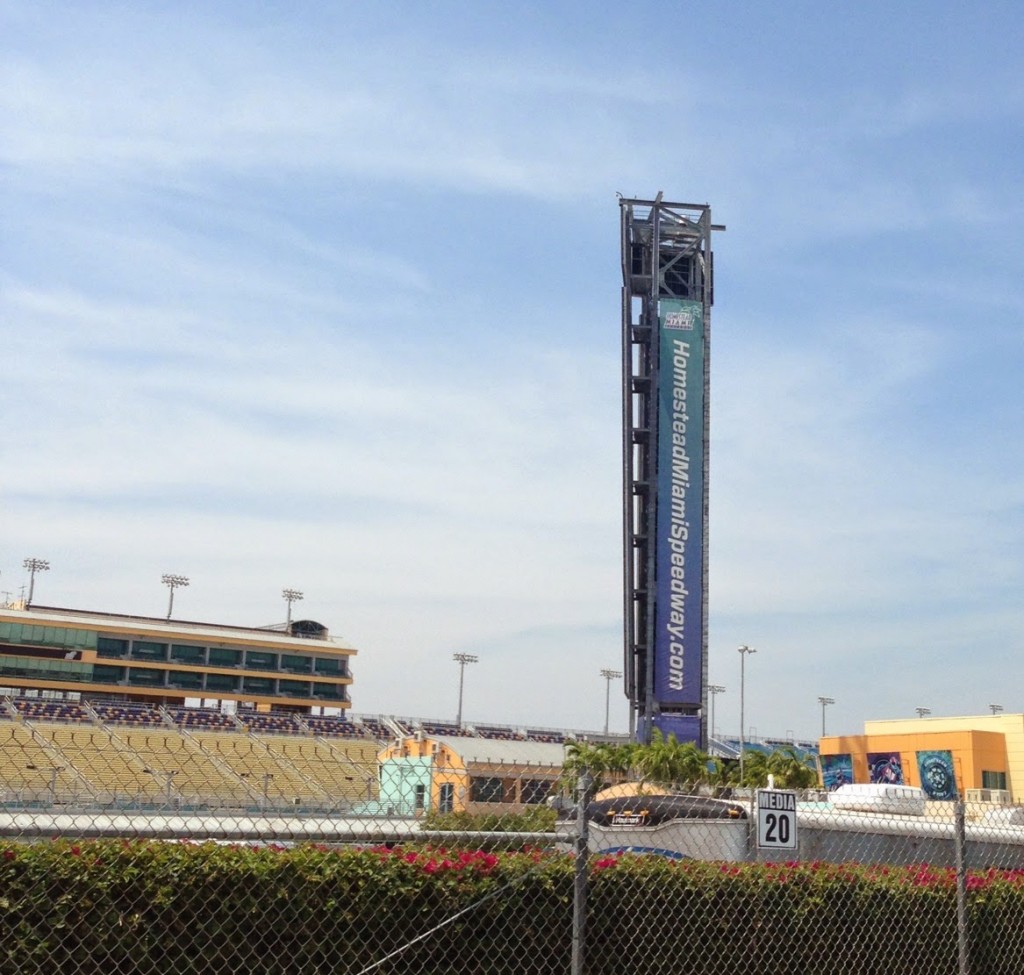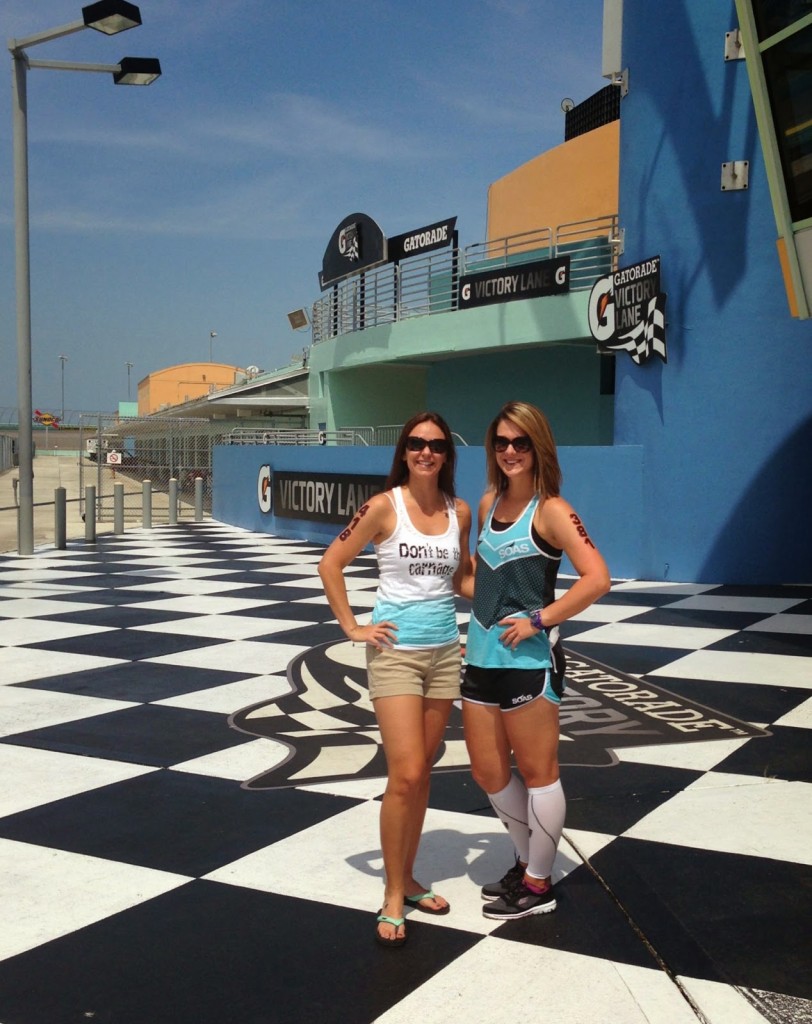 Pre-race with Tori and my "don't be the carnage" shirt.
I was a tad apprehensive about this race for a few reasons. (Not enough to not register, of course.) The first was that I'd never done a race hosted by this company (MultiRace). The second was that the swim looked very iffy. And the third was that this was a first year event. However, I was pretty relieved when we arrived because the pick up went very smoothly and the swim didn't look too bad. Plus, we got may-jah swag.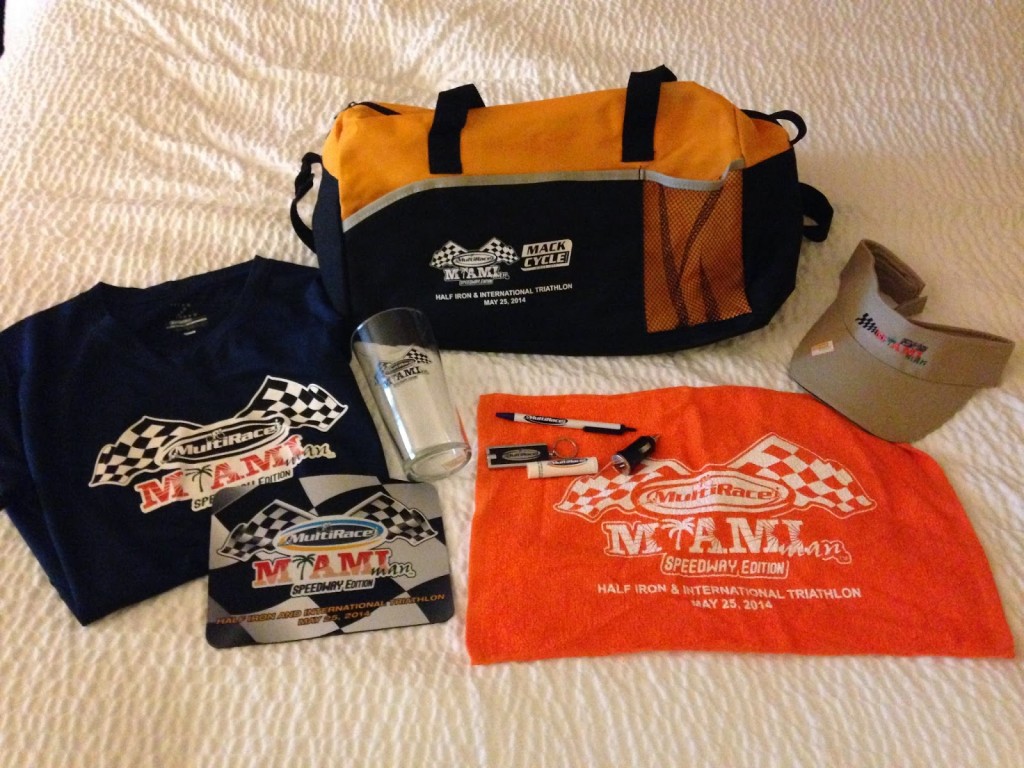 I love stuff.
Going back to that iffy swim. I knew from reading the race website it was a long, narrow man-made lake…er…retention pond in the middle of the speedway. Fortunately, they had a pre-race swim and posted those pictures on facebook and it didn't look too scary. And when we saw it in real life on Saturday (even though we couldn't get in because cars were actually using the track) I wasn't too concerned. It looked fine to me.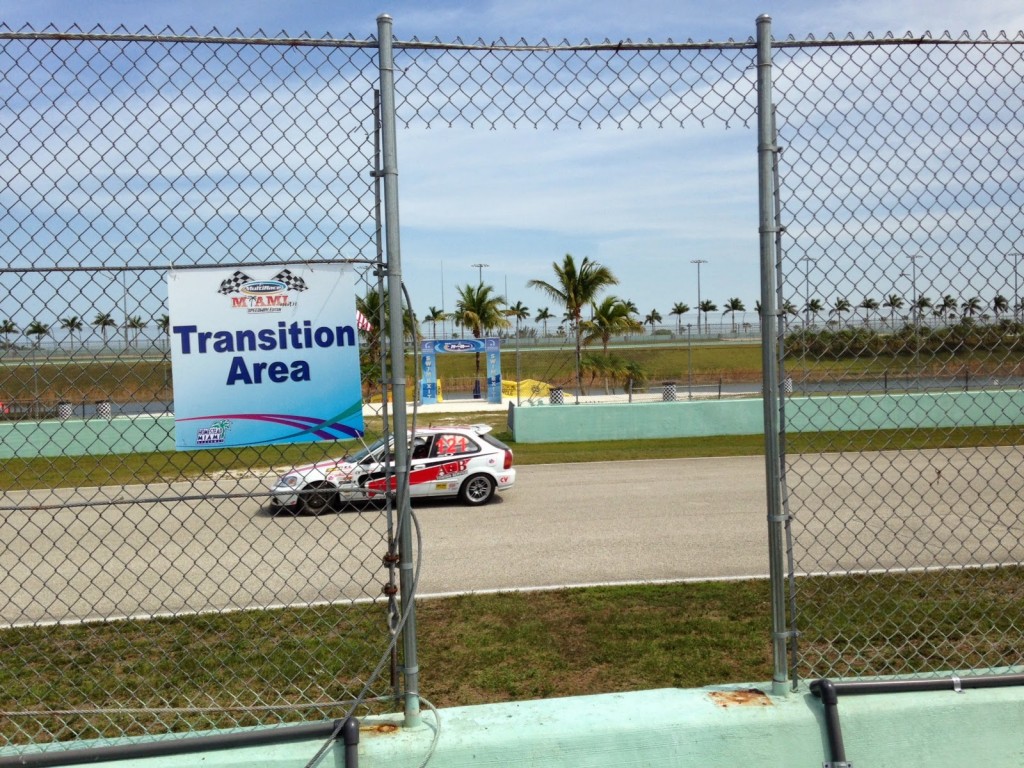 Actual car racing, swim start arch in background.
We grabbed our stuff and headed to the hotel. We had Olive Garden take-out for dinner and watched the movie Baby Mama before hitting the sack.
We woke up at 4:30ish to eat breakfast and get ready to race. There was no bike racking the day before so we had our bikes still with us. The race was only ten minutes from our hotel so we had lots of time to get ready and mosey over. My stomach was really jacked up for some reason and I kept telling it that I wasn't nervous so what-the-frack was going on? I took a couple Imodium because that's how bad it was. Perhaps Olive Garden spaghetti is not the way to go for me before a race. Ya think?
I finally started to feel better as we set up our bikes and headed to the swim start.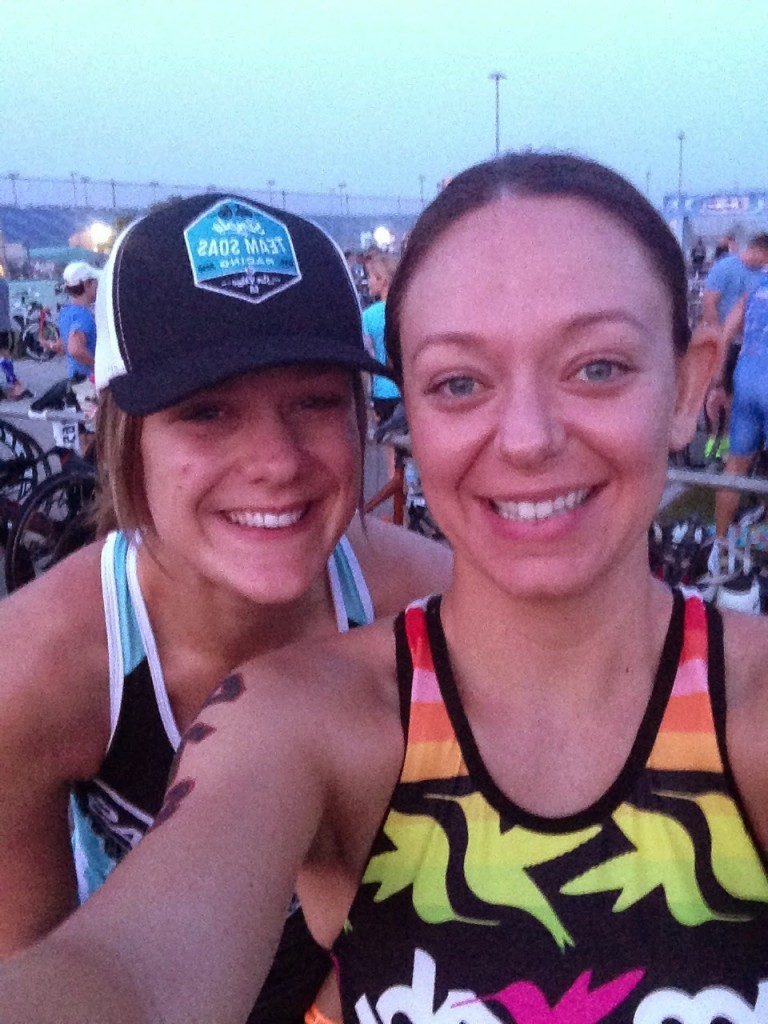 Pre-race selfie!
The Swim
Tori and I got to start together since all females were in one wave. It was a REALLY small race. Only 121 finishers in the half iron distance.
As we entered the water, I knew it would be a slower swim than my other two half ironman races. For one, Augusta 70.3 is in a river with a strong current. For two, I got to wear a wetsuit at Hits 70.3. This was neither a river, nor wetsuit legal. I had set the goal to not panic and I definitely met that goal. I actually had a lot of fun at this swim. It helped that I told myself it was just a really long pool. I was confused at first because you had to swim a lap, exit at the mats, and then hop back in to finish your second loop. I've never had to do this so it took a second to register where I got out and back in. Thankfully Tori explained it very well to a group of us confused folks beforehand. She's smart AND pretty. Thanks Tori!
I kept my pace strong and steady and hopped out of the first loop in 20 minutes. I tried to swim the second loop faster, and I think I did.
Swim Time: 38:53
T1
So by now, if you've read this blog at all, you know I suck at transitions. When I try to go fast, I go slow. This time I didn't think about going fast, I just went through the motions and had a pretty good T1 for me. It wasn't as fast as the other ladies, but I'm happy with this time.
T1 Time: 1:41
The Bike
Considering that I barely looked at the bike course, I was wondering if I was going to get lost. I hoped it was marked well and since there was an international distance and an iron distance duathlon, I figured I'd be fine with many folks in front of me. That's the beauty of not being the fastest, you never get lost. Haha.
The bike course was also two loops. The best part about the bike course was riding on the track on your way out to the roads. It was really awesome to ride it and you could really get going on the straight away next to the pit where lots of spectators were cheering. I let out some cheers myself because it was so fun.
The first loop was fairly uneventful with the exception of the random dog on the course who chased every cyclist that went by. It wasn't a snarling chase, more like a "Hey! Where are you going? I wanna go too!" type of chase. I said "SHIT!" at first but then realized this dog was just out having some Saturday fun. In the middle of nowhere.
The roads on the bike course were very quiet and there were a bunch of non-racing cyclists out. It was flat and even if it was a little windy in some spots, the out and backs were short enough that you got quick relief from the wind. The first loop went by so fast for me. I took a gel every 45 minutes and went through my bottles super quickly. I was trying to hydrate as much as possible. It was great seeing Tori on the course in a few different spots. We smiled and yelled encouragement to each other.
My goal to break 3:10 did happen, but not in the way I wanted. The course was short. Womp womp. Where as Hits 70.3 was four miles long, this bike course was almost three miles short. The good news is that I would have probably gone about 3:07 had it been the full 56 miles.
Bike Time: 2:58
T2
As I got into T2, I knew it was going to be a very hot, very long, run. I had a little trouble getting my running shoes on, but I think did ok getting out of T2 without making any sandwiches. Heh.
T2 Time: 1:45
The Run
My run started off pretty well. I told myself to run easy because it was so hot. I mean, not like normal Tampa hot, it was like liquid magma *said like Dr. Evil* hot. I saw a 9:20 for my first mile and I think that's the last time I saw a nine on my Garmin that day.
The run also featured out and backs and was two loops. There was one out and back that was particularly hot and I wasn't looking forward to it on the second loop. Running on the track was pretty brutal. There was no wind and no shade. I couldn't even pretend to be Ricky Bobby because I was focused on not melting.
I wound up running next to a woman from about miles four to seven and she was keeping us on a ten minute mile pace. She looked very strong and I had a feeling she would drop me at some point. And sure enough, at mile seven the wheels came off and I started walking.
There were aid stations every two to three miles and they came up just as I thought I was going to actually melt. They were really well stocked with iced water and Gatorade. I put ice in the front and back of my kit and on top of my head. My shoes were soaked but I didn't care. I just kept drinking water and dumping it on myself. I ran as much as I could and had no shame in walking. I was definitely the carnage on this run.
I, again, got to see Tori at various points on the course and we shouted to each other things that neither of us really understood what the other was saying. But it was really awesome to see her out there. We were both holding our shit together and managing smiles. I chatted with a few folks here and there but not as much because I was seriously en fuego. When a breeze did come along, it was like a fart from the devil. In fact, I believe I saw the devil on the course at one point. He just smiled and said, "Bienvenido a Miami!"
I'd be lying if I said that last loop wasn't rough. It was, but I kept my third goal in mind. Have fun. Have fun. Have fun. So I did my best to enjoy the day. I counted palm trees to keep me running. I looked at spots where
I thought Dexter could have dumped bodies
. I high-fived volunteers at aid-stations. And I told others on course "Great job!"
As I finally got back to the track I knew I was home free. I admit I walked on the back part of the track where there were zero spectators. I laughed at myself for walking at mile 12.75 but I started running again as soon as I saw the final stretch and finish line.
Run Time: 2:21
Overall Time: 6:02
I hung out in the med tent with an ice pack on my neck and cheered Tori in. We did some finish line photos and hung out for my age group award. I wound up getting 5th out of six in my age group and grabbed a pretty cool award.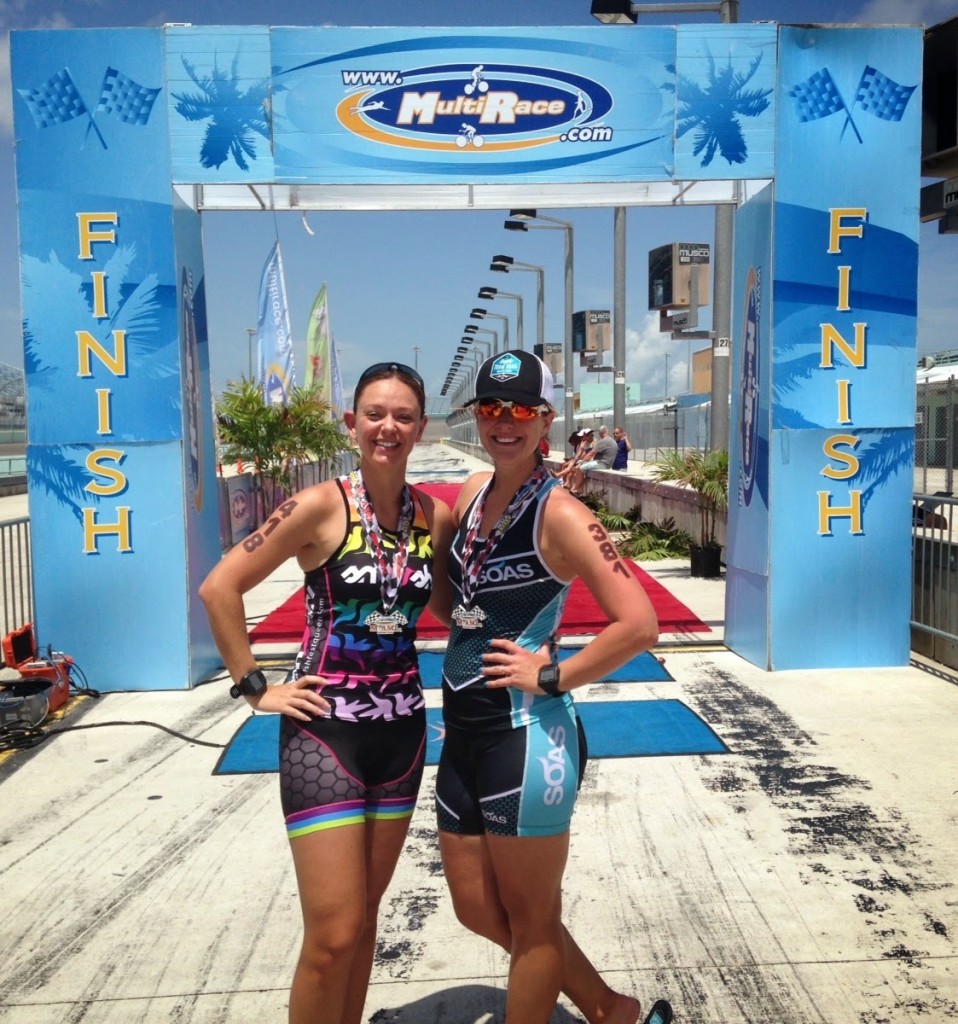 3rd half iron in the books for us both!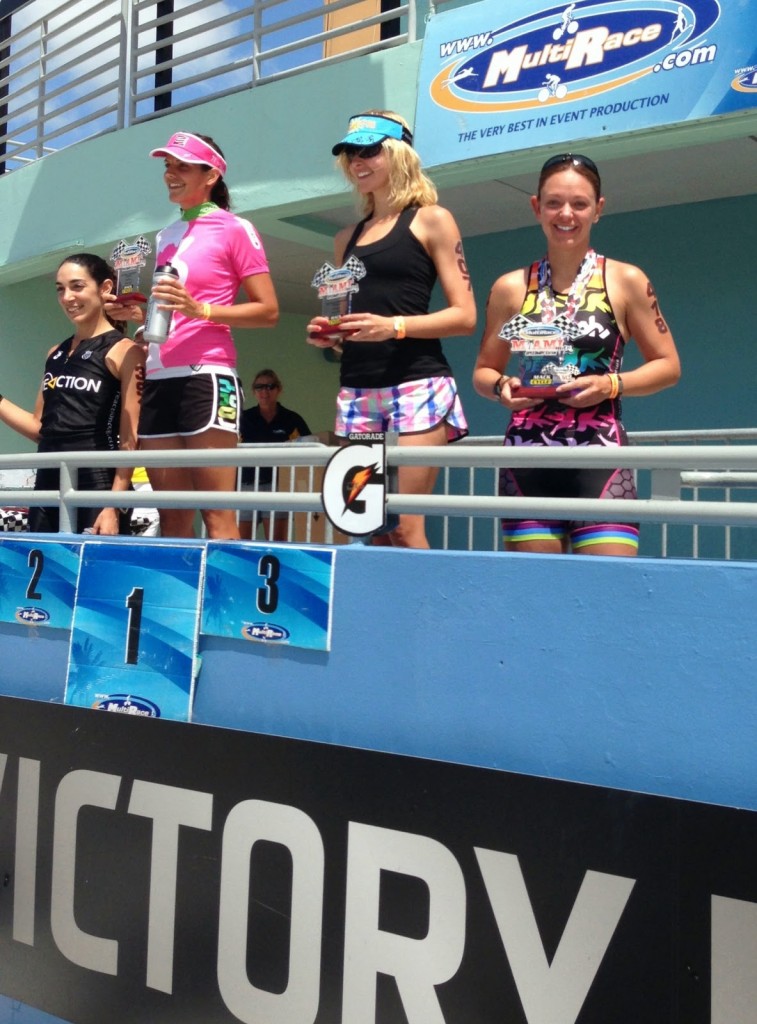 5 out of 6. I'll take it!
I'm really glad I did this race. Everything went really well and I met all of my goals, despite the heat. As it turns out, there were 11 DNF's on the run. Did I mention it was hot?
Tori and I had a blast travelling together and had an epic sing-a-long to Bohemian Rhapsody (amongst other songs) on the way home. I truly feel like this race helped me find the joy in racing again. No stress, just doing what I love.
A special thanks to Tori, the race volunteers, and organizers. And of course, to you all for reading and sending me support! Have a great Tuesday!