No sooner did I say last week that I was feeling healthy and strong than I came down with a cold. Son. Of. A. Bitch.
Fortunately, the worst of it seems to be behind me and I stayed home from work yesterday basically being lazy and eating 1,000 saltine crackers.
I still managed to have a great weekend even if I probably made my cold worse by running in two races.
Friday, I went to my favorite local 5K of the year:
Richard's Run for Life 5K
. This 5K is always a blast and has THE best post race food. All of the food is from local restaurants and the gem of these is the food from
The Columbia
. You get a full plate of their famous "1905" salad, black beans and rice, Cuban bread, and seafood paella. So so so good!
When I got to the race I wasn't sure if I was going to race because I had woken up with the telltale scratchy throat. I didn't think racing it was worth it since I really wanted to get in my long run on Sunday. Fortunately, my sister said she preferred that I pace her and thus my decision was made.
I love pacing! It's great to run with someone and help them reach a goal. I try to keep whoever I'm pacing focused on the goal and not let them slow down. I kept telling my sister how great she was doing and that if she can have a baby she can run a PR. And guess what? SHE DID! CONGRATS BIG SIS! So proud of her!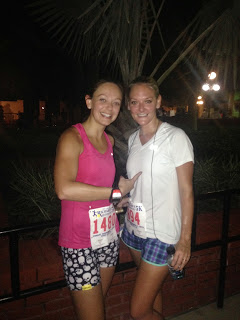 Post 5K with Big Sis
On Saturday, I didn't do much. I wanted to bike but felt icky so I stayed in bed and the fact that it rained made that an easy decision. The S.O. and I ran some errands and watched some college game day football. I'm not discussing the Gator season. Ugh. We got to bed early and were up early for my long run/race on Sunday.
The S.O. decided to run a 5K while I did a half marathon as part of my long run. Best. Decision. Ever.
The
Blue Moon Half Marathon
and 5K is another local race that we love. It's small, close by, and we always have a good group of friends who race. I ran 4.5 miles before the race started at 7:30 and was happy to have closed roads and trail for that first portion of my run. I got back to the start line and lined up in the middle. I didn't want to get caught up in the race and run too fast. I chatted with several folks as I ran along and finished with a time of 1:58. My overall 18 miles (I had to add a half mile on the end) was a pace of 8:53. I did run the last three miles a bit fast because I wanted to be done and get out of the sun!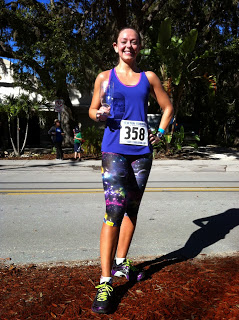 Rockin' my Spandits! (See Spandits! tab for details.)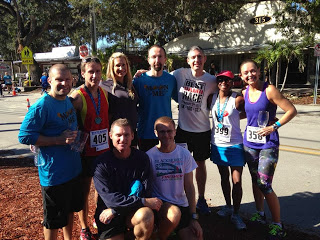 Progressive Track Group Representin'
The S.O. got 2nd place overall in the 5K! He's pretty obnoxiously fast. The rest of our crew had some age group awards as well. We celebrated by heading out for a big breakfast.
I finished up the weekend by heading over to
Meghan
's for a Jamberry nails and Stell & Dot party. I bought some stacking rings and some cute nail decals. I had a great time seeing Meghan and
Tori
but I probably over did it because I got home and went straight to bed. At 5:30 PM.
I think this cold funk is on it's way out and I'm ready to tackle my training for the week. Congratulations to those who ran NYC and Ironman Florida. You all are amazing!!!!
How was your weekend?