I have returned from NOLA and am already getting misty eyed about when I get to see my sweet nephews again. I had a great trip and had such a fantastic time hanging out with my sister, brother-in-law and sweet baby nephews. Hearing "Hi Aunt Babeff!" will never get old.
I love these guys.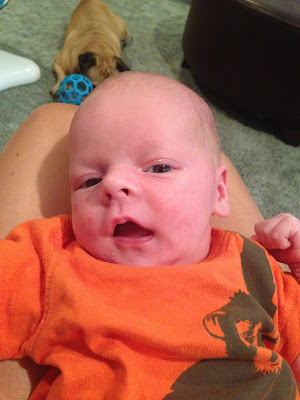 HI! I'm new baby brother A.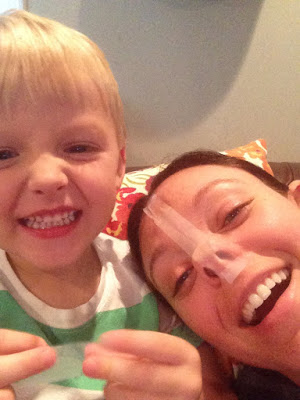 Big Brother R and I had so much fun!
Ok, so about that race…
In reviewing the course map prior to the race, I noticed a lot of turns. Normally, I don't really pay that close attention to this stuff because turns aren't really a big deal to me and I know how hard it is to put on a race and close streets making turns unavoidable. However, this course had a lot of turns for two miles and it was funny to me.
The race is for a great cause, prostate cancer research fund at Tulane University Cancer Center, and is hosted by the NOLA Track Club. The theme is obviously BLUE and everyone is encouraged to wear blue. The thing I have learned about local races in NOLA is that they always have these fantastic marching/dance clubs show up to cheer at the start and finish lines. It's fantastic and SO NOLA.
I lined up at the start with my sister's good friend Anita. I was happy to have her to chat with while we waited for the start. Anita is super fast so I knew I would see her take off as soon as the horn blasted. I told her I planned to run maybe 7:15's maybe 7:30's depending on how I felt. The humidity had dropped a bit and it was really nice out. It was still warm, but the lower humidity made me super excited for Fall racing.
The horn sounded and we were off. I stayed behind Anita for about a quarter mile and then she was gone. She raced very smart as I think she eased into her pacing. I tried to do the same but wound up positive splitting. My first mile felt pretty good. Nice and relaxed. I hit the mile at 7:14. Right on pace. I got to see Anita at the turn around and we smiled at each other.
Unfortunately, after the turn I started to get a really bad side stitch. I don't normally get these during races so I tried to breathe it away and keep running. I backed off the pace some and I wish I hadn't. The side stitch wasn't going away but I wish I would have pushed a little more. Mile two was a 7:23.
My Garmin showed a time of 14.37 for 1.99 miles, a 7:21 average pace. With all the turns, I know I cut a corner here or there so I'm fairly certain this was an accurate course. The chip time showed 14:34, which put me at a 7:17 pace. Good enough for 6th woman over all and first place age group (30-39)! Anita was the fourth woman overall and won master's with a time of 13:56!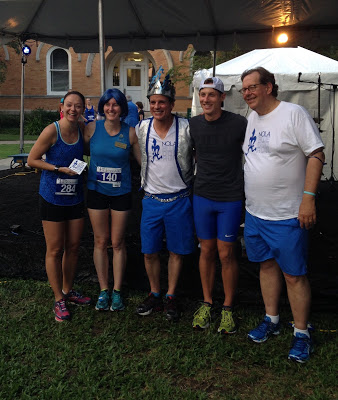 First Place Age Group Award Tile Coaster
I didn't take a picture with Anita after and now I wish I had! Great job Anita!
The post race party was one of the best I've ever been to. There were tents with TONS of food vendors and little stations for the kids to do various crafts and get their faces painted.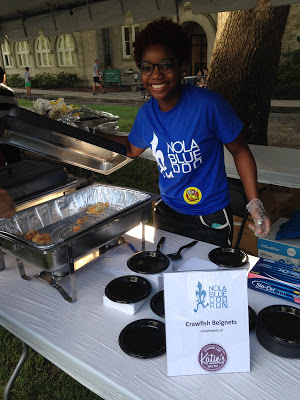 Crawfish Beignets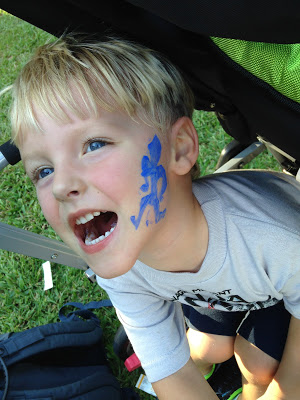 Isn't he the cutest?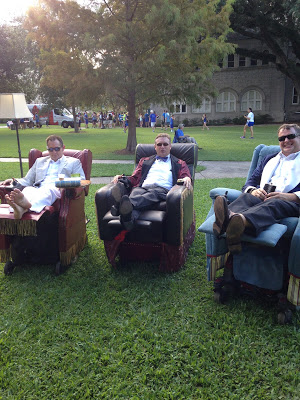 Laissez Boys of New Orleans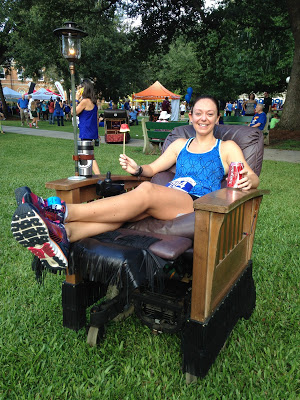 Laissez Beth of Clearwater
Overall, I'm not thrilled with my race time, but I know I probably should have warmed up a bit more prior to help with that side stitch. And regardless, I had a great time hanging out with my family and their friends. I hope you all had a great weekend and are getting through the work week with a smile.