Today I ran a 5K called Run Thru Hell. And I'm not gonna lie, it was a little hellish. I ran this race last year and had a big PR from previous 5K's so it's got a special place in my heart. While I didn't PR over all, I did PR on this particular course.
The course is partial trail and it takes one through a very, very narrow path that runners end up single file. You have to get out fast and stay up front or whoever you end up behind is your pacer. The trail had lots of mud because it's been raining so much lately and we were all very dirty afterward. My shoes and socks got soaked because I just tromped right through the puddles. That's one way to cool down, right?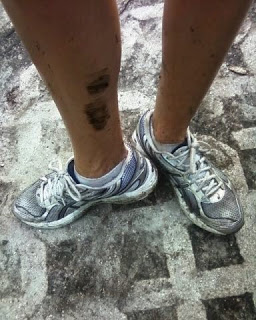 (Post race muddy shoes and legs)
As I had no real race strategy and haven't really been training for a 5K, I figured I'd just kind of wing it. I ran the first mile entirely too fast (7:00 minutes) and slowed up a bit for the second one which was most of the trail. I was running behind a older gentleman known as "Silky" who I always see at races. I tried to stay with him when the path widened but dude had some speed. You go brother!
Needless to say, by the third mile I had slowed a lot and was sucking wind. It was hot and I was tired. I tried to hang on to a reasonable pace and just push through it. My shoes were slogging and I was breathing hard. Finally I saw the finish line and heard a guy named Pete yell for me to run in strong and I saw my sister waiving me in. She came out to support and it was great to have her there. I used what little strength I had left and raced to the line.
My final time was 24:54 according to the clock. And 24:35 according to my Garmin. (Had to throw that in don't you know? Ha Ha.) I'm fine with both. It was a tough course and a hot day and I still managed to get third in my age group. All in all, a good race and nice little after party with some friends.
They can't all be PR's, but they are all worth it.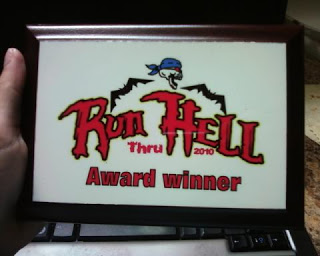 Happy Sunday.