When we left off we had just finished our 2nd (or in my case 2nd & 3rd) legs and hit the exchange with the $3 showers. I would have paid $300 for those showers. That was the best shower I've ever taken. In a muggy, hot, high school girl's locker room. At that point it was like the Ritz Carlton to me.
I was so tired and hurting that I had to ask a friendly Ragnarian lady to help me with my sports bra. Guys won't understand this but sometimes when you put on a sports bra it gets all twisted in the back and can be super frustrating, especially if you are tired and hot. (It was hot in that locker room. And not because of any girl on girl stuff. It was a million degrees in there.)
Our van showered and then headed to the next big exchange for some shut eye. Nick and I brought a tent because I knew from past experience that sleeping in the van was not for me.
We awoke from our slumber a couple of hours later and were all pretty groggy and weird. Standard Ragnar feelings. Dee started us back off again and then Katie and Lance. Since Nick was feeling good he decided to take on the runs for legs 4 & 5. I was to take leg 6. At this point we had mixed up the runs since we still had to pick up the extra leg for our missing runner. Fortunately, Captain Steve from Van 2 stepped up and again took leg 6 (for our van) and leg 1 (for his van). This saved me from running a fourth time even though I think I would have been fine, if not more sore the next day.
With the completion of our runs Van 1 was DONE. Hallelujah! We headed to Key West, showered, and waited with a few brews for our intrepid Van 2 to come in.

Final runner Sarah and me.

As soon as we saw Sarah running in we all cheered and ran in with her. It was a gorgeous day out, hot, but so beautiful. The fan fare at the finish line was awesome and 11 tired runners were ready to relax, drink champagne, and soak up our awesomeness.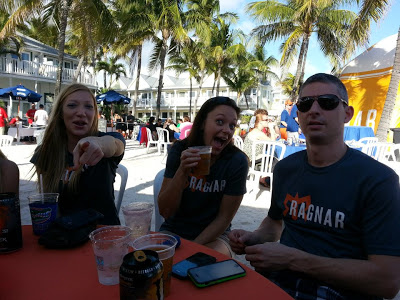 I like my beer.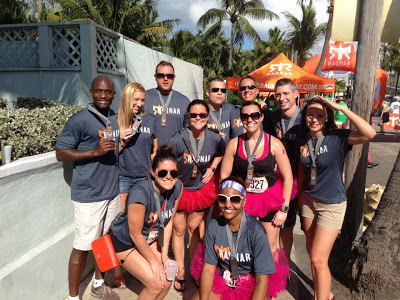 Team Running Down My Leg!
Our official finish time 32:50 which put us at 124/243. Ragnar Florida Keys was tons of fun and I can't wait to do it again. Hopefully next year we'll have a full 12 person team and I'll have an extra day to stay and enjoy Key West.
*I want to give a special shout out to all my buddies running Disney this weekend. From first timers to 20+ timers, best of luck and kick ass! You're all Goofy to me!*