I have some fun photos to share with you all today from Red's visit this weekend. But, first things first, Dolly is all fixed! Hooray! I didn't break my bike the first time out thank the lord. The bike shop owner was super cool and upgraded the part so that it shouldn't break again so easily. This is a huge relief as Dolly was not cheap. Raman noodles for a week here I come!
As I mentioned before my beloved Red came to the Sunshine State for a visit last weekend. I hit up my long run on Saturday and headed to Otown to see her. I had dinner in the cute little Vietnamese area when I got there with my friend Ryan. He's pretty much one of the only people who will eat Pho with me. Yum!
Anyway, I met up with Red and friends at a country bar called Cowboys. It's really quite funny to go there. It's always a good time even if you aren't really into country music, which I am not. But I'll still line dance or attempt to anyhow.
Since Red was visiting, the Lazy Runner made a special appearance to see her too. Lazy Runner used to live in Otown and helped Red get through many of her first long runs before she started commuting to run with me and the BRA. And guess what? Now Red is up in the Mitten state and the Lazy Runner has moved closer to me and he now runs with the BRA. Funny how stuff like works out isn't it?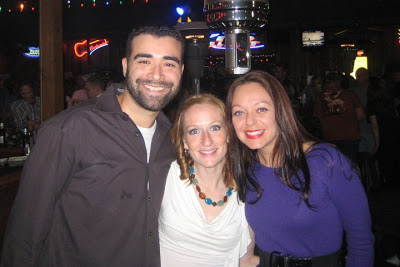 Here we are! All together. Good looking bunch if I do say so myself.
We had a really great time and I'm completely in love with all of Red's girls. You couldn't ask for a sweeter group of gals. We've all become friends now and I'm so happy everyone got to see Red.
I couldn't finish this post without showing off my new fashion invention. Er, mishap. Er, super hero gear…. behold…the Batgirl Utility Belt!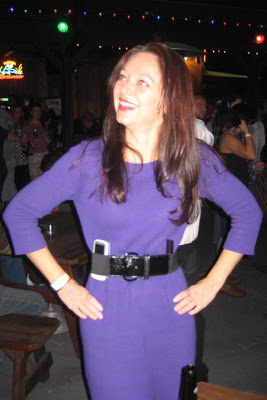 Yeah, that's just a belt holding my cell phone and lipstick. What? Don't you all use Spibelts? It's virtually the same idea. Only way lamer. Happy Hump Day. Don't stop, get it! Get it!