Hello & Happy New Year again! I know we are all back to the grind and struggling through the first week back to work. I was especially tired after the two days of USATF Level One Coaching Certification class I attended on Saturday and Sunday. More on that later.
Every year I write some goals or resolutions that I later come back to and feel deflated when I realize I missed them. For example last year's goals of no fast food, a BQ, have fun, and read more came out to about fifty-fifty. I still ate fast food and I have yet to hit a BQ – so, yeah, bummer. I did have a lot of fun in 2015 and I did read a lot more – yay.
Ultimately though, those goals and resolutions leave me feeling flat. I know I had a good year and did a lot of work. It wasn't perfect, for sure, but do I really need resolutions that make me feel bad? Sure don't. And guess what? In researching resolutions, I see this trend popping up – just say NO to resolutions.
I'm not making any big resolutions or goals this year as I want to work hard to be my best
every day
.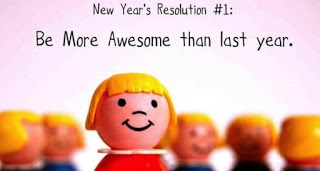 This not only means hitting those training runs, but also accepting myself as I am. I am hard on myself and my negative self thinking is what holds me back in a lot of aspects of my life. I am the best cheerleader for everyone else but I really need to work on being a cheerleader for myself. And this is something I can work on every day and not beat myself up about if I slip off now and again.
Now that the resolution and goal talk is out of the way, let's look at my year in numbers. As
Keara
would say, just for funsies…
In 2015 I…
ran 1,088 miles.
biked 104 miles.
swam 58 miles.
attended 50 strength and conditioning sessions led by Coach Jon or Coach Nick.
attended 9 yoga classes.
raced 18 times (this includes swim meets & open water races).
I'm looking forward to a fabulous 2016 and can't wait to see what's in store for all of you! Did you make any resolutions this year? Why or why not?