Sometimes life is funny. But not in like a "I tripped and chipped a tooth" kind of way. Funny in a "life IS rainbows and butterflies" way.
You all know that I was having very cranky shins and calves lately so I opted to purchase some compressions socks and sleeves. I got the socks on my way home from a terrible run a couple of weeks ago and they made a HUGE difference. I don't care if it's placebo or not, they made my angry shins and calves so much happier. After the run I knew I'd be wearing the crap out of those socks so I figured I'd order some calf sleeves because I'm running a lot in the summer and I may want to take them off mid-run if I get hot.
I wound up ordering a pair from a brand called
SLS3
. While I loved all the bright colors, I figured ordering a safe-matches-everything black pair was the way to go.
As super-awesome-yay-email luck would have it, I got an email from SLS3 the next week asking me if I'd like to do a review and giveaway*. To which I answered, "Does a fat baby poop?"
I told them I had ordered a pair but they were swell enough to send me another pair to review. And this time I chose the butterfly print that I had been eyeballing from the jump.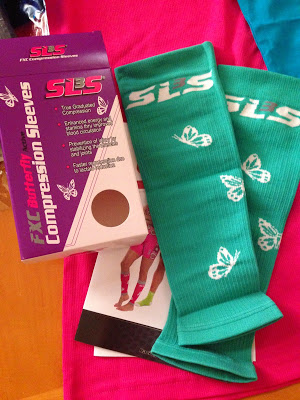 Could only better if they were unicorns.
I busted my new calf sleeves out on my long run on Sunday and they felt super supportive and compression-y. Plus, again, butterflies. They were comfortable enough for the entire 2 hour run and my shins and calves weren't nearly as sore after as they were on previous long runs. I wore them again last night for my treadmill "hills" workout. (And had to awkwardly ask another gym patron to take my photo.)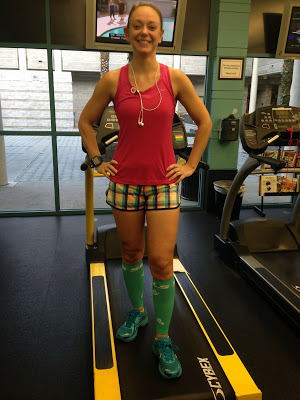 And not to skip the details of theses bad boys, they feature:
• 20-30 mmHG of graduated compression
• Seamless TekWeb technology• Muscle Stability• Increased Bloodflow
• Cooling effect and UV protection
SLS3 is allowing me to host a giveaway for a pair of free socks or sleeves!
You can enter here:
a Rafflecopter giveaway
It will end on Monday, May 25, 2015. I'll announce the winner and they'll hook you up.
In addition to the giveaway they are offering a discount of 40% (HUGE) using code Beth40. This is a seriously generous discount.
Good luck and Happy Hump Day!
*Giveaway ends May 25th, 2015 at 11:59 PM EST. Open to Residents of the US only. Prizes cannot be shipped to PO Boxes. Winner will be selected by Rafflecopter through SLS3 and be notified by email. Winner have 48 hours to respond before a new winner is selected. Please note that Discombobulated Running is not responsible for sponsors that do not fulfill their prizes. I have represented the sponsor with the expectation they will fulfill their prize and in a timely manner. I will contact the sponsor regarding your prize(s). The sponsor, in most cases, are shipping their items to you directly. I will make every effort to assist you obtaining your prize. If there is an issue with a sponsor, please notify the blog you won a prize from within 30 days for assistance, after that we may be unable to assist you. The product provided for the review was free of charge from the company. The product offered for the giveaway is free of charge, no purchase necessary. My opinions are my own and were not influenced by any form of compensation. Facebook, Instagram, Twitter and Google+ are in no way associated with this giveaway. By providing your information in this form, you are providing your information to me and me alone. I do not share or sell information and will use any information only for the purpose of contacting the winner.