While I am not a Dave Matthews Band fan, I couldn't help but use this as the title for my post today because well, quite frankly, I got a lot to say.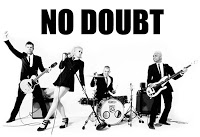 Let me start by saying how awesome the No Doubt concert was. How is it that they have been around since 1986 and they look like youngsters? They must run. Anyway, thank the lord I went with Redhead Running and another friend who had tickets in actual seats and not the lawn where I had mine. They were smart and nice enough to sneak me in. It basically poured before Gwen and the boys took the stage so the lawn was a squishy, muddy mess. Gwen kept shouting out to the lawn folks how effin' amazing they were, but I was very happy in my dry seat. She also did her signature on stage push-ups which are always an inspiration.
Needless to say I got home pretty late and was very sleepy this morning. I made it through the work day and was completely bummed when I got home and realized I had to run on the dread-mill due to inclement weather (lightning and possible hail = possible death and ouch). In addition to rain and sleepiness I had the most awful assortment of clean running attire. Light blue sports bra, purple tank, and hot pink running skirt. Guess somebodys gotta do some laundry!
Completed 4 miles at a brisk pace and am happy to report that I even recruited a fellow runner named Brianna, who is training for the police academy, to the running group. All in all a pretty good day, not Ice Cube Good Day, but good none the less.
One more thing, sheesh, I know – shut up already! Ok, but first, just to let fellow newbies know, I am trying out some toe socks. I'll keep you all posted as to how they feel and if I notice a difference/help my toes stay purty.