I mentioned last week how I was super stoked to go to
Sprinkles!
a holiday cookie decorating class benefiting the Susan Sheppard McGillicuddy Breast Center at St. Anthony's Hospital hosted at the gorgeous Renaissance Vinoy in St. Petersburg. I was even more stoked to go Saturday after a successful 20 mile long run (more on that tomorrow) because I could definitely stand to replenish some calories with cookies!
After my run, I got in a quick nap and headed to St. Pete. It was crazy near the Vinoy because there were three major events going on. I was so happy to see valet and not fight for parking. The Vinoy is just beautiful and the surrounding area has so much charm and lots to see and do. (I'm like a St Pete tour guide right now. Haha.)
Anyway, upon entering I was directed to the event and couldn't wait to get eating started.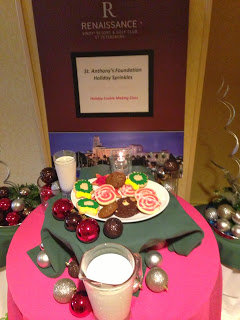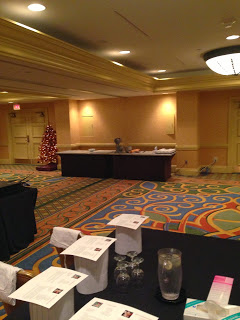 The room was set up with each place setting featuring a cookie recipe card, a Chef's hat, trays of dough and cookies, and aprons. The executive chef, Mark Heimann, completed a demonstration of how to prepare each cookie we had on our tray. Our trays had a gingerbread cookie, a sugar cookie, and a peppermint pinwheel – all baked and ready to decorate. Our trays also had some raw dough that we could shape and take home to bake.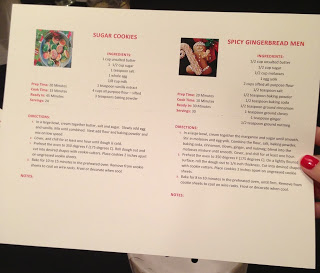 The recipes were great!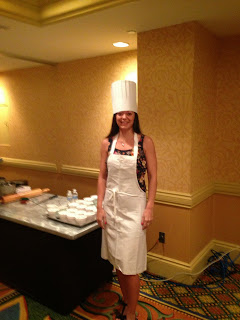 Chef B.o.B.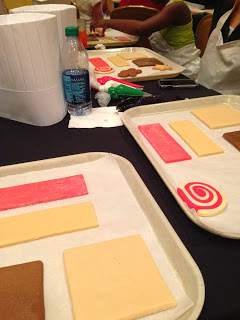 Tray O' Deliciousness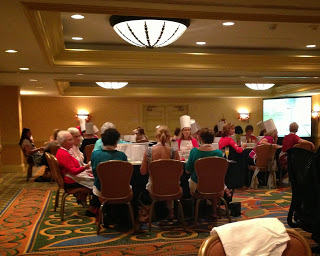 Ready to decorate!
After the presentation by the executive chef, we all got to decorating and shaping. It was really fun and I was happy to have sat myself with a few tweens and their
Big Sisters
from Big Brothers and Big Sisters of Tampa Bay. They were really fun to decorate with and laughed at my terrible attempt to make the peppermint pinwheel cookie.
Nailed it!
Of course, I had to make a few other "special" cookies all while eating cookies, icing, dough, sprinkles, M&M's, and more icing.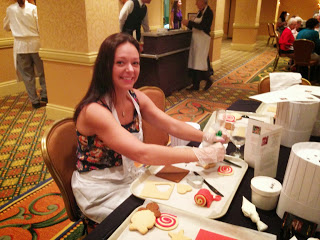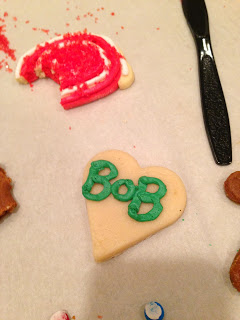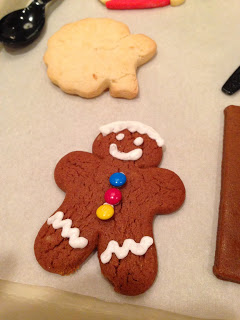 Before: Happy Ginger!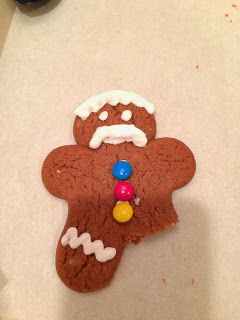 After: Sad Ginger!
Unfortunately, by the time our decorating was done, I had eaten all of my cookies. Fortunately, the Vinoy and St. Anthony's are smart enough to know that people like me would do just that and they sent us home with a box of prepared cookies! Score!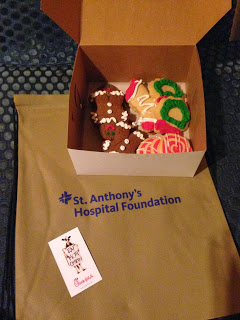 They even threw in Chik-Fil-A coupon and free bag!
This was such a great event and for such an amazing cause. I loved learning some baking tips (eggs and butter at room temp!) and of course, I loved eating cookies and taking a bunch home. I would definitely attend this event next year and think it's worth the trip to St. Pete.
How was your weekend? Eat any cookies?
*I was given a free ticket to this event in exchange for a blog post. All opinions are my own and yes, the cookies were delicious.