Yesterday I competed in my fourth St. Anthony's triathlon. I've raced this event in some capacity almost every year since I started triathlon-ing (that's so a word). This year I hadn't planned on racing until in a group chat my friend Megan threw it out there about forming a relay team for the olympic distance. I was happy to sign on as the swimmer, while Keara hopped in as the runner and Megan would be our cyclist. It was pretty cool to be on a team with these two badasses. We chose the name Chase's Angels after Tribal coach Nick Chase.
St. Anthony's brings out the big guns with pro's travelling from near and far to beat everyone's ass compete. So naturally, it also brings out the best of the best in the local triathletes as well. Everyone who toes the line at St. Anthony's knows that it is a legit field and while not a super tough course, it can be a tricky one. The swim has been known to be rough, while the bike is fairly technical (I granny the shit out the course when I'm riding it), and the run is hot, hot, hot.
The best part about the race is that I get to see almost every local triathlete I know – plus a bunch of friends who join relays who may be debating becoming a triathlete or who just wanna be in on the action. The post race party is a blast and I just really enjoy how well organized this event is every year. Kudos to the organizers on this one. And if you ever wanted to travel for a race, I say put this one on your list.
Race morning came quickly as the S.O. and I got ready to hit the road. It's about a 30 minute drive from our house and we wanted to get to transition early so that I could poop he could get his gear all prepared since he was racing the full shebang. Upon arrival we ran into several friends and got some photos snapped. We also learned it was wetsuit legal.
As soon as I heard it was wetsuit legal I knew I'd wear mine. I don't love wearing it, but if others were going to use the advantage, so was I. Plus, while I'm a strong swimmer, I'm not opposed to a little free speed, so I figured why not give our team the best shot?
After the pro's and the open field, the relay wave was off early at 7:08 AM. I lined up toward the front of the pack and figured most of these relay swimmers knew how to swim. I sort of figured you don't join a relay as the swimmer unless you kinda know what you are doing. I knew I was in for an aggressive start and I was ready for the pummeling. The gun sounded and holy moly, what a pummeling.
I wanted to swim hard for my team, and while I don't feel that I trained as much as I normally would have, considering we decided to do this about three weeks ago, I felt pretty good going in. The first couple hundred yards were spent trying to find some clear water and not getting kicked. Someone did give me a "How you doin'?" slap on the the ass and I took it as a compliment even though I'm pretty sure it was on accident. I most definitely went out hard.
As I swam along I realized I was swimming in the middle of two packs. Very fast swimmers, and not as fast swimmers. I was basically in the middle of these groups and it was nice because I had so much space to swim. I also realized I stupidly forgot to put lube on my neck and I could already feel the wetsuit's loving caress. That was gonna hurt later.
I finally hit the first turn buoy that forces you to make a left turn away from the shore. It's always sad because I want to swim toward the people. Ha! I knew at this point I was a bit under trained as I started to feel the fatigue and my right arm doing it's wonky tired thing. That's a technical coaching term – wonky tired thing.
Anyway, I swam and counted the buoys and it was finally time to hit the right turn back toward shore. Hooray! I could see the swim exit balloon arch just ahead. I swam. And swam. And swam. And goddammit how far is that freakin' balloon arch? I passed a few green caps at this point and that made me happy. I hit the stairs to exit the water, yes there are stairs, and helpful volunteers whose hands I grabbed to get up and ran toward Megan at the bike transition.
My swim time was 29:38. I'm happy with it based on what I've been swimming lately, which isn't a ton. I also think I could do better, but that's why we keep racing. Seeking out ways to better ourselves.
Megan took off on the bike and I got to "beach shower" and change clothes before watching Keara take off on the run.
As soon as Megan returned, after a blazing bike split averaging over 21 miles per hour, I got the opportunity to hang with one of my favorite munchkins, Keara's daughter. Tori, Kelly and I got to watch her while Keara ran. We played on the playground and cheered on runners as they came in.
And shortly after, Keara was running down the chute while we screamed our head's off for her. She ran a 43 minute 10K the Sunday after she ran a PR at Boston. Needless to say, her legs were on the angry side but she still crushed it.
Our overall time was 2:22:57 which landed us a 2nd place for the all female relay division. I was pretty stoked to pick up awards because I'm fairly certain that's the only time I'll get one at such a competitive race. (Keara and Megan had to skedaddle.)
The S.O. also got an award by smashing his race and ending up 2nd in his age group. I jokingly asked him if he has been doping and not telling me because the man threw down a serious bike split of 1:00:48. B-A-N-A-N-A-S. Lots of our Tribal teammates also raced and had fantastic days. Plus, one of my athletes raced and had a PR as well.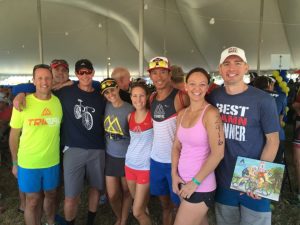 We finished our day by celebrating with some delicious Mexican food and then relaxed at home watching Kimmy Schmidt. It was a good day.