Over the weekend I had the chance to participate in the
Sunset to Sunrise Relay
. This relay starts in Ft Myers, Florida, and finishes in Jensen Beach, Florida. It's a distance of 180 miles.
With my team of eleven (ten runners and an athletic supporter), we headed out early on Friday morning to get to our start time of 11 AM. Since my hammy has been on the mend the team captains were kind enough to give me a total of about 11 miles. I let them know ahead of time that even this mileage may not work for me but at least I'd show up and help out as much as I could.
We arrived at the start and since I was the only one on the team who had previously completed a relay I could sense some of my buddies were a little nervous, but super excited. I must admit I got some pre-race butterflies when I realized I was the first runner. I also stupidly said that I would run an easy pace. Of course, that went right out the window when we started running. There was no way I was coming in last to the first exchange.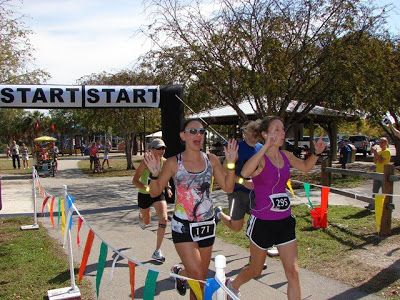 And we're off! I ran this leg of 3.5 miles with no pain. It was warm out at this point but for some crazy reason I averaged an 8 minute mile. I think the girl in front of me was pulling me along and I didn't want to lose sight of her. Plus, I was really happy to be running!
As with every relay there was a lot of fun had along the road. We encountered parts of Florida I'm happy never to see (or smell) again. And part of our team's agenda involved everyone running in a dress for at least one of their legs. While I think my teammate Jupiter Storm (we all have nicknames) won, Wrong Guy thinks his was the best. You be the judge.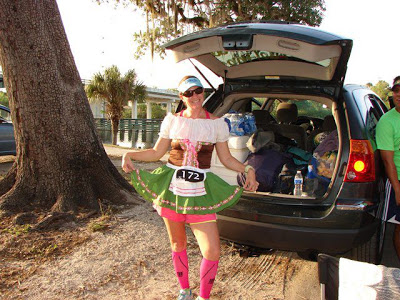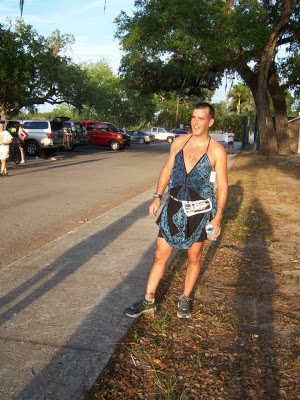 As darkness fell I got ready for my second leg. It was "only" a 2.87 mile run. My leg hadn't bothered me but I had a feeling it wasn't going to hold out since the last run I had completed started hurting by mile five. It was about 9:00 or 9:30 when I recieved the hand off from Jupiter Storm so was it dark as all get out at a location that can only be described as The Middle of Nowhere. I told the two other people in the car at this point that I was going to end up running faster than I wanted to because it was dark and a lot cooler out. Sure enough, I looked down at the first mile and clocked it at 7:37. Oops. I hit the second mile and knew I wasn't right. The hammy was yelling at me to stop and sadly, I did. It was the smart thing to do but man did I hate to quit running.
Fortunately, my teammate, Late Check-In, was able to hop out of the vehicle and finish off my leg and then begin hers. If you have never run a relay I highly recommend it. It really allows runners to rise to the ocassion and find out how amazing it is to be part of a team. Thanks so much to Late Check-In for picking up my slack. I tried to help out by biking with two other runners so they had support in the dark.
Due to Wrong Guy's killer logistics for this race, some of us got to sleep in a hotel for a few hours while others were running. I must admit that the hotel (and a shower!) was a relay luxury I could get used to.
By Saturday morning we were making good time. Too bad it started getting hella hot as the day moved forward. Kudos to all of the team who pushed through this heat. Of course, there was a bit of time in between legs for a little relaxing….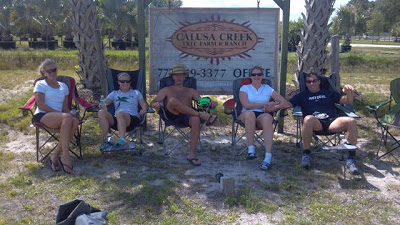 Night Light, Wet Tee Marks, Wrong Guy, Late Check-In, and Overnight Male resting up as we near the finish. Big ups to Wet Tee Marks who ran her final Boston Marathon long run of 20 miles in the HEAT of the day. We even threw in some bridges for her. I was happy to ride along side her for those 20 miles on Overnight Male's sweet mountain bike. I may take up mountain biking because I had a great time on that bike!
Even though I had to get rid of my final leg, I had a total blast on this relay and it was worth the risk of running because I've made some great new friends! It took us 30 hours to get across the state and I really enjoyed the "smallness" of S2S. It's a very different experience from Ragnar because you don't see as many teams. It's also less expensive and certainly worth doing again.
Congrats to my team, Just the Tip! You guys rock!