I have been attempting to get in at least three swims a week and I haven't really been succeeding lately (SEE: closed pools and needing sleep) but so far this week I'm on track. In order to get super duper prepared for the Frogman 5K swim in January (
feel free to donate it's for the Navy SEAL Foundation
) I've been trying to swim at least 2,500 to 3,000 yards/meters per workout. (We have long course at my pool so those days are measured in meters.) I will get in some OWS (open water swims) and increase the distance as it gets closer.
The days of swimming 1,500 yards and calling it a day are gone. I miss those days.
On the plus side, I'll be really prepared for my Ironman come September of next year. I also hear swimmers smell amazing. No wait. That's not right.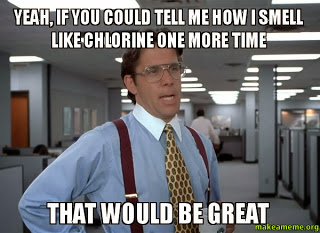 In order to get in longer swims and not just have completely random workouts (Uhh…swim 100. Now swim 200…) I've been using the old interwebs to get workouts. I found that having a printed workout on the deck really helps keep me focused. I didn't realize until swimming in my new hood that you could wet the back of a sheet of paper and stick it to a kick board or the side of the pool. I'd never done that before and it's a great way to view a workout when a whiteboard or coach isn't there.
Getting to 3,000 has been a challenge and when I swim on mornings that long course (50 meter is one length of the pool) is set up I get fatigued quicker than swimming short course. However, I think that long course is the best way to swim when training for distance if you can get it. The less flip turning you do, the better. IMO.
A few great sites for swim workouts are:
I must admit that this is probably the most cross training I've ever done during a marathon cycle. I'm enjoying it and hoping that it helps me get to the start line healthy.
Any websites you use for swim workouts? How far do you typically swim? Any interest in this post at all? Haha!