Sluuuuurp sluuuuurp….hear that? It's the sound of a delicious icy margarita going down after a sunny run. Sounds delicioso, no?
On Saturday, May 28th, here in gorgeous, sunny Tampa Bay (sorry out of state friends), there's a wonderful event called The Tampa Bay Margarita Festival. This event is in it's fourth year and this will be the first year I've been able to go. I don't drink often, but when I do, I'm all about a margarita. The mix of salt and sour with a pinch of sweet gets me every time. I cannot wait!
This year the event is featuring it's first ever Margarita Run! This 2.5 mile run begins on the Riverwalk at Curtis Hixon at 11 AM and with your purchase of a race entry you get a free general admission entry to the Margarita Festival (opens at 12 PM) plus a shirt AND a free margarita. They had me at free margarita.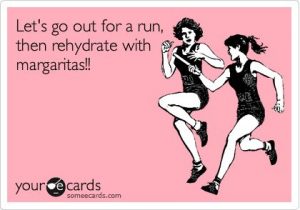 You can register for the Margarita Run now!
The Tampa Bay Margarita Festival features a lineup of bands, with headliner, Blues Traveler. And everyone knows how well tequila makes you dance, so they have a full on bar of tequila tastings*. I did a tequila tasting once a while ago and I can now do the worm, so you see? It totally works. 😉
Wanna join me? I'm offering you a chance for TWO free general admission tickets**. Enter below! Good luck!
Tampa Bay Margarita Festival Giveaway
*For the tequila tasting, you must have a general admission ticket to try five different tequilas – there are over 30 different types to choose from!
 **Thanks to Tampa Bay Bloggers and Tampa Bay Margarita Festival I was given complimentary tickets to this awesome event in exchange for my post, giveaway and social media shares. My opinions are my own and they are that I love margaritas.