Aaack! I am so late on this post. I'm terribly busy at work this week and have been a bad, bad blogger. Shame on me.
Anyway, I haven't missed a Thankful Thursday since it's inception and I certainly don't want to start. Lately, I've been plugging along at work and have been upping my tri training. The tri is still on deck and I've been sprinkling in bike rides and swims. It's probably not as much as I should but I honestly haven't had much time.
I'm currently taking a class and working and fitting in running and schmoop (which is still AWESOME, by the way) so it's been a wee bit hectic. Woe is me. Who is bringing the cake to this pity party? Actually who is bringing the cheesecake to this pity party? In the kitchen. In the middle of the night. In a silky robe. . .
Do you all know where I am going with this?
I'm sad to see that the world lost a Golden Girl today. Rue Mcclanahan, my beloved Blanche Devereaux from the Golden Girls passed away. As some of you know the Redhead and I used to watch Golden Girls on Friday nights when she came to visit (yes, we are lame-os). I love that show and I loved her character. Blanche was the southern belle with a bad reputation. And she owned it.
Today, I am thankful for Rue and Blanche, both dynamic women who made me laugh and cry. Now pass the cheesecake.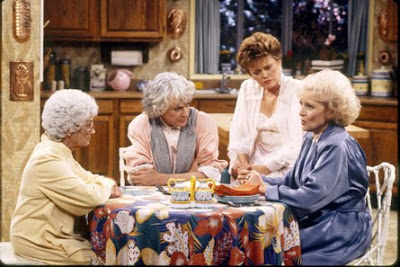 What are you thankful for today?