Again, this is a running blog. But again, I DO WHAT I WANT and it's October 1st. So I am going to be thankful today for Halloween Horror Nights at Universal Studios (HHN).
Have I mentioned that I love Halloween?
My best friend J Dub, her boyfriend The Nick, and I make up a triumvirate of HHN groupies. We begin planning for this event as soon as we can. We are actually going this Sunday!
If you have never been it's amazing. It's basically six to eight haunted houses with different themes every year. In addition to the houses they have scare zones and shows. My favorite show is Bill and Ted's Excellent Halloween Adventure show. Yeah, that Bill and Ted. But they do a great job with the show and make it all the pop culture heroes of the year versus the pop culture villains of the year. The show is risque and hilarious.
As far as the houses and scare zones, they are really good! Good as in scary and gory and thrilling and so dark you can't see! The make-up they do on the "scare-actors" is just superb. Most of the time I am in so much awe at the sets, make-up, and design that I don't get scared. Although they do get me now and again.
Last year they had an entire Alice in Wonderland section that was so cool!
See for yourself…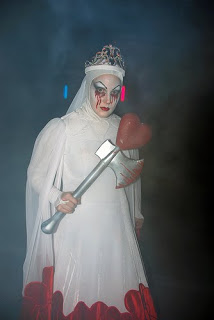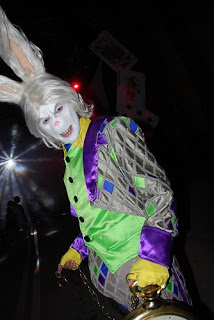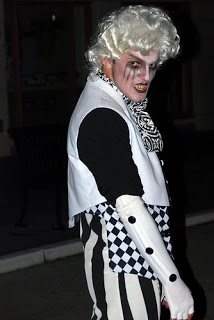 I hope those didn't scare the poop out of any of you.
What are you thankful for today?