Happy Thursday peeps! I'm happy to say that I had a lovely holiday, despite suffering from the black lung. I coughed and coughed some more and yet the doctor gave me nothing but a dumb cough syrup while he took my co-pay. I am finally feeling better and no longer sound like a three-pack-a-day smoker.
On a non-phlegmy note, I did get in all of my workouts over the weekend and then some. And since KC and Summer threw down the DWYLLC, I had no option but to attempt it this week. I have a lot of runs ahead of me and when I ramp up for Miami, I doubt I will be able to squeeze in five trips with Dolly. I've gotten three of the five rides in thus far. Keep your fingers crossed that I can get in my final two!
Now on to what you really came over here for, the give away!
Since I'm not a male, even with a name like B.o.B., I only have lady stuff to give away. Many apologies to all my doods.
Anywho, Champion recently sent me some sweet samples from their new Eco™ line. This line is made "with fibers from recycled plastic materials – so with each purchase, you will be helping Champion to keep nearly 5 million plastic bottles out of landfills." If you are like me, when you hear "eco" for a clothing line you start picturing a product that feels like burlap and can be rolled up and smoked. But just trust me on this, it's super soft and not smoke-able. Heh.
They were kind enough to send me a hoodie, a crew neck sweatshirt, and some really soft sweatpants. And bonus on the sweatpants for not being all elastic around the ankles. Member those? Hahah.
The hoodie is absolutely delicious and I think the crew neck would be perfect as a post-run warm up/eat your breakfast in top. And obviously, the sweatpants are a must for the upcoming Fall and Winter seasons.
This is my version of the Blue Steel.*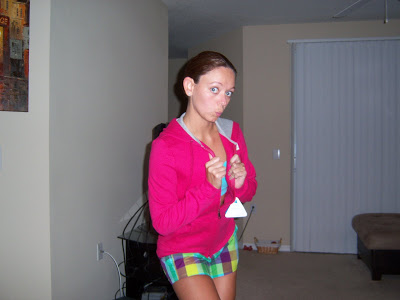 I'm so happy in my crew neck!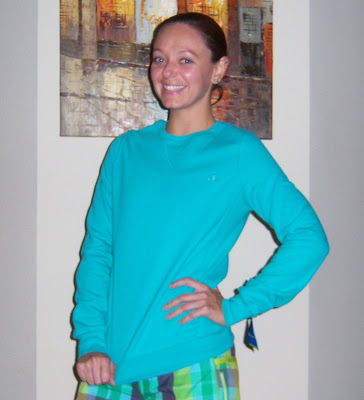 The sweatpants you can look at HERE. I got so tired after all my modeling and didn't want to model them. Modeling is like, totally exhausting, OK?
Today, I'm super thankful for this awesome give away! I heart Champion.
Want to win the hoodie, crew neck, AND sweatpants?** Go "like" Champion on Facebook HERE or go follow them on Twitter HERE. Let me know you've done 1 of these things and tell me what you are thankful for today. I'll post the winner next Tuesday.
*Blue Steel does not come with hoodie. Sorry.
**All three items are size small.