Well folks it's
my last Thankful Thursday for the year
. Can you believe it's already almost 2010? Me neither! I have had a hell of a year and it's been filled with life's many ups and downs.
Let's see, I got a new job, ran a few small races (wink, wink), started this little (ahem) blog, made tons of news friends, had some dating drama, saw my sister get engaged, and I am sure there is more stuff that I am forgetting. But WOW, what a year!
Speaking of races, my mom got me the BEST Christmas present which is pretty much like a "B.o.B. – this is your running life!" shadow box. She had it custom made and it has room for more medals. In addition, it says "The Best of Beth" at the top and on the bottom is says "Love You, Mom."
All together now….awwwww!
Here it is (I took a very bad photo of it, but you get the gist).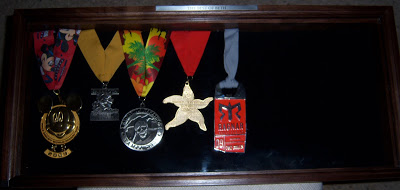 While I definitely think there were more highs than lows in 2009, I am looking forward to 2010 and guess what? I turn the big 3-0 in 2010. And I am not ashamed to admit it and actually look forward to being a bit wiser, I am hoping I wake up on that fateful morning and know the answer to the meaning of life. But, then again, I won't hold my breath on that.
So with all of that said, today, I am thankful for A NEW YEAR! What are you thankful for today?