Since I'm totally cracked out running right now I figured I'd let you all in on some running paraphernalia that I'm currently loving, liking, and/or rocking. The Detroit expo had a lot of stuff to peruse so I'm happy I found a few new things to be obsessed with. And guess what? I'm incorporating all of that stuff with things that I am thankful for today! Let's begin!
Today, I'm thankful for:
1. Power Crunch Bar. I was actually introduced to these by my friend D this weekend. D works for Women's Running Magazine full time so she knows a great snack when she sees one (since she gets to see a lot)! These are surprisingly delicious and high in protein. They are perfect when you just need a little somethin' somethin'.
2. Yoga Toes! Yes, I bought these at the expo. I couldn't help myself. I was told by a podiatrist that my toes could be on their way to getting all jacked up and I'm not having that. These are supposed to relieve stress and tension and help with recovery. Mostly though, they just feel good. (You're welcome for the no photo of my feet.)
3. Mizuno Wave Inspire. I know I was all about the New Balance shoe but after the shin weirdness I decided to try another brand. I know I'll go back to NB at some point but I am loving these Mizuno's right now. They are stability but not as much as I previously needed and the raspberry and black is a great alternative to my typical "white with another color" shoe.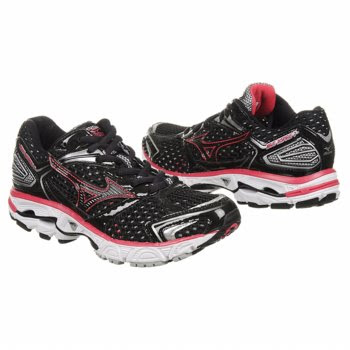 4. Yasso 800's. Yup. Still love 'em and still thankful for them. Refer back to THIS post to see how much I love them. Wrote a song about it….
5. Being a Fit2Run Ambassador! I'm pretty excited about this one. A local running store asked for folks who were interested in being an Ambassador for their store and since I shop there so much I figured, why not? I'll get to be a quasi-sponsored athlete. Yay! More to come on this.
6. The Perfect Halloween Costume. I've been sort of blah this Halloween season and could not come up with a costume idea. But then – it hit me! And no, I'm not telling what it is. You'll just have to wait for that post. Ain't I a stinker? Hint: Vh1.
7. Robyn's "Call Your Girlfriend" video and song. I don't really like the lyrics to this song cause it's not a very nice thing to do, but I do think the song is super catchy and the video is fun. Plus I just flat out like Robyn.
8. The marathon cheater, 100-year-old marathoner, and the birthing marathoner. These people gave us bloggies a lot to ponder and discuss.
9. The Redhead is coming to visit! This means TWO sightings in one month. Epic!
10. This ingenious way of zombie proofing your home: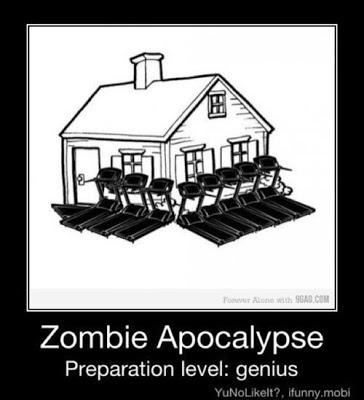 What are you thankful for today?