I'm extremely excited today because I have a HUGE reason to be thankful. I got a new job! Hooray! As much as I currently enjoy dealing with the craziness of academia, I've decided that my career goals and needs are not being filled in education. And also, I like the use of punctuation. And correctly spelled words. Heh.
I put in my two weeks notice yesterday. Yes, I gave two weeks because it's the right thing to do and I am so grateful to have found a job (meaning the one I'm leaving) when the market was so terrible. I can honestly say that I never hated coming to work and that's always good considering how much time we spend at our jobs. It's also nice to know I'll be missed and was told the door would be open if I ever need to return. I'm feeling the love up in herrrr.
If any of you are looking for work I highly recommend sending out emails to family and friends as well as using social media including LinkedIn. Every job I've ever landed has been through networking. I don't think too highly of the job boards but I'm sure they've worked for others.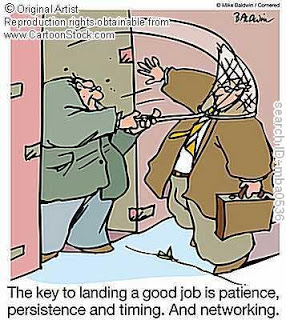 In case you are wondering I'll be working in event coordinating/logistics for conferences and educational programs. Since I love love love coordinating (like my 5K) this is a role I'm very excited about. It's also about ten minutes from my home which is going to save a ton on gas and tolls. Hooray!
Sorry for my departure from tri and running stuff today. I'll have a race report for you all next week so that should make up for this non-work out post.
What are you thankful for today?