As I mentioned, I took part in shooting the television commercial for the
Best Damn Race
. A few bloggers and I were available to shoot the commercial on Saturday morning and we had a total blast. I'm sure this will lead to my big break and I'll start writing blogs about my tiny little dogs wearing fur and get floured by PETA. Then I'll get hooked on crack and end up in jail for four hours due to overcrowding.
The commercial asks the question, "Why are you running the Best Damn Race?" and without giving it all away, the bloggers got our very own response.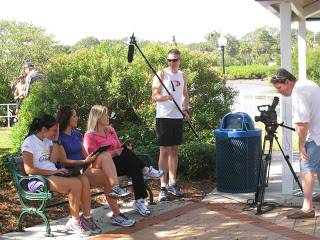 Denise is making the gag reel.
Bloggers Brad (far left) and Big Pete (3rd from left) getting their motivation.
I have no idea when this will air or if we'll end up on the cutting room floor (that's what they say in Hollywoodland) but it was a really fun day with friends. I'm not ready to quit my day job. Lights camera action! (I wonder how many cliches I can get in one post?) I need more glycerin!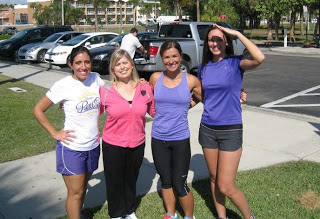 I'm saying, "Please no photos."
If any of you need me for your commercials, have your people call my people. We'll do lunch babe.