1. My heel pain is not good. It would appear, through my diligent WebMd'ing research that I have either bursitis or insertional tendinitis. I can run through it because it doesn't hurt when I get warmed up but it hurts when I wake up and after I run. I definitely don't want to make it worse but I'm not throwing in the towel just yet. I'm going to back off the mileage a bit for the next four weeks and take a big, fat taper and see how it goes. Then after Jacksonville, I'll take proper time off to let it heal. I'm not really freaking at this point because I've been injured before and there's not much that freaking out can do to fix a darn thing. (And of course, I'm R.I.C.E.ing my face off.)
2. I got an early Christmas present from the S.O. and Lloyd got a haircut.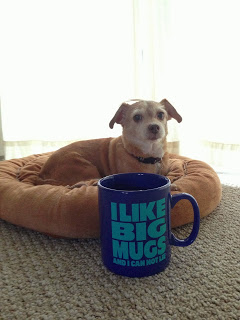 I'm too sexy for this mug. Too sexy for this mug…
3. I'm pretty stoked to go to the
Sprinkles!
event on Saturday, which is a holiday cookie decorating fundraiser put on by St. Anthony's Hospital and hosted at the lovely Renaissance Vinoy Resort in St. Pete. and then follow it up that night with a Tampa Bay Lightning hockey game. Gonna be an awesome weekend!
Ever had heel issues? What's on your agenda for the weekend?