This title is the best I could come up with for the randomness that is this post but I had a few things to share. Just go with it.
Post tough workouts when all I want is a smoothie, I've been whipping up a beverage using the Rebuild in vanilla. It's quite tasty and you can add all sorts of stuff. Last night I made mine with bananas and peanut butter. Yum!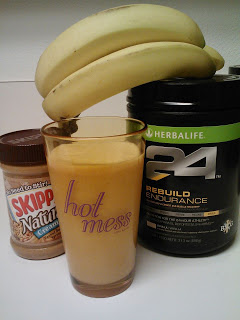 The glass reflects me, not the drink. Heh.
Speaking of yoga in the park, I must show you all these signs that are up around the fountains where the free yoga is held. They are those fountains that shoot up from the ground so kiddies can play in them. In case you weren't aware, it's best not to play in fountains if you are ill from diarrhea. Thank God they have that sign up or I'd be all over it the next time I get sick.
Happy Tuesday ya'll!